Procheta Mukherjee Olson: Palimpsest
February 7 – April 26, 2020 
Explore a richly-designed and informative virtual presentation of Palimpsest that includes images, essays, and insights from the UMCA's Student Museum Educators Kendall Brinson, Sofia Maroulis, and Emma Murphy.
View the Online Exhibition

Sign our Guest Book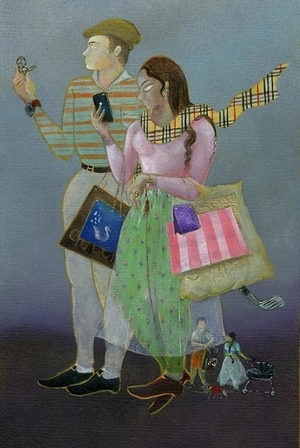 Procheta Mukherjee Olson, Everything You Need Is Here, 2016.
Oil on Panel, 9 x 3 in.
Reception for the Artist: Thursday, February 6 / 5:00–8:00 p.m.
Artist's Talk:
Wednesday, February 26 / 5:30 p.m.

pal·imp·sest 
/ˈpaləm(p)ˌsest/
noun
noun: palimpsest; plural noun: palimpsests
a manuscript or piece of writing material on which the original writing has been effaced to make room for later writing but of which traces remain.
This exhibition is something of a departure from UMCA's series
"Dialogue with a Collection"
. Over the years, artists have been invited to integrate their own works with pieces they select from the museum's works-on-paper collection, which includes over 3000 contemporary prints, drawings, and photographs. This year Procheta Mukherjee Olson has opted to select one single artwork from UMCA's collection by Yun-fei Ji, which she finds pivotal and meaningful to her own art practice.
In this
Dialogue with a Collection
exhibition, Procheta Mukherjee Olson explores the multiple ways in which her work parallels the formal and conceptual concerns of Yun Fei Ji's "Three Gorges Dam Migration" (2002). A magnificent 32-foot-long hand scroll made with over 500-hand-carved woodblocks, this print from the University Museum's permanent collection maps the massive social and psychological disruptions caused by the construction of the
Three Gorges Dam
on the Yangtse River in China. Like Yun Fei Ji, Olson works in a classical eastern painting tradition (specifically one that also renders space in flattened perspective), and often against its grain to draw attention to the intersection of the personal and the political. Drawing from her own experiences and the inherited collective memory from her country of origin, she uses the vernacular of Mughal and Persian miniature painting traditions to map the culturally hybrid landscape of India as it exists between Colonialism and Globalization. Anachronisms appear as historical figures and pop-cultural icons appear beside each other, and like in Ji's scroll, depictions of major social events are interspersed with the quotidian and the fantastical. Together, their narratives flow like rivers in flux, palimpsests in which the individual collides with the social, the historic with the modern, and the dramatic with the pedestrian.
We are excited that, for the second time, the UMCA is the focus of Amherst Media's TV program "Pictures at an Exhibition." The first was last fall when Amherst Media covered the Avital Sagalyn exhibition at the UMCA. 

Former UMCA Education Curator Eva Fierst interviewed each artist and offered a guided tour of each exhibition.




This program is supported in part by a grant from the Mass Cultural Council, a state agency. 
 
The UMCA gratefully acknowledges the UMassFive College Federal Credit Union and Chartpak, Inc. for their support of our 2020 exhibition program.