Speak to Me of Rivers
An Exploration of Race, Identity, and Lived Experience in Contemporary African American Art
February 12 – March 3, 2019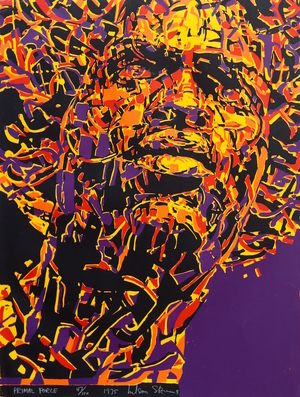 Nelson Stevens, Primal Force, 1981. Offset lithograph; edition 13/100; 29 in x 21 in
curated by: Kiara Hill
On View: February 12 – March 3, 2019
Fine Arts Center Lobby / Free and Open to All
blogs.umass.edu/speaktome
Inspired by Langston Hughes' poem, "A Negro Speaks of Rivers," the exhibition
Speak to Me of Rivers
explores visual narratives of African American history and culture through the subjectivity of African-American artists.
Curated by Kiara Hill, UMCA Graduate Assistant and PhD student in Afro-American Studies, and in partnership with the UMass Afro-American Studies Department, this interactive exhibition features work from the UMCA permanent collection by artists including LaToya Ruby Frazier, Mickalene Thomas, Kara Walker, Carrie Mae Weems, and Lorna Simpson.
In Conversation / Wed, Feb 27
Stephanie Shonekan, Professor and Chair of the W.E.B. Du Bois Department of Afro-American Studies, will host a discussion about the exhibition on Wed, Feb 27, 5:00 ‒ 7:00 p.m., with the curator, Kiara Hill; kara lynch, artist and Associate Professor of Video and Critical Studies at Hampshire College; and Alexis Callender, Assistant Professor of Art, Smith College.
This exhibition is a public platform for our community to respond to the works on display.
Visit
blogs.umass.edu/speaktome
to join the conversation.
Speak to Me of Rivers is co-sponsored by the W.E.B. Du Bois Department of Afro-American Studies.

The UMCA thanks the UMassFive College Federal Credit Union for their ongoing support of our exhibitions.