Xylor Jane: Counterclockwise
January 31 – April 28, 2019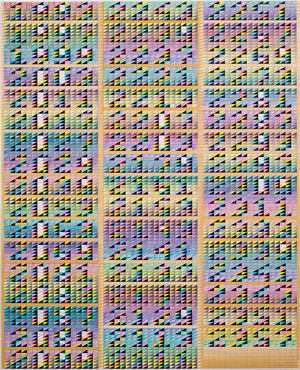 Xylor Jane,Untitled, 2016. Ink and oil on panel; 30 x 24 in.
Image courtesy of CANADA Gallery, New York
Opening Reception
 January 30, 5 – 7:30 p.m. 
Xylor Jane's hypnotic paintings are rooted in mathematical concepts, numerology, and love. Devotional portraits of gridded Arabic numerals hold personal significance to the artist but are intended to spark a spell-like visceral experience for the viewer. The subjects include tetradic primes, Fibonacci sequences, and Magic Squares. The colors emerge from a seven-hue system that holds space for our curiosity, despair, and aspiration.
Xylor Jane is a Greenfield, Massachusetts-based painter, represented by CANADA Gallery, New York.
Xylor Jane "…has integrated pure mathematics and opticality into a domain of metaphysical wonderment at once exhilarating and disturbing. The experience of looking at a painting by Jane is like riding a roller coaster — enlivening and alarming, pleasurable and puzzling. The lattermost is essential, because Jane is clearly delighted by the puzzles that are integral to pure mathematics. The dots of color evoke analogies with pixels, particles, and the dust of which we are made, and to which we will all return. And despite this awareness of the finality of our obliteration, she celebrates the mystery of things with unrivaled intensity." — John Yau, "The Mysteries of One, Two, Three,"
Hyperallergic
, June 3, 2012.
With special thanks to CANADA Gallery, New York.
The UMCA wishes to thank UMassFive College Federal Credit Union for their ongoing support of our exhibitions.

Jan 30
, Wed
• 5:00–7:30 p.m. |
OPENING RECEPTION
Terry Winters: Facts and Fictions
; and
Xylor Jane: Counterclockwise
• 5:15–5:45 p.m. | A walk-through of the exhibition
Xylor Jane: Counterclockwise
with the artist,
Xylor Jane
• 6:00–6:30 P.M. |
IN CONVERSATION
Terry Winters with Claire Gilman, curator of exhibition; moderated by Karen Kurczynski, UMass Art
History Assistant Professor
• 6:30–7:30 P.M. | Reception for the artists in the Fine Arts Center Lobby  
Mar 7
, Thu | 6:00 p.m. |
"ARTISTS ON ARTISTS"
Join us for a walk-through of the exhibition
Xylor Jane: Counterclockwise
led by artists Sarah Braman
and Sean Greene, who offer their unique perspectives.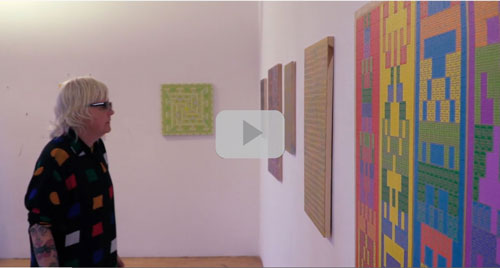 April 1, Monday / 5:00 p.m. / Olver Design Building, Lecture Hall 170 
Don't miss the premiere of a short documentary about artist Xylor Jane and her exhibition at the UMCA — by filmmaker Kate Geis and editor Al Shurman. The video will be screened at 5:00 p.m., at the end of the
Art + Math =
afternoon symposium, in John W. Olver Design Building Lecture Hall 170.
This video is co-produced by the UMCA and CANADA Gallery, and made possible by a grant from the Women for UMass Amherst Fund.
Press
2019-03-04 Artscope Magazine XYLOR JANE - AN EXTRAORDINARY ARTIST
2019-03 artscope_mar_apr_2019_UMCA XylorJane_Serkin
2019_mar_apr_Art New_England_Xylor_Jane_by_Arvanitis
2019-02-14 Amherst Bulletin re_ Terry Winters
2019 Artforum april 2019 Xylor Jane