60 Years of Collecting
An anniversary exhibition celebrating the UMCA Permanent Art Collection
Sep 30 – Dec 11, 2022, and Feb 14 – May 14, 2023

Opening Reception
Thursday, September 29, 4:30–7:30
Randolph W. Bromery Center for the Arts Lobby
Opening Remarks by State Senator Jo Comerford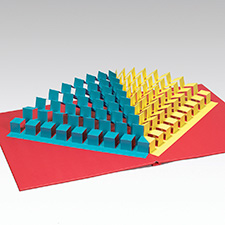 View the Online Exhibition

Sign our Guest Book
Symposium: "The Future of Collecting"
Friday, September 30, Friday / 9:30 a.m. – 5:00 p.m. / Bowker Auditorium / Stockbridge Hall
Welcome remarks by Dr. Tricia Serio, Provost and Senior Vice Chancellor for Academic Affairs
The University Museum of Contemporary Art (UMCA) is pleased to celebrate the 60th anniversary of its permanent art collection, begun in 1962, with this special exhibition of 115 artists whose works are drawn from its growing collection of more than 3,600 prints, drawings, photographs, and multiples — from masters of mid- and late-twentieth-century art to work by the leading artists of our time. A rich array of renowned artists joins lesser known and under-recognized artists in celebration, as we introduce and re-introduce the public to our university's remarkable visual arts resource.
The 60th anniversary exhibition is a major milestone for the UMCA, but also a moment for reflection, critical examination, and charting new directions. The exhibition reveals the museum's most recent collecting strategy that prioritizes diversifying the collection. Recent acquisitions of works by women and by artists of color point to a renewed commitment to inclusion of artwork by under recognized artists into this important UMass resource for study and research. As we enter the next vibrant chapter of our story, we will expand our reach and impact and continue to champion powerfully diverse artistic expressions of our ever-changing world. This exhibition highlights the UMCA's commitment to contemporary art as a catalyst for discussing the urgent issues of our time, building community, and creating empathy.
This exhibition also celebrates the donors and artists whose generous gifts have made it possible for the UMCA to grow its collection. We are excited to include the voices of all four UMCA Directors, past and present, who, during their tenure, enabled the Museum to acquire significant works by artists who were emerging on the national and international scene.
Neither a survey nor organized chronologically, works by multigenerational artists are grouped thematically to accentuate visual associations and to recontextualize the familiar while introducing the new.
Artists whose work is part of
60 Years of Collecting
include:
Robert Adams
Ansel Adams
Diane Arbus
Tauba Auerbach
Radcliffe Bailey
Miroslaw Balka
Jennifer Bartlett
Olivia Bernard
Mel Bochner
Manuel Alvarez Bravo
Harry Callahan
Alexis Callender
Larry Clark
Agnes Denes
Leonardo Drew
Elliot Erwitt
Brendan Fernandes
Robert Frank
LaToya Ruby Frazier
Lee Friedlander
David Goldblatt
Andreas Gursky
Hans Haacke
Keith Haring
Jenny Holzer
Roni Horn
Mary Ijichi
Imo Imeh
Xylor Jane
Yun-fei Ji
Jasper Johns
Donald Judd
Anish Kapoor
Ellsworth Kelly
Kimsooja
An-My Lê
Annette Lemieux
Helen Levitt
Sol LeWitt
Roy Lichtenstein
Robert Mapplethorpe
Ryan McGinness
Ralph Meatyard
Claus Oldenburg
Stephen Petegorsky
Jefferson Pinder
Martin Puryear
Walid Raad
Robert Rauschenberg
Dorothea Rockburne
Tim Rollins & KOS
James Rosenquist
Sheron Rupp
Betye Saar
Joel Shapiro
Lorna Simpson
Kiki Smith
Raphael Jesus Soto
Ralph Steiner
Frank Stella
Mickalene Thomas
Thongchai
George Tice
Kara Walker
Andy Warhol
Carolyn Webb
Carrie Mae Weems
James Welling
Fred Wilson
Gary Winogrand
Terry Winters  
Sponsors
60 Years of Collecting and its related programs are supported by UMassFive College Federal Credit Union; Women for UMass; the Class of 1961 Artists Residency Fund; and The Massachusetts Review.
With gratitude to our campus partners and colleagues for their collaboration: Assistant Professor Kelsey Whipple, Department of Journalism; Professor Sohee Koo, Art Department  
---