Private Eyes: Image and Identity
September 14 - December 13, 2002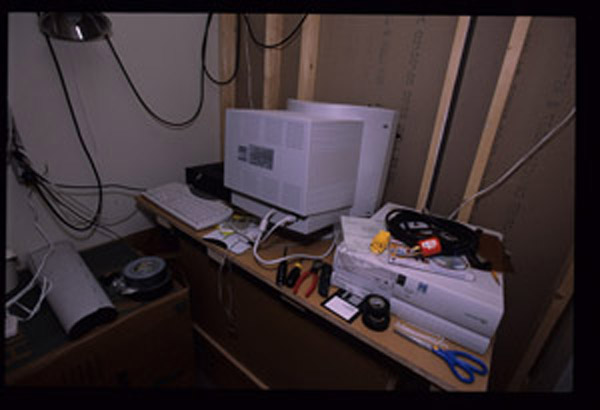 Private Eyes: Image and Identity features the work of five artists who consider experiential and psychological aspects of the self while taking into account the convergence of external circumstances which can inform an individual's personality. The exhibition, on view from September 14 through October 25 and November 2 through December 13, presents photographs by Barbara Ess and Ann Hamilton, a video of Derek Jarman's film Blue, computer-generated portrait sculpture by Karin Sander, and a new video installation by the young Israeli artist Miri Segal. All are welcome to attend the opening reception on Friday, September 13 from 5 to 7 p.m. Two of the artists, Barbara Ess and Miri Segal, will be visiting at that time.

One of the more confounding subjects of philosophical inquiry is the nature of our existence. Some would argue that there is no one objective reality of existence because of the multiplicity of viewpoints each of us has of any one event. Others take this a little further, believing that those multiple views coalesce into an existence that embraces both the viewer and the viewed—the subject and the object. Private Eyes includes works which attempt to occupy the place in the middle of subject and object, looking at the entanglement between the psyche, its environment, and their mutual adaptability. The symbolic systems that we create, such as language or religion or visual art, provide entrances into another dimension of reality, one that engages us in conversations with ourselves about ourselves. The exhibited artists are not positing theories or even making suggestions about who or why we are, but rather are allowing the viewer to share in private conversations that the artists are holding with their respective selves.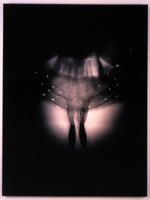 Barbara Ess, No Title, 1997-98,
monochrome color photograph,
54 x 40 inches, Collection Sondra
Gilman Gonzalez-Falla and
Celso Gonzalez-Falla
Barbara Ess's favorite tool is the pinhole camera with which she has been working for the past 20 years. Because of the effect—there is no viewfinder, no focusing mechanism—the images are more like remote recollections of figures and scenes closer to a person's sentient memories, roused unexpectedly by an unrelated source. Ess, in fact, has said that she "…can't see what the camera sees. It's almost as if someone else is taking the picture. The result is a view of the world, of human life that an alien, a Martian might see for the first time—very direct, but at the same time separated, distanced—a peering instead of seeing."
Ann Hamilton
is best known for her site-specific installations that meld sensation with repetitive gestures and ritualistic accumulations of material. On display here are six photographs from her series
Face to Face
in which she took pictures of herself and others by placing a camera in her mouth. The shadowy outline of her mouth's interior creates a slit-like for the exterior view showing slightly distorted faces. One has the distinct sense of looking out from some type of enclosure while simultaneously being the object of a stranger's curiosity.
Through autobiographical texts, music, and sound effects, the film
Blue
(1993) by
Derek Jarman
recounts his struggle with complications from AIDS and the prospect of his mortality. We learn at the outset that Jarman will gradually go blind during the course of medical treatment for the disease and we listen to his journal of daily occurrences, his anger, his sadness, and his wandering, nostalgic thoughts. With only a luminous screen of blue to look at (Jarman's homage to the French painter Yves Klein), we are given a very privileged vision of perhaps a man's most sacred moments.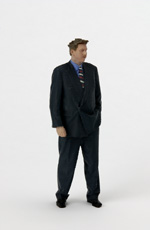 Karin Sander,
Johannes Teiser 1:10
,
2001, 3-dimensional body scan
of the original person, fused
depostion modelling (FDM),
rapid prototyping, acrylonitrile-
butadien-styrene (ABS) plastic,
airbrush, figure is exactly
1:10 scale, Courtesy
Terras, New York
Karin Sander's
series of computer-based figurative sculptures, were made in collaboration with two German technology companies, Tecmath and Glatz. With a 3-dimensional laser camera system and body scanner, information from an individual's body contour is read in approximately 20 seconds, is fed into and transformed by a special computer file which is then transferred to an extruder machine. The extruder builds the figure, modeling it layer by layer in an acrylic material (ABS or acryl-nitryl-butadien-styrol) over a 30 to 40 hour period. Despite their miniature scale, these figures are immediately inviting even at a distance and, upon closer attention, practically deny the sterile method of their creation. Somehow in the transference of numerical data and the binary code of computers, the mysterious germ of the individual's personality was transferred as well, not all that different from the non-thinking molecules that combine and recombine into us.
The Gallery is pleased to premier
Lapsus
(2002), the most recent video installation by
Miri Segal
. A part-time consultant to high-tech companies in Tel Aviv, Segal creates works that usually involve perceptually deceptive phenomena because, as she says, "It interests me to know what objects look like without the eye looking directly at them."
Lapsus
is designed for a single viewer who, upon entering a small room flooded with sepia light, sits in front of the wall where there is a small window/magnifying lens. If the viewer puts his/her eye close to this window, they can see a film, the narrative of which is "circular, construing different stories according to the point from which the viewer starts watching….In [the] loop, it is unclear what is real and what is a dream….it is difficult to discern who dreams whom."
---
Brief Biographies

Barbara Ess's most recent and extensive book of photographs is I Am Not This Body (Aperture, 2001). Her work was included in the group exhibition Dream Machines organized by the Hayward Gallery, London in 2000, and was the subject of two traveling retrospectives in 1994, one organized by Fundacion "La Caixa," Barcelona and the other by the Queens Museum, Flushing, New York. She began her career as a filmmaker, then went on to produce artists' magazines and books, and has founded several bands both by herself and with other performers.

Ann Hamilton's work is the subject of a current retrospective organized by the Irish Museum of Modern Art, Dublin, and several of her video pieces can be seen in the group exhibition Moving Pictures at the Solomon R. Guggenheim Museum, New York until January 12, 2003. Mercy, Hamilton's collaboration with composer and singer Meredith Monk, will be performed at the Brooklyn Academy of Music from December 3 – 7, 2002. Hamilton was the U.S. representative for the 1999 Venice Biennale.

Derek Jarman (1942-1994) is known for directing and writing numerous films including Sebastiane (1976), Caravaggio (1986), The Last of England (1987), Edward II (1991), and Wittgenstein (1993). He is also the author of several books on the subjects of color and gardening.

Karin Sander's work is exhibited widely in Europe especially her native Germany where she is preparing for her one-person exhibition at the Staatsgalerie, Stuttgart. She was included in this year's The Photogenic, a group exhibition organized by the Institute of Contemporary Art, University of Pennsylvania, Philadelphia, and she created a piece for Skulptur Projekte Münster in 1997.

Miri Segal's installations in the United States have been featured at P.S. 1 Contemporary Art Center, Long Island City, 2001, and at the San Francisco Museum of Modern Art, 1998. She had a one-person exhibition at the Tel Aviv Museum of Art this year and is currently in the group exhibition Thin Skin which is on an American tour being circulated by Independent Curators International, New York.
Contact
Open
Tuesday-Friday:
11am to 4:30pm
Saturday & Sunday:
2pm to 5pm
Open until 8 PM every first Thursday of the month
Closed
Mondays
Academic Breaks
State Holidays  
Contact Us
Main Number
(413) 545 3672
 
Connect