Alumni III
April 4 – June 12, 1993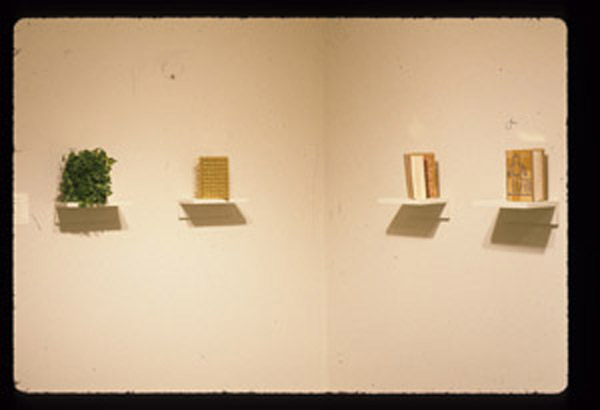 The University Gallery is pleased to present ALPMNI III, the third University of Massachusetts at Amherst Art Alumni Invitational Exhibition, which features a variety of work by 11 graduates from the University's Department of Art. Selected by distinguished jurors Carl Belz, director of the Rose Art Museum, Brandeis University, and Patricia C. Phillips, chair of Art Studio, State University of New York," "College at New Paltz, and independent critic, the participating artists are: Lisa Beerntsen, Roberley Bell, Sally Bishop, Alex Dunwoodie, Chris Dobbs, Karin Giusti, Peter Hopkins, Ron Kim, Kathleen Packlick, Holly Rittenhouse, and Sheron Rupp. The exhibition is on view at the University Gallery from April 4 through June 12 with an opening reception on Saturday, April 3 from 4 to 6 p.m.

ALUMNI III includes painting, sculpture, photography, mixed media on paper and site-specific sculptural installation. A host of subjects is addressed by the individual artists, ranging from issues directed by environmental concerns to those with intuitively inward visions. The participating artists were selected from among 133 graduates of the University's Department of Art who submitted slides. The jurying process was 'blind', that is to say, the artists were chosen solely on the basis of their work as viewed by slide. Four of the 11 alumni artists live in Massachusetts while the others live in cities across the United States from Houston, Texas to Rochester, New York. All received either Bachelor of Fine Arts or Master of Fine Arts degrees between 1972 and 1992; men and women are equally represented. The consistently high quality of individual work by these artists attests to the general excellence of the Department of Art's program.

ALUMNI III is sponsored by the University Gallery, the University Alumni Association, and the Department of Art. The exhibition is accompanied by an illustrated, 32-page catalogue made possible by the generosity of the University Alumni Association. The University Gallery would also like to acknowledge the UMass Arts Council for its continued support" "of the Gallery's programming."
Contact
Open
Tuesday-Friday:
11 a.m. to 4:30 p.m.
Saturday & Sunday:
Noon to 4:00 p.m.
Open until 8 PM every first Thursday of the month
Closed
Mondays
Academic Breaks
State Holidays  
Contact Us
Main Number
(413) 545 3672
 
Connect





Alumni III Catalog
Texts by Betsy Siersma and Regina Coppola
8.5" x 8.5", 16 pages
Published in 1993
Price $5.00