January 31 – April 28, 2019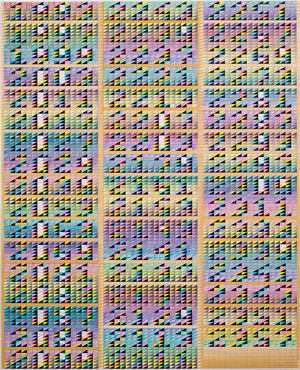 Xylor Jane,Untitled, 2016. Ink and oil on panel; 30 x 24 in.
Image courtesy of CANADA Gallery, New York

Opening Reception January 30, 5 – 7:30 p.m. 
Xylor Jane's hypnotic paintings are rooted in mathematical concepts, numerology, and love. Devotional portraits of gridded Arabic numerals hold personal significance to the artist but are intended to spark a spell-like visceral experience for the viewer. The subjects include tetradic primes, Fibonacci sequences, and Magic Squares. The colors emerge from a seven-hue system that holds space for our curiosity, despair, and aspiration.
 
January 31 – April 28, 2019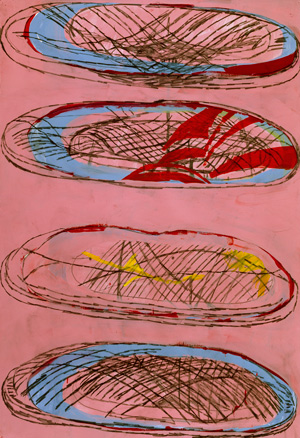 Terry Winters, Untitled, 1999. Gouache on paper; 44 1/4 x 30 1/2 in.
Image courtesy of The Drawing Center, New York

Opening Reception January 30, 5 – 7:30 p.m. 
A leading figure in the art world for four decades, Terry Winters became well-known in the 1980s for his materially-conscious drawings, prints and paintings. Mobilizing the patterns and schema that undergird physical and intellectual life, Winters has developed his own pictorial language wherein grids, networks, and knots describe complex encounters between biological drives, technological systems, and mental processes. From the beginning, drawing has been a pivotal part of Winters's production, serving as kind of testing ground for formal geneses and spatial encounters that may or may not take root in his paintings and prints.
An Exploration of Race, Identity, and Lived Experience in Contemporary African American Art
February 12 – March 3, 2019
curated by: Kiara Hill
On View: February 12 – March 3, 2019
Fine Arts Center Lobby / Free and Open to All
blogs.umass.edu/speaktome
Inspired by Langston Hughes' poem, "A Negro Speaks of Rivers," the exhibition
Speak to Me of Rivers
explores visual narratives of African American history and culture through the subjectivity of African-American artists.  
Mar 21 – Apr 28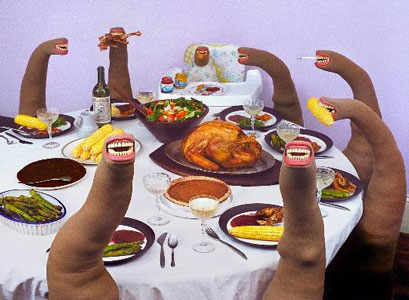 Jim Haberman, American (b. 1949); The Feast from the series American Scenes, 1982;
Digital pigment print on Ilford Professional Galerie paper. Sheet: 17 x 24

Opening Reception: March 20 / 5:30 – 7:00 p.m.
Co-curated by Kayla Peterson (M.A. Art History, 2020) and Siyu Shen (M.A. Art History, 2020), What's So Funny? How Humor Makes Us Think explores how humor may be used to provoke serious conversations on topics surrounding the political, social, and sexual climate of our world.
 
Apr 1 - 2

The University Museum of Contemporary Art (UMCA) wass pleased to present Art+ Math = , a symposium in conjunction with a yearlong program of exhibitions about the intersection of art and math, including: Xylor Jane: Counterclockwise; Terry Winters: Facts and Fictions; The Concinnitas Portfolio, curated by Daniel Rockmore; and Pau Atela's (Re)Creations and MathStudio. This symposium and accompanying concert was an engaging platform for public discussions that bridge the disciplines of art and math and celebrate the innovative work by those influenced by these fields. The symposium highlighted the connection between art and science while recognizing the gender disparities in the male-dominated art world and STEM fields. The presenters, from a diverse range of disciplines including; quantum physics, education, economics, biology, music, studio arts, and architecture, discussed their respective work and the connections among them.

 
Sep 11 – Oct 30
Fielding, curated by Emily Tareila (MFA, Studio Arts, 2019) uses the plant Goldenrod (L. solidago) as a lens through which to engage the Natural History Collections and the UMass community. The project looks at both human uses and history of the plant, its local history and current presence in the area, and its significance in the non-human sphere and ecology.
 
Sep 20 - Dec 8

Leonardo Drew, 74P, edition MONO, 2017. Pigmented and cast handmade paper with hand applied pigment, 48 x 70 in.

During the past 30 years, Leonardo Drew has become best known for his installations, both sweeping in scale and intimate in detail, which transform materials such cotton, metal, animal hides, and wood, often oxidizing, burning, and decaying his materials so that they are completely different from their original state.

The works on view in this exhibition demonstrate the artist's similar approach to process, experimentation, and materiality in the making of prints. Each work is the result of a complex exploration of printmaking processes. Through an intensive, collaborative process with master printers and papermakers at Pace Prints studio in Brooklyn and at Crown Point Press in San Francisco, Drew developed new processes and solutions to translate his three-dimensional practice into the print medium. This exhibition focused on his experimental prints alongside a selection of wall sculptures.

He draws inspiration from art of the mid-twentieth century: the gestural movement of Jackson Pollock, the grids of Piet Mondrian, and the visceral materiality of Eva Hesse. Drew's compositions have been primarily monochrome and based on a loose grid structure. While artistically rooted to these histories of process-based abstraction and Post-Minimalism, Drew is also influenced by non-Western philosophical traditions, viewing his work as a reflection of the cyclical nature of time, the continual processes of transformation, and the connectivity of all things.
 
Oct 4 - Dec 8

Avital Sagalyn has been called an "undiscovered" talent among 20th century artists. Despite gaining early notoriety, she chose to keep her artworks largely private for much of her career.

In presenting Sagalyn's first museum exhibition, the UMCA will provide a glimpse into the range of the artist's work and its rich cultural history that spans three continents. Included in the exhibition is a selection of Sagalyn's cubist, abstract, and abstract-expressionist paintings, drawings, sculptures, and textile designs. Sagalyn's family fled the Nazi invasion of Belgium in 1940. Their journey took them through France, Spain, and Portugal. The following year, Sagalyn and her family immigrated to the United States and settled in New York City.