Through January 2020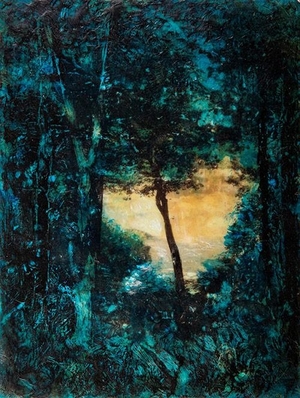 Christin Couture, Falls Blue, 2005; photographed by Ben Barnhart.
Opening Reception January 22, 5:30 – 7:00 p.m. 
"Nearest Faraway Place" is about more than a shadowy woodland and rushing river water. For nearly 15 years Couture has been painting the same view from her house with its innumerable changes through the hours of the day and seasons of the year. These paintings on wood panels use the technique called encaustic and combine beeswax, candelilla wax, oil pigment, acrylics, and colored pencils.
January 31 - April 26, 2020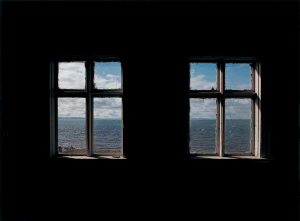 Roni Horn, Pi, 1997-98 (detail). Forty-five Iris-printed photographs on Sommerset satin paper, framed. All artwork © Roni Horn. Courtesy the artist and Hauser & Wirth.
Roni Horn's exhibition at the UMCA concerns the landscape of Iceland, where Horn has traveled and made work since 1975, and how it has informed her practice. The exhibition's focus is 
Pi
, an installation comprised of 45 Iris-printed photographs, taken along the Arctic Circle in the north of Iceland over a six‐year period. Horn thinks of the work as "a collection of circular and cyclical events."¹ Combining portraits and landscapes, 
Pi
charts a mode of living in a specific place, though Horn was not interested in reportage or narrative. The installation forms a frieze around the room, sewing this circular work together through memory and movement. The artist says, "There is no prescribed beginning or end, and no single motif dominates. The potential for narrative, which actually is implied in the nature of the imagery, never actually evolves. Thwarting narrative is one way to engage people's interest."
February 7 – April 26, 2020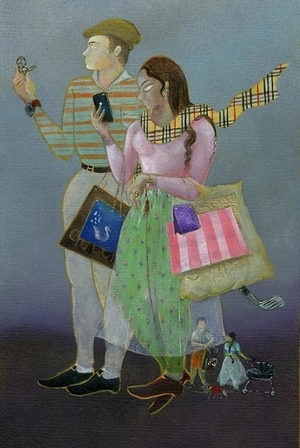 Procheta Mukherjee Olson, Everything You Need Is Here, 2016. Oil on panel, 9 x 3 in.
Opening Reception February 6, 5:00 – 8:00 p.m. 
This exhibition is something of a departure from UMCA's series "Dialogue with a Collection". Over the years, artists have been invited to integrate their own works with pieces they select from the museum's works-on-paper collection, which includes over 3000 contemporary prints, drawings, and photographs. This year Procheta Mukherjee Olson has opted to select one single artwork from UMCA's collection by Yun-fei Ji, which she finds pivotal and meaningful to her own art practice.