We Are For Freedoms
February – December 2021
Virtual Opening Reception March, 4, 2021, 5:00 P.M.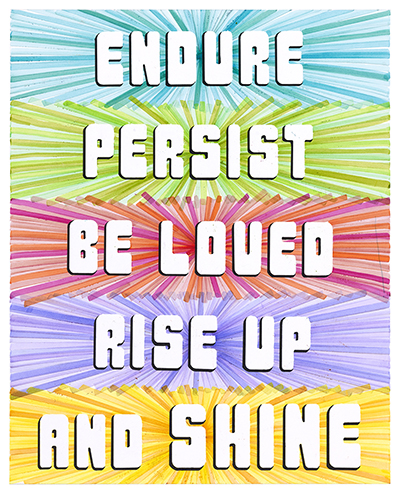 Catherine D'Ignazio, Endure | Persist | Be Loved | Rise Up | and Shine.
Ink and watercolor pen on paper Feminist font by Dina Benbrahim. 16 x 20 in.
View the Online Exhibition

Sign our Guest Book
We Are For Freedoms is an interdisciplinary exhibition and related public program series in partnership with For Freedoms, a national non-profit arts platform for creative civic engagement and direct action. The UMCA commissioned a series of posters from local and regional artists, asking them to respond visually to their interpretation of freedom.

The artists are: Javiera Benavente, Anne Beresford, Catherine D'Ignazio, Liz Chalfin, Andrae Green, Priya Nadkarni Green, Imo Imeh, Jonathan Jackson, kara lynch, and Ali Osborn. The original posters they created are on view in the museum. In the spirit of the exhibition, we have made color reproductions to give away, free, to visitors.

The exhibition includes a visual history of For Freedom's national billboard project and will feature related materials from the UMass Special Collections Social Justice Archive.

Partnership for Worker Education and We Are For Freedoms Pop-up Exhibition
Wednesday, November 3 / 5:00 - 7:00 p.m.
Join us to celebrate an exhibition of creative work by UMass staff artists. This collaboration between the UMass Partnership for Worker Education and the University Museum of Contemporary Art (UMCA) invites the UMass community to take part in the current interdisciplinary exhibition, We Are For Freedoms.
Since last spring, a group of UMass staff members has been meeting to create responses to the exhibition's question, "What does freedom mean to you?" Their original works of art will be on view at the Museum during the event and will become part of the We Are For Freedoms online exhibition.
This project is partially funded by a Campus Climate Improvement grant through the Office of Equity and Inclusion.






PRESS
Daily Collegian story about UMCA's We Are For Freedoms exhibition, April 2021
THANKS TO OUR SUPPORTERS
This exhibition is presented in partnership with the national organization For Freedoms, and is supported by Florence Bank; a Campus Climate Improvement Grant from the UMass Amherst Office of Equity and Inclusion; and Women for UMass Amherst (WFUM).
This project has been supported by a grant from the Artists' Resource Trust.
We thank the UMassFive College Federal Credit Union for their support of our 2021 exhibition program.
We appreciate the generous support of Applewood and Loomis Communities, and New England Public Media.