Take A Seat!
Eva Camacho-Sanchez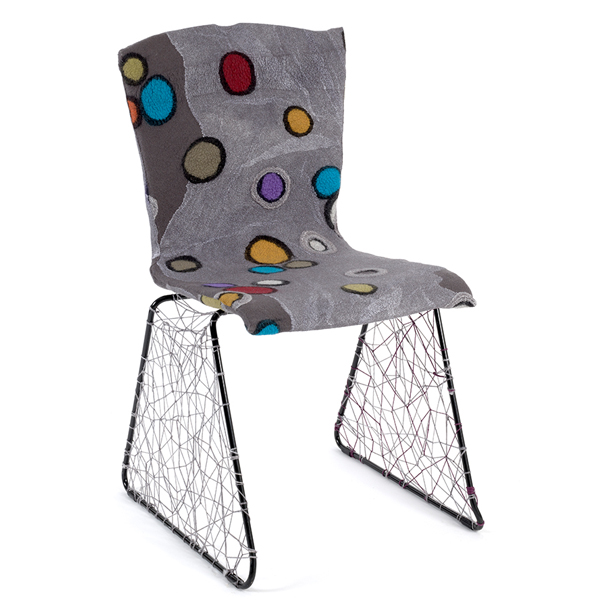 "Chaos"
Florence, MA
"Chaos"
Website: 
www.lanahandmade.com
Artist's Statement
My name is Eva Camacho-Sánchez of Lana Handmade, and I am a fiber artist who creates nuno felt by combining fine silk and the finest merino wool.

I learned to create from my mother, who grew up in a poor, rural village, and had no choice but to make her own clothes, sheets and other textiles in the 1940s. Her passion for creating and the importance of self-sufficiency was instilled in me at an early age, though my artistic passion only came alive when, as an adult, I discovered the amazing qualities of wool and the wonderful art of felting.

Traditionally, felt is created by using water, soap, wool and agitation. Felting takes time, physical labor and patience. Most of my items are made with wool from local farms, using Icelandic and Romney varieties for housewares, and Merino for wearables. I buy the fleeces directly from farmers, then wash, dye and card them myself.

I usually start by hand-dyeing the wool (with natural dyes I have created myself from plant matter), which is then felted together with fine silk. To create patterns on the silk, I use techniques such as free motion embroidery, hand-stitching, beading and printing. My work is the result of the fusion of the ancient art form of feltmaking with modern techniques to create new and elegant styles.
40 local artists and designers creatively paint, decorate, cut, drill, and embellish 40 chairs. The exhibition culminates in a fundraising party and silent auction of the chairs on February 28, 2016. Exhibition runs January 27 – February 28, 2016
 
Contact
Open
Tuesday-Friday:
11am to 4:30pm
Saturday & Sunday:
2pm to 5pm
Open until 8 PM every first Thursday of the month
Closed
Mondays
Academic Breaks
State Holidays  
Contact Us
Main Number
(413) 545 3672
 
Connect



Take A Seat! SILENT AUCTION
Join us as we close this exhibition with a silent auction of these amazing works of art.

Sunday, February 28, 2016
5–7:30 p.m.
University Museum of Contemporary Art
$35/person

The evening includes sumptuous edible creations by award-winning UMass Catering Services, music by UMass' finest musicians, and a beer and wine cash bar.

Did you find the chair of your dreams?
Be sure to attend and do some bidding!

Proceeds from this event will support the University Museum of Contemporary Art, an important educational resource for our community