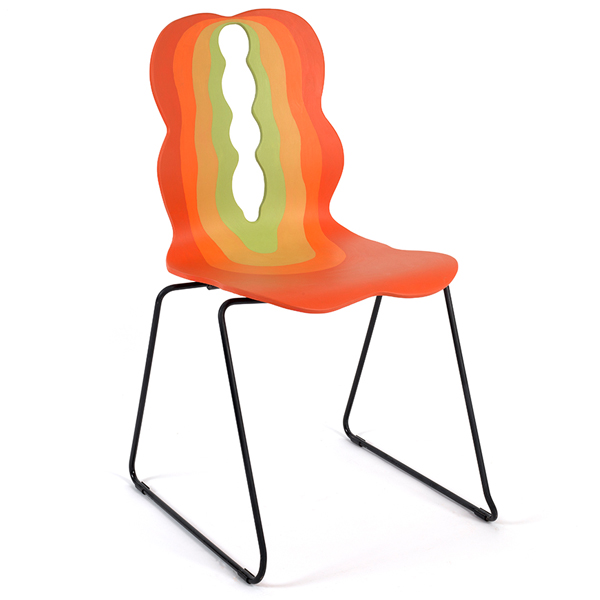 " Concentricationator "
Florence, MA
"Concentricationator"
Website:
www.seangreene.org
Artist's Statement
My first response to the chair was to reshape it.  Cutting and sanding felt natural as if shaping my own skateboard from an uncut blank. Since the chair is a sculptural object, I wanted to take the opportunity to work with it's physical form, and then respond to that form as a painter. What I discovered, though, is that even in my painting, I had to take on more of a sculptural approach, to deal with shape and color in this space, not in the frame-like confines of a canvas which offer an instant metaphor of a window looking into another world. So, I didn't feel that applying a picture-like image was quite right, instead I chose to apply a series of concentric forms that echo the perimeter of the wooden part of the chair. I took a playful approach with my use of color, clearly allowing my seventies and eighties upbringing come out in full force.  The green in the center , and the orange on the perimeter wrap around to both sides, warm hues leading away from green on the front, and shifting cool hues on the back. What I have arrived at, is a deeply satisfying reflection of my values on a usable object.

I am an artist living in Florence, MA with my wife, Molly Burnham, and two wonderfully creative daughters Adelaide and Georgia. I went to the School of Visual Arts (BFA) in Manhattan and The University of Massachusetts Amherst (MFA). I am a 2014 Massachusetts Cultural Council Fellow, and I exhibit regularly with William Baczeck Fine Arts in Northampton, Geoffrey Young Gallery in Great Barrington, and Brian Morris Gallery in New York.
40 local artists and designers creatively paint, decorate, cut, drill, and embellish 40 chairs. The exhibition culminates in a fundraising party and silent auction of the chairs on February 28, 2016. Exhibition runs January 27 – February 28, 2016
 
Contact
Open
Tuesday-Friday:
11am to 4:30pm
Saturday & Sunday:
2pm to 5pm
Open until 8 PM every first Thursday of the month
Closed
Mondays
Academic Breaks
State Holidays  
Contact Us
Main Number
(413) 545 3672
 
Connect



Take A Seat! SILENT AUCTION
Join us as we close this exhibition with a silent auction of these amazing works of art.

Sunday, February 28, 2016
5–7:30 p.m.
University Museum of Contemporary Art
$35/person

The evening includes sumptuous edible creations by award-winning UMass Catering Services, music by UMass' finest musicians, and a beer and wine cash bar.

Did you find the chair of your dreams?
Be sure to attend and do some bidding!

Proceeds from this event will support the University Museum of Contemporary Art, an important educational resource for our community