Take A Seat!
Jane C. Thurber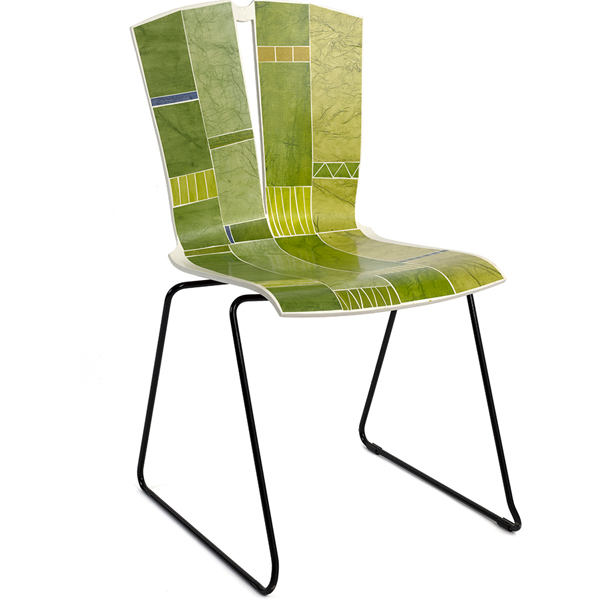 " Bands of Time "
 
Amherst, MA
"Bands of Time"
Website:
www.fieldnotesart.com
Artist's Statement
This collaged chair is a vehicle for a timeline. The four bands each represent a decade of the UMCA's 40 years. Each band holds a range of patterns and colors - suggesting a range of events and experiences that took place in that decade.

On the chair back, two additional bands suggest future decades and events. At one scale the smaller moves are less significant and fill in the larger whole, yet at another scale, it is the details of a pattern, the texture or color of a specific piece of paper that holds the design together- giving it both interest yet balance within the larger structure. This is similar to how I perceive land, as a landscape architect. Each site design is distinct and important yet each site is part of something beyond itself. It is part of a context of relationships, part of a web of larger systems.

The UMCA has enriched the University in many different ways/venues over four decades, each specific, some particularly memorable or transformative. Together they create the rich bands of memories and experiences that we celebrate.

Jane C. Thurber is an artist and landscape architect. Her art work focuses on collage, drawing, mobiles and Concept Books. Her work is inspired by patterns and rhythms found in the land. Her work is shown in galleries in the North East. Thurber is a lecturer teaching graphics and design studios in Landscape Architecture in the Department of Landscape Architecture and Regional Planning at The University of
Massachusetts, Amherst.
40 local artists and designers creatively paint, decorate, cut, drill, and embellish 40 chairs. The exhibition culminates in a fundraising party and silent auction of the chairs on February 28, 2016. Exhibition runs January 27 – February 28, 2016
Contact
Open
Tuesday-Friday:
11am to 4:30pm
Saturday & Sunday:
2pm to 5pm
Open until 8 PM every first Thursday of the month
Closed
Mondays
Academic Breaks
State Holidays  
Contact Us
Main Number
(413) 545 3672
 
Connect



Take A Seat! SILENT AUCTION
Join us as we close this exhibition with a silent auction of these amazing works of art.

Sunday, February 28, 2016
5–7:30 p.m.
University Museum of Contemporary Art
$35/person

The evening includes sumptuous edible creations by award-winning UMass Catering Services, music by UMass' finest musicians, and a beer and wine cash bar.

Did you find the chair of your dreams?
Be sure to attend and do some bidding!

Proceeds from this event will support the University Museum of Contemporary Art, an important educational resource for our community