Cover Me
Mo Ringey: Curator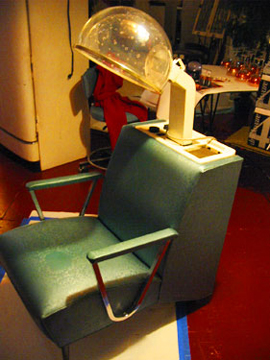 Sunday, February 3 - Tuesday, February 26 2008
Hampden Gallery   from 3:00 pm to 5:00 pm
Free and open to the public
About the Artists: MO RINGEY: Curator
Mo Ringey is a visual artist currently focusing on 3D assemblage. Her recent work includes a series of vintage domestic objects psychically upholstered" in smashed glass as homage to and satire of the limited options defined by an era of career domesticity. Mo has studied art at UMASS, Amherst; Montserrat College of Art, Beverly, MA, The Art Institute of Boston, New England School of Photography and in various lives and elevators.
Curator's Statement:
Cover Me is an exhibition born of a humorous post on my blog, "Art & About with Mo", on "The Valley Advocate "website. The post, "Wednesday, April 04, 2007. ARTS COVERAGE & SOME GUY I DATED IN HIGH SCHOOL", commented on artists" laments regarding the dwindling coverage of arts in the news due to heightened coverage of American Idol, among other topics, and suggested a call to action; a show of artists satirizing the issue of arts coverage. The show does not necessarily purport to create coverage or affect change in arts coverage but rather to give humorous voice to work created by a variety of artists to satirize or otherwise call attention to this concern.
Artists were invited to create 2D or 3D work that addresses or responds to the topic in some manner and/or addresses the notion that we need to cover ourselves due to the state of coverage.
ARTISTS:
Carey Ascenzo
Carey Ascenzo is an artist living and working in Brooklyn, NY. She has exhibited at Smack Mellon (Brooklyn, NY), Parallel Projects at the New York Design Center (New York, NY), and Dia Center for the Arts (if you count guerrilla interventions; New York, NY), among others. Her work was included in the most recent of the Tragic Book series, published by Booklyn (Brooklyn, NY).
Line Bruntse
Danish artist, Line Bruntse, is an Assistant Professor of Sculpture at Millersville University of Pennsylvania, she currenty lives and works in Lancaster, PA. Line primarily does large scale installation based work. She has shown widely in the northeastern region of the states as well as in Denmark and Austria. Her most recent exhibitions include In Between the Lines, at Maryland Art Place, Baltimore, MD; Gloucester New Arts Festival, and Hotel Pupik 2007, Austria.
Ian Burns
Education: phD (Philsophy) 2008 (Currently matriculated)
Queensland College of Art, Brisbane, Australia
Master of Fine Arts 2003
Hunter College of CUNY, New York, NY

Selected Exhibition Details
2008 (Upcoming Solo) Indianapolis Museum of Contemporary
Art, Indianapolis, IN
(Upcoming Solo) Mother's Tankstation, Dublin, Ireland
(Upcoming) New York State of Mind Queens Museum, New York, NY 2007
The Manner of Work (Solo) Spencer Brownstone Gallery, New York, NY
AniMotion Galerie F15, Oslo, Norway
New York State of Mind Haus der Kulturen der Welt, Berlin, Germany
"Til I Die, Spencer Brownstone Gallery, New York, NY StereoVision, University of South Florida
Contemporary Art Museum, Tampa, FL
The End (Solo) Galeria Espacio Minimo, Madrid, Spain
Deconstructing Frank Pianissimo, Milan, Italy
The Last Blue Sky Mother's Tankstation, Dublin, Ireland
2006
Solo) Big Orbit, Buffalo, NY
(Solo) Hilger Contemporary, Vienna, Austria
The Human Touch Ernst Hilger Gallery, Salzburg, Austria
Re-Dis-Trans Apex Art, New York, NY
Now Voyager Islip Art Museum, Islip, NYThe Studio Visit Exit Art, New York, NY 2005
(Solo) Art Positions - Spencer Brownstone Gallery at Art Basel, Miami, FL
T1 ¬ Torinotriennale tremusei, Castello di Rivoli, Torino, Italy
(Solo) Spencer Brownstone Gallery, New York, NY Red, White, Blue, Spencer Brownstone Gallery, New York, NY Solo) No Name Exhibitions The Soap Factory, Minneapolis. MN Greater New York, PS1 Museum of Contemporary Art, LIC, NY 2004 Between Interconnectedness Smack Mellon, Brooklyn, NY Light, Sound, Art & Science, Miami Museum of Science, FL In-Practice Series The Sculpture Center, LIC, NY 2003 (Solo) Beneath the Surface Newcastle Region Art Museum. Newcastle, Australia
Residencies and Awards 2006 Big Orbit Gallery Summer Residency, Buffalo, NY 2005 ArtOmi International Residency, Omi, NY Triangle Arts Studio Residency, New York, NY 2004 Triangle Workshop, Brooklyn, NY 2003 Artist in Residence at Newcastle Region Art Museum, Australia
Mike Karmody
Mike Karmody has been fascinated by many things since he was a young seahorse (the one with the nice smile and polka dotted tie) including Swingline staplers, scented candles, quantum physics, concrete and art. Mike has studied. At places. Mike loves sushi.
Greg Kline
Gregory S. Kline received his B.F.A. in Sculpture from Indiana University of Pennsylvania and a M.F.A. in Sculpture from the University of Massachusetts at Amherst. He has taught various sculpture courses at the University of Massachusetts including Bronze Casting. In addition, he has been the Sculpture Technician and an instructor at Hampshire College for the past eight years. His primary interests include metal casting and steel fabrication and assemblage sculpture. Professor Kline has exhibited his work nationally and is in numerous private and public collections.
Holly Murray
Holly S. Murray grew up amidst the wild beauty of rural New England. She is a graduate of Syracuse University, with a B.F.A. in painting and printmaking. She holds a M.F.A. from the University of Massachusetts, where she studied ceramics and photography. Throughout Murray's career, her art process has traversed the terrain between the studio and interactive public collaboration. The content of her art is concerned with cultural and social issues. During the mid nineties, Murray's nationally traveling show "On the Home Front", an installation documenting family violence, garnered wide acclaim. An outgrowth of that work explored issues of aging within American popular culture. The result was a series of paintings called "Death, Desire and Ecstasy". These themes evolved into body of work, called "Good Breeding"; examining the intersection between bio-technology and mega-agricultural practices. Presently, she is continuing her investigation of biogenetics and its effects on our world with her painting and works on paper. As an artist, Murray has had the opportunity to travel both nationally and internationally across New England, the South Pacific and Southeast Asia. Among others, she received an Artist in Residence in Jingdezhen, China. She has also been awarded residency on the Big Island of Hawaii. Her work has been acquired by private collections, educational institutions and corporations. For the past fifteen years, Murray has overseen the Ceramics Department at Springfield College and is the Director of the William Blizard Gallery. She maintains a studio in Wilbraham, MA.
Maggie Nowinski
Maggie Nowinski is an interdisciplinary artist in Western Massachusetts. Her work incorporates a variety of materials and contexts. She makes paintings, drawings, photographs and sculptural installations, with constructed and/or found objects, video and sound. She received her B.F.A. in painting from SUNY New Paltz in 1997, and her M.F.A. in Visual Art in 2007 from Vermont College of Fine Arts.
Lisa Scollan

As I think back on how much I would draw as a child, I realize how important creating art has always been to me. Loss has been and continues to be a central theme in my work. My many drawings as a child often expressed happy moments in my life. My sense now is that these drawings were an attempt to preserve happiness and to protect myself from its loss. My work also is an expression of the struggles I see in life. It portrays the opposing forces of good, evil, purity, negativity, vulnerability, determination, despair, and hope. To fully express the joys in life assumes responsibility. The rose, often depicted in my work as a symbol, gives meaning to my core thoughts on life. Wherever there is beauty or happiness there can also be pain. My work has its roots in symbolism and spirituality. It incorporates the fundamental elements of life: fire, water, earth, and air. My paintings and drawings flow from mind to hand with an unconscious spontaneity. As elements of the painting or drawing reveal themselves to me, I am constantly analyzing the composition for balance, rhythm, and motion. Through my art I hope that people can identify and confront their own struggles.
Larry Slezak
edu.: suny @ buffalo, siena, italy, umass- amherst (mfa) work in major public & private collections chair: Art dept, STCC, Director: AmyH.Carberry Gallery
Jon Whitney
I've always found the world an incomplete place. Just when I feel I have a grasp on things some new sight or wonder unfolds before me revealing the full glory of my ignorance. Photography provides a window into this incomplete world; a world I shall never truly know or fully understand. How we do what we do, why we do what we do are questions ever unanswered and always intriguing. In photography I see mirrored the unknowable nature of the world.
Anila Zaidi
Isn't it selfish for one to create only if cathartic? In my opinion yes, and I do consider myself as such, given that my current ""College Ruled Series" is a visual journal. Creativity is a gift, and needs to be shared with or without the self. This exhibition has provided me an opportunity to do so.
 
Associated Events
Opening Reception
Sunday, February 3 2008 
,3:00 pm to 5:00 pm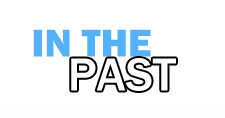 Here is an archive of many of our past events. If you are looking for current happenings at the FAC please go to the home page.
The past events section is updated periodically, very recent past events may not be listed immediately.
To navigate within the past events section:
By Program then by Year
By Artist for Exhibitions
Note these pages are updated every semester.  Not all events or exhibitions will be listed here promptly after they are over.