Josiah Cuneo
Four Songs for My Countrymen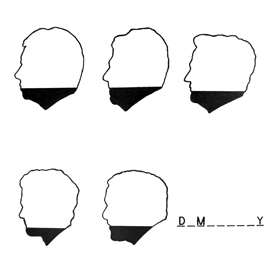 Thursday, May 15 2008
Hampden Gallery Incubator Project Space   from 6:00 pm to 9:00 pm
The exhibit is comprised of four pieces, each consisting of a visual component as well as an original music composition. Both the visual component and the music written for each piece reflect upon a shared conceptual idea. This can be seen in the piece Elected. The visual component is a black and white painting that introduces the audience to some of the formal elements used throughout the show; sharp tonal contrast, limited or monochromatic color palette, and curvilinear shapes. Although the shapes in this painting may at first appear abstract, with further study reveal themselves as profiles of the last five U.S. presidents. Each is depicted as a silhouette, in the tradition of paper cutouts of Lincoln and George Washington commonly used in elementary schools on President's Day. However, in this depiction each president's profile is only partly filled with the shading that implies a silhouette. The partial shading is used to represent the number of votes received by each candidate, as compared to the number of people eligible to vote. Although each image depicts the exact number of votes received by each president, the average is roughly 30%. It is this concept of 30% that is then carried over to the second half of the piece, the musical score. This piece was produced by taking the national anthem and systematically erasing two thirds of the notes, replacing them each with silence. The same technique was employed in the painting to reference the word "democracy". Through the manipulation of formal elements within the painting and the music, the artist illustrates the notion of a lack of voter participation. While the remaining three pieces each address separate topics in a similar way, each has a unique relationship between the visual component and the musical score.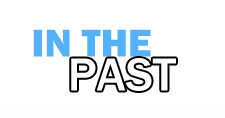 Here is an archive of many of our past events. If you are looking for current happenings at the FAC please go to the home page.
The past events section is updated periodically, very recent past events may not be listed immediately.
To navigate within the past events section:
By Program then by Year
By Artist for Exhibitions
Note these pages are updated every semester.  Not all events or exhibitions will be listed here promptly after they are over.