Anchor House
After Dibutade: Four Women from the Anchor House of Artists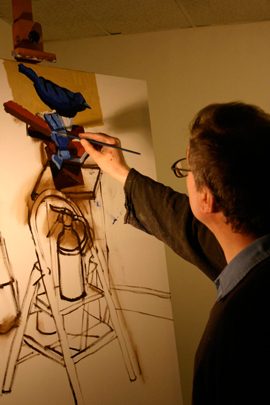 Wednesday, October 27 - Tuesday, November 23, 2004
This unusual title has deep roots! Neoclassic art theorists and poets attributed the origin of picture making to a legendary Corinthian woman named Dibutade. She traced her lover's shadow on the wall as that first act of drawing. Her lover's form would then be with her while her lover was gone abroad. Four women from the Anchor House of Artists, the collective atelier and gallery in Northampton, Massachusetts that represents artists living with mental illnesses, cling to the same spirit of remembrance in their art. Genevieve Burnett, 58, has been painting for 30+ years. She is sought after by collectors frequenting the New York Outsider Art Fair and has received a one-person show at RamScale Gallery in New York. She practices a synesthetic approach to her subject, often receiving pleasant olfactory sensations to particular color combinations. She responds to her subjects, recollections, with her emotional architecture, the temple of her soul. Wendy Chicoine 49, carves in stone that she has found and harvested locally. She studied painting at the University of Indiana, but, because she needed to, she taught herself to carve. She will travel to far-flung fields, abandoned quarries, and forgotten dirt roads to find the stone she wants. She shapes her stone with sheer body force, causing the stone to form into a tongue or mouth. It will speak then, the stone, her voice. Her work has also been shown at the Outsider Fair and she has work in New York and Connecticut collections. A skilled electronics technician with military training, Virginia Harlow, 53, employs precise methods for her emotionally charged paintings. She has studied painting at the George Walter Vincent Smith Museum in Springfield and privately with other notable artists locally. Her work has been shown by the A.P.E. Gallery at third floor Thorne's Marketplace in Northampton, at the Doubletree Hotel in Lowell, in Hartford, Connecticut and with the Anchor House of Artists in Northampton. Truly contemporary in approach, her paintings force the concern with illusory depth and surface. Her work is found in local collections and the Boston collection of Mary Lou Sutter. Deborah Sklar loves the painting of Marc Chagall, but paints in the action method of Joan Mitchell. She studied at the Boston Museum School and at Evergreen College. She relates her subjects to Jewish stories and traditions, though many times the connection is oblique. Painting for her is a quick and intense strike upon the surface. Are these artists "Outsider" artists? That critical category was coined by Roger Cardinal in the 1970's. It is meant to lump artists who are supposedly untainted by "high culture" by reason of infirmity, criminality, or childhood. It has been adopted by a whole market niche, where artists with marginalized careers can eek out a few dollars, but where dealers do quite well and collectors find bargains. Theoretically, the emergence of Outsider Art as a distinct, if unstable categorical term is the logical legacy of the Post Modernist era. New York Times writer, Roberta Smith referenced Anchor House artist, Jonathan Stark in an article reviewing the 2002 Cooper Union Outsider Show wherein she raised the question what is Outsider if Outsider is "In". She aptly addresses the conundrum of definitions found in the term Outsider Art by choosing his work to comment on, since he has direct formal experience with modern art and his work looks Minimalist. The Post Modernist ideal exists in the moment and activates through dialogue with the artists and with the audiences on hand. The Anchor House of Artists is an experiment in definitions by design. In 1997, sculptor, Michael Tillyer, founded the Anchor House of Artists. The mission remains to represent artists who live with mental illnesses: to sell their work and make opportunities for them to find work, to provide a place to exchange ideas and hatch new work, to preserve artworks done by its artists from sure destruction, and to culturally enrich Western Massachusetts and beyond through exhibits of its artists" works.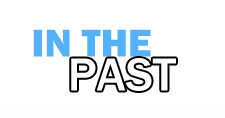 Here is an archive of many of our past events. If you are looking for current happenings at the FAC please go to the home page.
The past events section is updated periodically, very recent past events may not be listed immediately.
To navigate within the past events section:
By Program then by Year
By Artist for Exhibitions
Note these pages are updated every semester.  Not all events or exhibitions will be listed here promptly after they are over.