THE ART OF THE GEISHA BY YUKO EGUCHI
Tuesday, September 30, Bowker Auditorium 7:30PM
General Admission: $15; $10  
 
Yuko Eguchi is a scholar and performer who will perform Japanese traditional music and dance, called kouta (small songs) and koutaburi (dance of small songs), a genre uniquely created by women and primarily preserved in the geisha artistic culture. The kouta songs describe beautiful scenes of nature, but the true message a geisha's affection, love and despair are often hidden behind its cleverly composed words. Yuko studied kouta singing and shamisen (three-stringed lute) and koutaburi dance under two former geishas, Toyoseiyoshi Kasuga and Yoshie Asaji. The performance will include Mizu no Debana (As the Water Flows, Harusame (Spring Rain), and Uchimizu (Sprinkling the Garden).   
 
Presented in collaboration with the Five College Center for East Asian Studies.

Monday, September 29- Japanese tea Ceremony
D'Amour Library, Clark Reading Room at Western New England University, Springfield
In conjunction with The Arts of the Geisha presentation at UMass Amherst, Ms. Eguchi will present a short talk on the philosophy and symbols of the Japanese Tea followed by the Tea ceremony.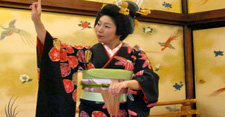 CONNECT