BFA Thesis Exhibition
Alexia Cota and Tyler Jacobson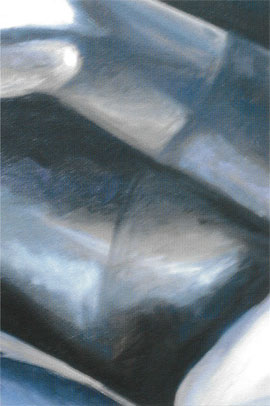 Monday, May 2 - Friday, May 6, 2005
Augusta Savage Gallery   
In her show Constitution, Alexia Cota is showing the beauty and mass that the human body can have; volume and strength being obvious qualities of this subject. However, when looking at Constitution, the viewer might not be immediately or ever aware of what is before their eyes. What she chooses to show of her subject, in the composition takes on a slightly different context. They almost become landscapes, suggestive of rolling hills and graceful fields that one might find in the Pioneer Valley. Using drastic lighting, where the subject might be all in shadow or might be in a direct light source contrasting with shadowing areas and color choices from luminescent yellows to deep blues, she is able to accentuate the shape and 'landscape" of the human body.
Tyler Jacobson's show Synthesis is a series of sequential images with inserted visual breaks. Sequential images are best described as images that are linked by a progression that follows or actually tells a story from start to finish. The use of multiple images plays an essential role in how the viewer interprets the images by directly establishing comparisons. The multiple images create a pattern of repetition, which is then changed, creating a sequence that consists of pattern and surprise, fundamental elements in how the viewer gathers information.
This series consists of still-land images that depict movement. Space is an important element in the sequences. Each individual sequence of images takes place in the same location and all images are taken in succession, within the same duration of time. The adjacency of the images helps the viewer to evaluate change and/or rates of change within each image and between images in the sequence - and the viewer is able to do so at his or her own pace.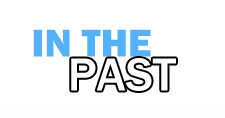 Here is an archive of many of our past events. If you are looking for current happenings at the FAC please go to the home page.
The past events section is updated periodically, very recent past events may not be listed immediately.
To navigate within the past events section:
By Program then by Year
By Artist for Exhibitions
Note these pages are updated every semester.  Not all events or exhibitions will be listed here promptly after they are over.