BalletX
Thursday, March 29, 2018 at 7:30PM
Fine Arts Center Concert Hall
Visionary choreographers unite with world-class dancers in Philadelphia's premier contemporary company, BalletX. Known as "a place of choreographic innovation" (The New Yorker), the troupe has received national recognition for its repertoire of 60-plus world premieres filled with athleticism, emotion and grace. The company will perform a mixed-rep program, including Trey McIntyre's Big Ones, set to music by Amy Winehouse and Colby Damon's work inspired by physics, On The Mysterious Properties of Light.
Post-show discussion with members of the company immediately following the performance

Ticket Prices
$45, $35, $20; Five College Students & Youth 17 and Under $15, $12, $10
Please call the Box Office to see if you or someone in your party is eligible for a discount.
Accessible Seating Available by calling the Box Office at 413-545-2511
 
Artist Webpage:
http://balletx.org/
Artist Facebook:
https://www.facebook.com/BalletX-157780740951020/
Artist Twitter:
https://twitter.com/BalletX
BalletX, Philadelphia's premier contemporary ballet, produces original choreography that expands the vocabulary of classical dance for all audiences. It unites distinguished choreographers with an outstanding company of world-class dancers to forge new works of athleticism, emotion, and grace. Founded in 2005 by Christine Cox and Matthew Neenan, and now under the direction of Cox as Artistic and Executive Director, BalletX challenges the boundaries of classical ballet by encouraging formal experimentation while preserving rigorous technique. The company is committed to producing new works of the highest quality and integrity that bring the combined visions of choreographers and dancers to life and cultivate in audiences a collective appetite for bold, new dance.
Since the company's founding in 2005, BalletX has expanded its repertoire with more than 60 world premieres by such artists as Trey McIntyre, Jorma Elo, Nicolo Fonte, Annabelle Lopez Ochoa, Jo Stromgren, Cayetano Soto, Jodie Gates, Edwaard Liang, Adam Hougland, Matthew Neenan, Darrell Grand Moultrie, Gabrielle Lamb, Joshua L. Peugh, James Gregg, Olivier Wevers, Tobin Del Cuore, and Mauro Astolfi.
BalletX has reached diverse audiences of all ages and backgrounds as the Resident Dance Company of The Wilma Theater. Recognized worldwide for its unique repertoire, the company participates in national and international tours, performing at prestigious venues and festivals, such as Jacob's Pillow Dance Festival, The Joyce Theater and New York City Center in New York City, Vail International Dance Festival, Laguna Dance Festival, Dance Salad in Texas, Sweet Pea Festival in Montana, Spring to Dance Festival in St. Louis, DANCECleveland in Ohio, Ballet EXPO in South Korea, and Festival de Ballet in Colombia.
"Ballet tends to be the most orthodox of the art forms, and often the most reactionary. How heartening to renew acquaintance with the uninhibited and adult eccentricity that BalletX, a company devoted to new choreography, seems to encourage." The New York Times
"BalletX shines."
Boston Globe
"BalletX: Inventive, musical, surreal, not to be missed"
Philadelphia Inquirer
---
Thursday, February 8 at 7:30 p.m.
Fine Arts Center Concert Hall
One of today's most talked-about contemporary ballet choreographers, Jessica Lang seamlessly incorporates striking design elements and transforms classical ballet language into artfully crafted, emotionally engaging contemporary work packed with stunning movement. This promises to be one of the hottest shows of the winter. Among the pieces to be performed are
Tesseracts of Time,
created in collaboration with internationally recognized architect Steven Holl, and
Thousand Yard Stare,
honoring wounded veterans and all of those affected by war.
The New Yorker
calls Lang, "a prolific choreographer of skillfully constructed dances that respectfully mesh with music and striking visual design."
Pre-show talk with Jessica Lang in the Concert Hall Lobby at 6:30 pm on the piece The Thousand Yard Stare. Post-show discussion with members of the company immediately following the performance.
---
Wednesday, November 1 at 7:30 p.m.
Fine Arts Center Concert Hall
This renowned ensemble presents
The Spirit of Argentina,
a loving tribute to Carlos Gardel, a French-Argentine singer, songwriter, composer, and actor, and the most prominent figure in the history of tango. You'll discover his passions for futbol, boxing, and gauchos, and get glimpses into his life in Paris, his appearance on Broadway, and his friendship with the young Astor Piazzola. Tango Buenos Aires has become one of Argentina's great cultural exports, known throughout the world as the most authentic and uncompromising representative of the tango.
Pre-show talk in the Concert Hall Lobby at 6:15 pm. Tango Demonstration in the Concert Hall Lobby at 6:45 pm.
---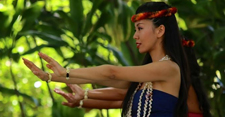 Tuesday, April 3 at 7:30 p.m.
Bowker Auditorium

Celebrating 30 years of performing, the Halau Hula Ka No'eau Ensemble captivates audiences with their exquisite, culturally authentic Hawaiian dance. At this performance, choreographer and cultural historian Michael Pili Pang presents a new work, based on legends about the divine creators of the Hawaiian Islands, that innovatively combines traditional hula, music, and chants. (This show was rescheduled after a weather cancellation the previous season.)

Pre-show talk in Bowker Auditorium at 6:30 pm.
---



Sponsors: