Terence Blanchard
Featuring the E-Collective
Saturday, April 8, 2017 at 8:00PM
Fine Arts Center Concert Hall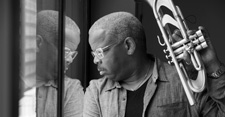 Trumpeter and composer Terence Blanchard breaks the mold with his new quintet, The E-Collective. This project journeys to an exciting realm of grooved fusion teeming with funk, R&B, and blues colors. The group's 2015 release,  Breathless,  is a first foray into straight-up grooveland for Blanchard, and he's thrilled with the range of this band – from dance-steeped party to pensive, ambient sounds: " Breathless is the album I've been wanting to do for quite a while."  Joined by guitarist Charles Altura, Fabian Almazan on piano and synths, bassist David "DJ" Ginyard Jr., and Oscar Seaton on drums, Breathless is a master class in storytelling, written in response to social tensions and inspired by Eric Garner's resounding words: "I Can't Breathe."

Ticket Prices


Ticket Prices
$35, $25; Five College Student & Youth 17 and Under: $10; Five College Faculty & Staff: Please call the Box Office
Tickets on Sale Now!
You can

Eat. Art. Love.

at the University Club located on campus, just a short walk from the FAC Concert Hall.
First Course:
Chicken-and-sausage gumbo or shrimp remoulade salad
Main Course:
Blackened red fish, jambalaya, or red beans and rice
Dessert:
Bananas Foster with vanilla ice cream or bread pudding
Click
here
for more information and a complete listing.
Artist Webpage
Facebook
Instagram
Twitter
Since top-tier jazz and multiple Grammy-winning trumpeter and composer Terence Blanchard embarked on his solo recording career with his eponymous Columbia Records album in 1991, the New Orleans-born and based artist has traveled many paths musically, including delivering adventurous and provocative acoustic jazz outings of original material, composing over 50 soundtracks and even, in 2013, debuting Champion: An Opera in Jazz. He has also, in the spirit of his onetime membership in the jazz school of Art Blakey's Jazz Messengers, mentored several musicians in his bands who have gone on to have significant recording careers of their own including Lionel Loueke, Aaron Parks, Kendrick Scott and one of his current band members Fabian Almazan.
As a leader and co-leader, Blanchard has recorded more than 30 albums that often defied genres, yet were still critically acclaimed. But for his latest Blue Note Records album, Breathless, Blanchard powerfully and playfully journeys into another jazz realm with his new quintet, The E-Collective—an exciting zone of grooved fusion teeming with funk, R&B and blues colors.
The adventurous 13-tune recording zeroes in on several Blanchard originals, an epic-length piece by Almazan and a scattering of covers, sung by soothing and soulful vocalist P.J. Morton (a member of the band Maroon 5), including an exhilarating take on the modern standard "Compared to What" made famous by Les McCann and Eddie Harris, and the soul-vibed and lyrical take on "I Ain't Got Nothin' But Time" penned by Hank Williams. Plus, Morton sings the compelling pop-styled, song-of-strength tune, "Shutting Down," written by Blanchard's talented son, T. Oliver Blanchard Jr., (aka JRei Oliver) who also contributes spoken-word excerpts on others. It's a first foray into straight-up grooveland for Blanchard, and he's thrilled with the dance-steeped party he and his quintet (and guests) have cooked up.
As for the breadth of Breathless, Blanchard is pleased to have followed through with a project that's dear to his heart and deep in his history. As for his jazz diehard fans who may frown at the deep-grooved fusion, he's not worried. "I always think of Miles Davis," he says. "No matter what he played, he was always Miles. He changed, but most of all he was having fun. That's the way I look at it. Whatever comes, so be it. But for this recording, there was just one must. The groove. Everything else is up for grabs."
"Ambitious, adventurous, and steeped in the kind of sticky, psychedelic jazz-funk pioneered by trumpeter Miles Davis in the '70s, Breathless is Blanchard's most electrified album to date." – All Music
"Terence Blanchard has always been forward thinking, but with E-Collective he shoots straight into tomorrow adding all sorts of different types of electricity and attitude to a new set of tunes. The concept is still right now with a more modern edge and sound, vocals and all, but it's still the tough but tender, timeless but vital unique tone that marks Terence's horn as one of the truly great and classic jazzmen." – Downbeat
"A five-time Grammy winner, today Blanchard stands as a preeminent figure in the jazz world, his place in the pantheon well enshrined. Yet to the fearless innovator, jazz is simply his language, his horn but a conduit, and his calling, a testament." – Offbeat Magazine
---
Thursday, November 3 at 7:30 p.m.
Bowker Auditorium
While most jazz trios have the piano front and center, all members of the Marcus Roberts Trio share equally in shaping the direction of the music – changing its tempo, mood, texture, or form at any time. The long-running trio is known for having almost telepathic communication on stage. The result is a powerfully rhythmic and melodic sound that is filled with dynamic contrast. Led by "the genius of modern piano," the Marcus Robert Trio performs both Roberts' original compositions and familiar jazz standards.
---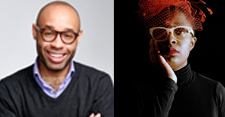 Thursday, February 16 at 7:30 p.m.
Fine Arts Center Concert Hall
Timeless classics are elevated by modern masters when acclaimed pianist Aaron Diehl and Grammy-winning vocalist Cecile McLorin Salvant revisit and revitalize the works of jazz piano greats George Gershwin and Jelly Roll Morton. Combining lesser-known works with new arrangements, the duo's energetic interpretations celebrate a musical lineage that spans a century. With shades of Ella Fitzgerald and Billie Holiday, Salvant burst onto the scene when she won the 2010 Thelonius Monk International Jazz Competition at only 21.
---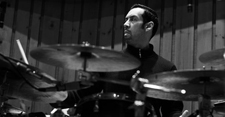 Tuesday, November 15 at 7:30 p.m.
Fine Arts Center Concert Hall
Birdman, the visually stunning 2015 Oscar winner for Best Picture by maverick director Alejandro González Iñárritu, stars Michael Keaton as a washed-up action star trying to reinvent his career as a credible actor and director on the Broadway stage. For this special event, renowned jazz drummer Antonio Sánchez accompanies the film live, recreating his explosive, Golden Globe-nominated and Grammy-winning score that forms the heartbeat of the film. Film rated R.
---
Sponsors