Brooklyn Rider
Johnny Gandelsman, violin, Colin Jacobsen, violin, Nicholas Cords, viola, Michael Nicolas, cello
Sunday, October 29, 2017 at 7:00 PM
Old Chapel
The adventurous, genre-defying string quartet Brooklyn Rider combines a wildly eclectic repertoire with a gripping performance style that is attracting legions of fans and drawing critical acclaim from classical, world and rock music critics alike. NPR credits Brooklyn Rider with "recreating the 300-year-old form of string quartet as a vital and creative 21st-century ensemble." Through creative programming and global collaborations, including those with the Silk Road Ensemble, Brooklyn Rider illuminates music for its audiences in ways that are "stunningly imaginative," according to
Lucid Culture
.
Click
here
for the evening's program.

Ticket Prices
$35; Five College Students and Youth 17 and Under: $10
Please call the Box Office to see if you or someone in your party is eligible for a discount.

Additional Programming
Brooklyn Rider - Masterclass & Discussion
Monday, October 30, 10:30 a.m. to 12:15 p.m., Bezanson Hall
Free & open to the public to observe
Accessible Access:
 For patrons with disabilities, please refer to this map for the closest parking to Old Chapel: North of Thompson Hall in Lot 64, next to Goodell on Hicks Way in Lot 64 via Hicks Way off Commonwealth Ave. Parking is also available in the Campus Center Parking Garage, Level 2 on 1 Campus Center Way, South Side of the Campus Center Parking Garage on Hicks Way, in Lot 71 behind Whitmore, North of Thompson and in the lot on the plaza to the right of the Concert Hall entrance. An accessible-parking permit must be visible to parking attendants. Access to the Old Chapel is available via a ramp in front of the building and an elevator to the second floor.
Accessible Access Parking Map
Browse the Playbill
Artist Webpage
"They are four classical musicians performing with the energy of young rock stars jamming on their guitars, a Beethoven-goes-indie foray into making classical music accessible but also celebrating why it was good in the first place." – Pittsburgh Post-Gazette
Since these four musicians began playing together as a quartet, Brooklyn Rider has performed extensively, recorded regularly, commissioned works from established and emerging composers, and collaborated with artists in other fields, such as dance. In 2015, it celebrated its tenth anniversary with the groundbreaking multidisciplinary project "Brooklyn Rider Almanac," for which it recorded and toured 15 specially commissioned works, each inspired by a different artistic muse.
In 2016, Brooklyn Rider released So Many Things, an album with mezzo-soprano Anne Sofie von Otter, of music by Colin Jacobsen, Caroline Shaw, John Adams, Nico Muhly, Björk, Sting, Kate Bush Elvis Costello, and others. Among its recording projects are 2016's The Fiction Issue with music by Gabriel Kahane, 2013's A Walking Fire on Mercury Classics, and The Impostor with Béla Fleck on Deutsche Grammophon/Mercury Classics, plus the much-praised Brooklyn Rider Plays Philip Glass (2011) on the composer's Orange Mountain Music label. Brooklyn Rider violinist Johnny Gandelsman launched In A Circle Records in 2008 with the release of the quartet's debut recording Passport, followed by Dominant Curve in 2010 and Seven Steps in 2012. A long-standing relationship between Brooklyn Rider and Iranian kamancheh player Kayhan Kalhor resulted in the much-praised 2008 recording Silent City.
The quartet tours the United States and Europe regularly and has played at Carnegie Hall, the Opernhaus Zurich, and Jacob's Pillow Dance Festival. In 2016, they toured the country with choreographer Brian Brooks and former New York City Ballet prima ballerina Wendy Whelan, performing Some of a Thousand Words, performing music by composers John Luther Adams, Tyondai Braxton, Philip Glass, Evan Ziporyn, and Brooklyn Rider's own Colin Jacobsen.
"For the past few years, Brooklyn Rider have pushed the envelope pretty much as far as a string quartet can go, and in the process have raised the bar for other groups: they transcend any preconception about what serious composed music is all about."
Lucid Culture
"After 10 years of outside collaboration and experimentation, Brooklyn Rider is still eager to push the boundaries of contemporary classical music – and have fun doing it." WGBH
"Crackling with creative electricity, this gorgeous recording is a satisfying, thought-provoking musical triumph."
iTunes
"It rethinks classical music AND the string quartet with a timeless quality, putting a stamp on the fact that music doesn't need labels or categories or genres. Put these four (or five, in "Exit") musicians together who can not only play music well, but express emotion and breathe life into the notes on a page, and the magic is there." King FM,
Second Inversion
"Brooklyn Rider's performances throughout are committed and persuasive, allowing a series of relatively short pieces for (mostly) the same four instruments to reveal many layers of possibility … Almanac presents a broad palette — and Brooklyn Rider proves adept at using it to paint in sound." John Schaefer,
Wondering Sound
"…a lively album of modern music, moody and evocative. "
Christian Science Monitor
"While The Brooklyn Rider Almanac is a testament to the nature of homage and influence, it also does its best to and succeeds in transcending those very things. Each contributor on the almanac brings their A game and Brooklyn Rider theirs, the union pushing each to creative heights thought previously unreachable. …it becomes quite apparent what separates and ultimately unites Brooklyn Rider with the multitude of chamber groups embracing and marrying classical and contemporary influences — a thrilling enthusiasm, a creative fearlessness that keeps Brooklyn Rider not only true to their artistic statement but excitedly scaling to new creative peaks. The Brooklyn Rider Almanac is a snapshot of this wonderful moment in nothing else and no doubt a placeholder for Brooklyn Rider's next unpredictable endeavor in possibly the best way."
All Around Sound
"I loved my freewheeling stroll through The Brooklyn Rider Almanac…it really felt like anything could happen. And it was all filtered through the quartet's signature approach to production, which is both big and crisp, with enough reverb to make passages more momentous but enough energy to make the whole exercise feel immediate and personal."
You Hear That?
"The very concept of The Brooklyn Rider Almanac is in itself an inspired idea, and so too is the quartet's playing, which is as always at a consistently high level."
Textura
"In the 21st century, confidence about the future domination of any given artistic tendency is probably misplaced. As shown by these works, stylistic diversity is now cutting-edge.""
Jay Harvey Upstage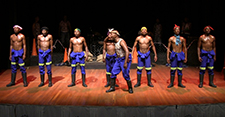 Tuesday, October 17, 7:30 p.m.
Fine Arts Center Concert Hall
Characterized by precise and technical footwork, pantsula is a dance form rooted in street culture, often performed to house music and in response to cultural and political issues. Gumboot dancing came out of the South Africa gold mines, where miners, forbidden to speak, slapped their gum-boots to communicate with each other. Featuring an ensemble of 20 men, Stimela the Musical is a unique tale of men who leave the townships of South Africa in search of greener pastures in the city of gold, Johannesburg.
Pre-show talk in the Concert Hall Lobby at 6:15 pm. Hip-Hop/Pantsula Demonstration in the Concert Hall Lobby at 6:45 pm.
---
Thursday, November 30 at 7 p.m.
Fine Arts Center Concert Hall
Plunge into a glistening blend of laser technology, snow cannons, soap-bubble tornadoes, and optical illusions as the effervescent Mr. B is transported to Bubblelandia, a blissful ocean utopia where colors explode and dreams take flight. Inspired by the artistry of Cirque du Soleil, this lavish Latvian production uses drama, mime, juggling, sand art, and theatrical magic to whisk families to an imaginary bubble world bursting with possibilities.
Family Fun Fest in the Concert Hall Lobby at 6:00 pm.
---
Tuesday, March 6 at 7:30 p.m.
Fine Arts Center Concert Hall
Welcome to the infamous Kit Kat Klub, where the Emcee, Sally Bowles, and a raucous ensemble take the stage nightly to tantalize the crowd––and to leave their troubles outside. But as life in pre-WWII Germany grows more and more uncertain, will the decadent allure of Berlin nightlife be enough to get them through dangerous times? Come hear some of the most memorable songs in theatre history, including "Cabaret," "Willkommen" and "Maybe This Time." Leave your troubles outside – life is beautiful at Cabaret, the Tony-winning musical about following your heart while the world loses its way.
Pre-show talk in the Concert Hall Lobby at 6:30 pm.
---
Sponsors: