The Underwater Bubble Show
Thursday, November 30, 2017 at 7:30PM
Fine Arts Center Concert Hall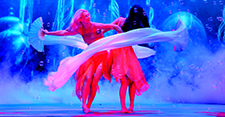 Plunge into a glistening blend of laser technology, snow cannons, soap-bubble tornadoes, and optical illusions as the effervescent Mr. B is transported to Bubblelandia, a blissful ocean utopia where colors explode and dreams take flight. Inspired by the artistry of Cirque du Soleil, this lavish Latvian production uses drama, mime, dance, puppetry, juggling, sand art, and theatrical magic to whisk families to an imaginary bubble world bursting with possibilities.
 

Ticket Prices
$25, $20, $15; Five College Students & Youth 17 and Under $10
$50 Family Pack (2 Adult, 2 Youth– A&B)
$5 Lap Seats are available for babies under one year of age on parents lap only. You must purchase these seats at the FAC Box Office window.
Tickets on Sale July 1, 2017!
Subscription orders available now through the Box Office.