Carlos Santiago Arroyo and Angel Sanchez Ortiz
Masks and Santos:The Earthly and the Holy in Puerto Rican Popular Culture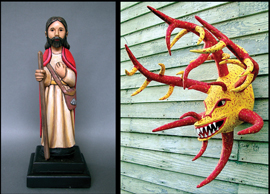 Monday, March 28 - Friday, April 22, 2005
Angel Sánchez Ortíz was born in Ponce and raised in Barrio San Antón in Puerto Rico. He grew up living the traditional Carnival festivities in February each year. During this time, family and friends were immersed in the celebration heralding the beginning of Lent. These festivities are more vibrant in the poorer areas of Ponce. He participated in the making of masks and costumes as they got ready for the Carnival in the Calle Cuatro, Bélgica, Cantera and Playa de Ponce. These masks are made out of papier-maché and depict animals with fantastic imagery. Angel Sanchez Ortiz made his own masks at the age of seven after observing artisans such as Mariano, Geño and others. By the time he was nine years old he had completed several other masks with vivid splashes of color and curved horns with the encouragement of his art teacher. He always played a role in the Ponce Carnival where he could display his work, full of expression and color. It gave him great pleasure to see children running, at times scared or mischievous, but most of all, always smiling and living their tradition. Sánchez Ortíz continued his craft after immigrating to the Pioneer Valley in 1989, teaching children and adolescents this cultural tradition through workshops and other activities. He has exhibited his work at the Puerto Rican Cultural Center, the Spanish American Union, Worcester Art Museum, Wheeler Gallery at Umass, and Holyoke Community College among other places. The use of masks to perform religious and secular rituals has been present for thousands of years in various cultures. Masks often represent gods, ancestors, animals or historical characters. Today's Puerto Rican masks are the result of a blend of the African, Spanish and native Táíno cultures. The Africans who were forced to come to the island as slaves, brought with them a rich and ancient tradition of wearing masks during rituals. Throughout the centuries mask-making adapted to the island's unique Caribbean culture, especially in the coastal towns where the African population predominated. In places like Loíza Aldea and Ponce the influence of traditional masks and their preparation continues to be strong. While the masks from Loíza are created using coconut shells, the ones from Ponce use papier-maché. Vegigante masks, as they are called, along with costumes, are still used during festivals. Sánchez Ortíz embraces his Puerto Rican roots through the creation of colorful masks in the style of his beloved Ponce. He has brought his inspired work to his birth community of Ponce, and now to Latinos in Holyoke and Springfield. His goal is to keep this tradition alive and relevant to Puerto Rican generations today. Carlos Santiago Arroyo is a Santos Carver, born in Ponce, Puerto Rico, in 1947, and raised in Puerto Nuevo. After having studied the carving of these religious saints for over 40 years, since his adolescence, Santiago Arroyo then began carving in 1998. Benefiting greatly from carving workshops and informal gatherings spent working with carvers while on the Island, he also attributes Padre Felipe López, a good friend and avid collector of these "santos," to sparking in him an interest in the carvings that has lasted a lifetime. Because of his immigration to the United States, Santiago Arroyo has been away, for the most part, from the every day life of the artisans of his country and the contemporary works they produce. As a result, Santiago Arroyo has delved largely into books to study traditional santeros, or priests, of the nineteenth and early twentieth centuries, which has greatly supplemented his schooling. But, Santiago Arroyo also travels to the Island annually to work with artisans living up in the mountains and along the coast. It is the exuberance of the tropics and the fervor of the local santeros that have created a singular style throughout the centuries which, in turn, have become the most sophisticated in the Caribbean. He has presented his work in Boston; at Bard College, New York; at Holyoke Community College; in Latino areas in the Pioneer Valley; and in the Museo de Las Américas, Old San Juan, Puerto Rico. He also visits schools in the Valley where Latino students work, offering demonstrations on santo carving and integrating into his presentations the history of Puerto Rico and of Puerto Ricans living in the United States. Carlos Santiago Arroyo graduated from the Universidad de Puerto Rico in 1970. A year later, he immigrated to Boston, Massachusetts, where he worked as a teacher of Latino students. Completing graduate studies in education in Cambridge, MA, in 1974, he taught one more year in Boston before moving to San Diego, California, where he also taught. After 9 years in education working in Puerto Rico, Boston and San Diego, he earned a graduate degree in Social Work in Northampton, MA. He worked in psychotherapy in a community mental health center for over ten years, and has worked for the Department of Public Health for the last 16 years. The constants throughout his adult life have been his family and working for the Latino community in education, mental health and public health.
Associated Events
Masks and Santos Opening Reception
Monday, March 28, 2005 
,5:00 pm to 7:00 pm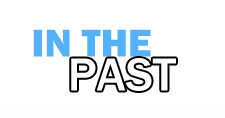 Here is an archive of many of our past events. If you are looking for current happenings at the FAC please go to the home page.
The past events section is updated periodically, very recent past events may not be listed immediately.
To navigate within the past events section:
By Program then by Year
By Artist for Exhibitions
Note these pages are updated every semester.  Not all events or exhibitions will be listed here promptly after they are over.