Money Jungle: Provocative in Blue
 
Thursday, October 24, 2019, 7:30 pm
Bowker Auditorium
For 40 years, drummer Terri Lyne Carrington has worked with luminary artists such as Herbie Hancock, Wayne Shorter, Cassandra Wilson, Dianne Reeves, John Scofield, Esperanza Spalding and countless others. Carrington is also the first female artist to win a Grammy for Best Jazz Instrumental Album. This special curated performance Money Jungle, based on the legendary album of the same name which featured Charles Mingus, Max Roach, and Duke Ellington, will pay homage to former UMass faculty and Jazz in July founder Max Roach. The performance features a special appearance by poet Sonia Sanchez.  

Join us for a pre-show talk on the significance of the original Money Jungle album by Amherst College's Claire Arenius at 6:30 in the auditoirum.       

$35, $20; Five College Students and Youth 17 & Under: $10
Under40TIX become available for this performance October 8, 2019
Additional Events:
CONVERSATION: Drummers As Trendsetters
Wednesday, October 23 from 6:30-9:30 pm | New Africa House Theater (basement level)
Drummers are place right up front, as they discuss the legacy of Max Roach and how they themselves fulfill a role as a trendsetter in the industry. The panelists include TERRI LYNE CARRINGTON, renown drummer, composer and producer; MAKAYA MCCRAVEN UMass alumni, beat scientist and popular drummer; ROYAL HARTIGAN, who studied extensively with Max Roach; and moderator STEPHANIE SHONEKAN, chair of the UMass W.E.B. Du Bois Department of Afro-American Studies. Followed by mini-concert with MTALI BANDA.

CONVERSATION: The Life and Legacy of Max Roach
Thursday, October 24 from 4-6 pm | New Africa House Theater
With special opening performance by TBD [please note, Terry Jenoure is not able to perform as previously advertised.]
Max Roach was an exceptional musician as well as a dedicated civil right leader. He was a member of the UMass Music faculty from 1972 until his retirement in 1994. One of the first jazz musicians to teach full-time at the college level, Roach joined the UMass W.E.B. Du Bois Department of Afro-American Studies faculty as a tenured professor, and was one of the founders of the Jazz in July Summer Program along with Billy Taylor and Frederick Tillis. Panelists include famous poet SONIA SANCHEZ, Max's daughter MAXINE ROACH, Max Roach's biographist HERB BOYD visual artist and colleague of Max Roach NELSON STEVENS, and moderator JOHN BRACEY, faculty member, UMass W.E.B. Du Bois Department of Afro-American Studies.
Share this event!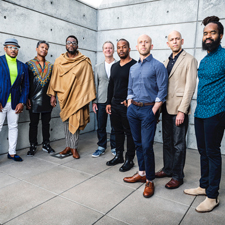 Wednesday, April 1, 7:30 p.m., Fine Arts Center Concert Hall
The SFJAZZ Collective concludes their national tour and 50th Anniversary celebration of two albums from 1969: In A Silent Way, regarded as Miles Davis' most influential work, creating a sound world between jazz and rock, and Stand by Sly and The Family Stone, a blending of funk and rock that's been deemed "culturally, historically, or aesthetically significant" by the Library of Congress. The SFJAZZ Collective includes David Sanchez, tenor saxophone, Etienne Charles, trumpet, Warren Wolf, vibraphone, Edward Simon, piano, keyboards, Adam Rogers, guitar, Matt Penman, bass, Obed Calvaire, drums and special guest Martin Luther McCoy on vocals.
---