CAYONI: Creek Indian Visionary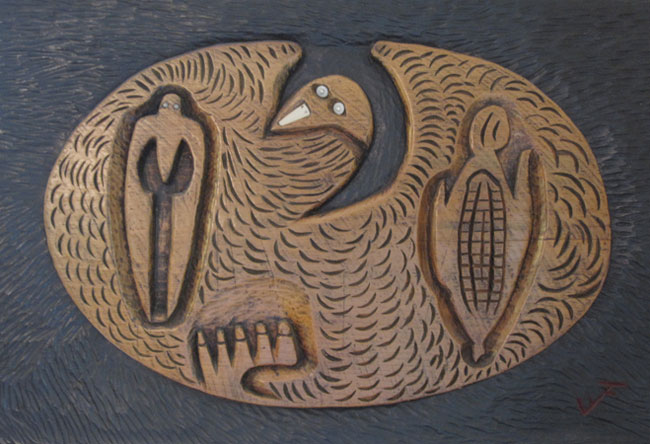 An exhibit by New Salem-based artist and the sole practicing traditional Creek Indian wood carver
September 12 - 30, 2011
Augusta Savage Gallery

Cayoni, the sole practicing traditional Creek Indian wood carver was born Joseph Johns.  On the night of his birth, it was snowing – a rare occasion on Georgia's Okefenokee Swamp.  His grandfather stepped outside, looked at the sky, and gave Joe his Indian name: Cayoni – Muskogee for "bad weather."
Throughout his life, Cayoni has carved in the tradition he learned from his maternal grandfather by fashioning from logs the mythical beings of Creek rituals, ceremonies, and beliefs.  Reflected in his carvings is the inseparable connection the Creek feel between themselves and their natural environment.  Each figure seems to form at once the likeness of a human and of an animal, insect, or plant.
While eight traditional Creek wood carvings form the core of his work, Cayoni uses the same native methods and stylistic devices to create original carvings reflecting his own personal encounters and experiences.  His art represents a bridge between the traditions of his people and the Creek in modern society.  He combines great personal vision and creative talent with an artistic tradition passed down for countless generations. 
Cayoni served in World War II and the Korean and Vietnam Wars as a sniper in the U.S. Navy.  In 1947, he received the Silver Star and a Presidential Commendation.  Active in local and national Indian affairs, Cayoni was the Chief of the Altamaha River Creek from 1982-1985.  He was employed by Harvard University from 1967 to 1990.  There, he was appointed Peabody Museum Indian Artist in Residence, Emeritus.  Cayoni's carvings can be found in private collections in the United States and Europe.
The Creek Nation
The Muskogean Creek find their roots in the ancient Mississippian culture of what is now Alabama and Georgia.  Virtually destroyed by Hernando DeSoto in 1539, the various remaining but depleted chiefdoms formed a confederacy now known as the Creek Nation.  The Nation's political and military power grew rapidly, and the Creek enjoyed a brief period of relative prosperity and influence in their dealing with Euro-American governments.  The Nation was weakened by internal factionalism, however, and Andrew Jackson's 1813-14 onslaught made the Creek easy targets for removal along the infamous Trail of Tears during the 1830's.  Along with the Creek, the Choctaw, Chickasaw, Seminole, and Iroquoian Cherokee were relocated in Indian Territory (Oklahoma) and became known as the Five Civilized Tribes.
Although the Creek Nation continues to thrive in present-day Oklahoma, many Muskogean Creek managed to avoid relocation, either by staying on traditional Creek lands or escaping from Indian Territory.  On October 19, 1950, these Eastern Creek formed the Council of The Creek Nation East of the Mississippi, laying claim to their cultural heritage and ancestral lands.  Since that time, Creek culture has been revitalized by a growing interest in traditional ways.  The Eastern Creeks are no longer, as some Creek leaders once described themselves, "a forgotten people."
Excerpted from exhibition brochure: "Cayoni: Traditional Creek Wood Carving," Peabody Museum of Archaeology and Ethnology for the Tozzer Library, Harvard University, November 4, 1993 – June 1994.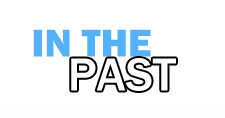 Here is an archive of many of our past events. If you are looking for current happenings at the FAC please go to the home page.
The past events section is updated periodically, very recent past events may not be listed immediately.
To navigate within the past events section:
By Program then by Year
By Artist for Exhibitions
Note these pages are updated every semester.  Not all events or exhibitions will be listed here promptly after they are over.

Monday September 12 from 5 - 7pm


More Information
Gallery Hours:
Mondays & Tuesdays 1-7 pm; Wednesdays through Fridays 1-5 pm
Contact Information:
103 New Africa House
University of Massachusetts
180 Infirmary Way
Amherst, MA 01003 
(413) 545-5177

 
Gallery Director, Dr. Terry Jenoure
Gallery Manager, Alexia Cota
 
For GPS and mapquest:
180 Infirmary Way
Amherst, MA 01003