Cirque Mechanics
An Unlikely Discovery Sets off A Series of Hilarious and Unexpected Events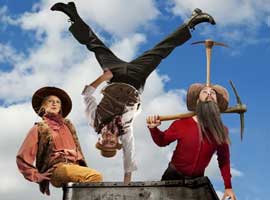 Tuesday, March 22
Concert Hall   7:30 pm
$35, $30, $15; Five College/GCC/STCC students and youth 17 and under: $10
Set in a Gold-Rush era mining town, Boom Town features world-class circus stars in an evening full of lore, excitement and wonders of the Old West. Be transported to the 1860's small frontier town of Rosebud, where two ambitious saloon owners have set up shop in the hopes of cashing in on the town's gold rush frenzy. The circus that ensues when they begin to feud for the townsfolk's patronage leads to a series of explosive events, exciting brawls, an unexpected romance, and a lucrative discovery.
Once again, as with their previous productions, Cirque Mechanics explores the relationship between humans and machines. Inspired by early mining equipment and the spirit of adventure that brought prospectors and entrepreneurs alike out West searching for gold, Boom Town features innovative and one-of-a-kind mechanical apparatus that serves both as scenery and performance prop. You will find performers climbing up swaying telegraph poles, dancing on a swinging chandelier, flying high and fast on a revolving crane, flipping and jumping on moving ore carts, and balancing on whiskey jugs.
Associated Events
Cirque Mechanics Pre-Show Entertainment in the Lobby
New England Center for Circus Arts to Perform
Tuesday, March 22 FAC Concert Hall Lobby
Free and Open to the Public,6:15 pm to 7:00 pm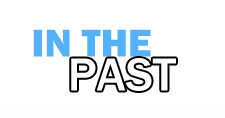 Here is an archive of many of our past events. If you are looking for current happenings at the FAC please go to the home page.
The past events section is updated periodically, very recent past events may not be listed immediately.
To navigate within the past events section:
By Program then by Year
By Artist for Exhibitions
Note these pages are updated every semester.  Not all events or exhibitions will be listed here promptly after they are over.