[Containing] Great Space
October 21 - November 15 | Opening Reception: Sunday, October 21, 2 pm - 4 pm
Curated by Jeanette Cole Featuring artists Paula Elliott, Sigrid Miller Pollin, and Joan Weber
The "[containing] great space" exhibition originated with the notion of a container like image as a vehicle to enter a place of interiority, and the possibilities of distinctly personal results when artists embark on this path.

Curator Jeanette Cole's essay:
The [containing] great space exhibition originated with the notion of a container like image as a vehicle to enter a place of interiority, and the possibilities of distinctly personal results when artists embark on this path. The artists in this exhibition do so not out of an urge to shelter from the exterior world and its bombardments, but with a curiosity about what the examination of an interior world has to offer. Their approach does not focus on self-disclosure and personal angst as their reflections are not directed at or about themselves, but rather at nature itself and how one might think about it as a state or condition. Interiority in this show is about the ever expanding and contracting, borders, boundaries and edges that contain our animate and inanimate world.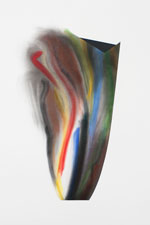 Paula Elliott
makes charcoal drawings which focus on basic forms and their relationship to the horizon and gravity. Her dark massive forms, built to a large extent with charcoal, are at once heavy and airy. Her surfaces can be impenetrable. The edges of the forms give way to openings without revealing the interior.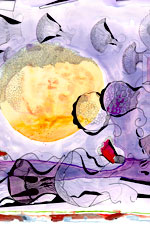 Sigrid Miller Pollin
, an architect by training, uses the tools of her craft, mechanical pens and Yupo paper whose drawing surface is similar to architect's mylar film, along with iridescent inks, to enter the world of cell biology. Using the cross section and cell structure as a "12 bar" base, she loosely lays down color, letting the aqueous media follow its course and lays pen work on top. The result is a cacophonic orchestra of visual sound.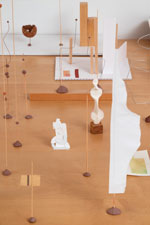 Joan Weber
works in clay, wire, wood, dry pigment, paper and found objects. She forms small constructions by hand, several inches high or a bit larger, composing them on a table or shelf. The miniature standing forms are delicate and physically fragile. Each one holds a thought, a feeling, a moment. The fragility and temporality of the work is countered by the strength of its clarity and directness.
Transferring a thought process from one discipline to another is in part what makes these artists' work intriguing. Elliott makes drawings about sculptural ideas, Weber uses sculptural materials to draw, and Miller Pollin draws/paints with architectural materials.
The notion of great (or large) space is one that emerges from each artists' work as they move into a microcosm of expanding possibilities. The cellular world of Miller Pollin is subdivided over and over, into a kind of infinity, a recessional landscape of layered screens and surfaces. Elliot presents a singular form with the tiniest opening into the interior spacial volume. Weber's work, installed in the Incubator Gallery, uses the room itself as a container.
The term great, or great space, in this exhibition suggests that the possibility for awe and wonder still exists at the heart of human experience. The very notion of "greatness" has been something of a taboo in recent decades, ever since Linda Nochin wrote her seminal text Why Have there been no great Women Artists?, and hierarchy as a critical idea has been associated with male power in the political art world. conflation of the content of a work of art and its context can be complicated. Michael Kimmelman, in The Accidental Masterpiece, thoughtfully scrutinizes our cultural context as a constraint on our ability to experience awe. So it seems worthwhile to revisit both the notion of greatness as descriptive of space, the nature of our response as wonderment, and the intentions of the artist in examining the world as they experience it. This exhibition attempts to engage contained, great space, and explore the edges of that place through the art of these three artists.  
Jeanette Cole Biography
Jeanette Cole taught painting at the Department of Art at the University of Massachusetts Amherst from 1989-2017.
She has exhibited her work in several solo exhibitions in New York at the John Gibson Gallery and LP projects; and in many group exhibitions in the metropolitan New York area including the Frumkin/Adams Gallery, Ben Shahn Galleries at William Paterson College and the Islip Museum. She has had twenty-five solo exhibitions at colleges and galleries across the country. In 2000, Central Florida University exhibited her Paradise Series, multicomponent mixed media paintings, which exemplified her interest in seemingly incompatible cultural systems.
Having grown up in Liberia, West Africa until age 13 when her family moved to the United States, the contrast of experiences has become a central theme in her work. She is a recipient of a Howard Foundation Fellowship and a Virginia Museum Professional Fellowship. In 2008 she showed 12 paintings in "Couples" at the Islip Museum on Long Island, (reviewed in New York Newsday and New York Times regional edition). In 2012 she had a solo show at The Industry, Long Island City, NY an alternate space sponsored by Silver Cups Studios. In 2015 had a large solo exhibition at Barton Museum in North Carolina and brought the works on paper segment of that exhibition to Hampden Gallery in 2017.
In 2014 she co-curated (along with Trevor Richardson and Shona MacDonald) Pouring It On for Herter Gallery.
Hampden Gallery
Recent Exhibitions
More Information
Hampden Gallery Hours:
Hampden Pop-up Gallery hours:
Monday: 1:30 p.m. - 6:00 p.m.
Tuesday:1:30 p.m. - 6:00 p.m.
Wednesday: 4:30 p.m. - 7:00 p.m.
Thursday: 12:00 p.m. - 6:00 p.m.
Friday: 12:00 p.m. - 6:00 p.m.
*Follows the University's holiday schedule
Contact Information:
Main Number: (413) 545-0680
Gallery Director, Anne LaPrade Seuthe
Gallery Manager, Sally Curcio