Contra-Tiempo | Urban Latin Dance Theater
Agua Furiosa
Thursday, October 6, 2016 at 7:30PM
Fine Arts Center Concert Hall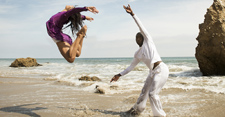 The newest work from this bold, multilingual Los Angeles based dance company challenges audiences to confront the harsh realities of race in our country. Inspired by Shakespeare's The Tempest and Oya, the Afro-Cuban deity of wind and storms, Agua Furiosa highlights Contra-Tiempo's unique urban-Latin movement vocabularies to create a visually stunning and thought-provoking performance.
Please Note: There will be a Strobe Light in use during this performance.
Dessert: Stay for a post-concert talk with the company.

Ticket Prices


$35, $30, $20; Five College Student & Youth 17 and Under: $10; Five College Faculty & Staff: Please call the Box Office

Extra course: Company memebers will teach a Rueda (Cuban Salsa) workshop on Tues., Oct. 4, 6:30p.m. in Holyoke.
Register here!
 
Tickets on Sale Now!
Performance Webpage
Facebook
Instagram
Twitter
CONTRA-TIEMPO is a bold & multilingual Los Angeles-based dance company founded and directed by Ana Maria Alvarez. Their work, rooted in Salsa & Afro-Cuban, draws from Hip-Hop, urban & contemporary dance-theater. Alvarez and her company create physically intense and socially astute performance work that pushes the boundaries of Latin dance as an expressive cultural and contemporary form. CONTRA-TIEMPO takes Salsa back to its roots as a mode of expression for the struggles of the working class and is committed to making high quality, professional performance work accessible for all, regardless of race or class. The company exists inside of and embodies the 'in between' space: leader/follower, immigrant/American, English/Spanish, performer/listener. They embrace this liminality as artists within communities, both on and off stage. CONTRA-TIEMPO is a rich tapestry of professional dancers and performers from varied styles, many of whom are immigrants or first generation North Americans, and exist within the varied and infinitely complex political and personal landscapes that Alvarez addresses both on and off stage. Resident composer and co-founder, César Alvarez, approaches the music for the group as if it were a new genre. CONTRA-TIEMPO's movement narrative calls for a complete rebuilding of "dance music" using a sonic vocabulary as far-reaching and diverse as the company members' backgrounds. In the original music he composes for CONTRA-TIEMPO's performances, César deconstructs salsa, collaging Americana with hip-hop, poetry with clave, industrial and found sound with the powerful rhythmic traditions of the African Diaspora.
CONTRA-TIEMPO has a strong touring record which includes, Ordway Center for the Performing Arts (MN), Modlin Center for the Arts (VA), UNC Wilmington (NC), Dance Place (DC), ASU Gammage and Mesa Arts Center (AZ), Lincoln Center OOD (NYC), Ford Amphitheater (CA) & Jacob's Pillow (MA) among others. The company is known for their powerful engagement work and directly involving communities and audiences in art making. The company has several large-scale performance works, many shorter pieces, dance residency programs for youth, and master classes (in various genres) for all ages. When booked and utilized fully the company has been known to sell out venues with the majority of audience members being first time ticket buyers. This company's specialty is engaging new audience members. In 2014 CONTRA-TIEMPO toured to South America as dance ambassadors, with DanceMotionUSA, a program of the Bureau of Educational & Cultural Affairs of the US Department of State, produced by BAM, showcasing the finest contemporary American Dance abroad.
"The new face of Los Angeles dance, the new voice as well…" – Los Angeles Times
"A performance that moves beyond just dance, but expresses with its movements the strength of the Latino community in their struggle as they live in a country that is not their own." – Washington Post
"Represents the kind of socially aware contemporary work that only a few dance artists such as Bill T. Jones reliably provide...in heart, mind and soul this is the real thing!" – Los Angeles Times
---
Tuesday, February 28 at 7:30 p.m.
Fine Arts Center Concert Hall
Sydney Dance Company comes to the FAC under the exuberant artistic direction of Rafael Bonachela, a self-proclaimed "movement junkie." Vividly imagined, his sensuous aesthetic has signaled a new chapter for the legendary company whose dancers infuse the stage with "creative precision and exhilarating energy." (Sydney Morning Herald) For its Amherst appearance, the company presents a powerful mixed repertory program that delivers a high-energy tour de force, celebrating the dancers' fierce physicality. "Passionate yet highly precise, demanding and often breath-stealing." – The Guardian
---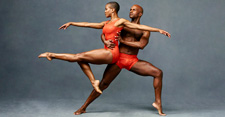 Tuesday, April 25 at 7:30 p.m.
Fine Arts Center Concert Hall
Experience the power of Alvin Ailey American Dance Theater and see for yourself why this extraordinary company is hailed as America's cultural ambassador to the world. From the pulse-racing thrill of contemporary favorites to the spirit-lifting joy of beloved classics, these extraordinary dancers bring African-American cultural expression and the American modern dance tradition to life. The program for the evening will be a mixed rep, closing with the audience favorite – Revelations.
---
Sponsors
Funded in part by the New England Foundation for the Arts' National Dance Project, with lead dunding from the
Doris Duke Charitable Foundation and the Andrew W. Mellon Foundation with additional support from the National Endowment for the Arts.