Les 7 Doigts de la Main: Cuisine & Confessions
Thursday, March 23, 2017 at 7:30PM
Fine Arts Center Concert Hall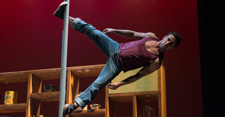 7 Doigts invites you into their kitchen for this multi-sensory marvel. Cuisine and Confessions colorfully displays that life happens in the kitchen and that storytelling can happen through food. In this show, the audience's most visceral senses are heightened by high-flying, eye-popping acrobatics, elaborate choreography, and pulsating music coupled with visuals of mixing batter, baking cookies, and sprinkling oregano. The show reminds us that each individual is composed of a unique set of ingredients and that the kitchen is an iconic meeting point that spans generations and countries throughout the world.  So sit back, "feed your eyes and mouth – and make sure you don't try any of this at home," cheers Time Out (Paris).

Ticket Prices


$45, $40, $20; Five College Student & Youth 17 and Under: $20, $15, $10; Five College Faculty & Staff: Please call the Box Office
Tickets on Sale Now!
You can

Eat. Art. Love.

at the University Club located on campus, just a short walk from the FAC Concert Hall.
First Course:
Salade Lyonnaise or French onion soup
Main Course:
Steak frites, coq au vin, or bouillabaisse
Dessert:
Crème brulée or éclairs and macarons
Click
here
for more information and a complete listing.  
Artist Webpage
Facebook
Twitter
Les 7 doigts de la main translates literally as "the 7 fingers of the hand". It is a twist on a French idiom ("the five fingers of the hand") used to describe distinct parts united tightly, moving in coordination towards one common goal. Here it refers to the 7 founding directors of the company (Isabelle Chassé, Shana Carroll, Patrick Léonard, Faon Shane, Gypsy Snider, Sébastien Soldevila et Samuel Tétreault) who, by combining their distinct talents and experiences, work towards their common artistic goals with the beautifully awkward dexterity of a 7-fingered hand.
When first formed in 2002, each of the founding members had nearly 20 years of performance experience under their belts. Drawing from their decades on the road and in the ring, these friends and colleagues now shared a desire to break the mold, to offer a brand new form of circus performance. They envisioned a sort of "circus at human scale" — shows seeped in intimacy and familiarity, that brought the empowerment of the extraordinary through the proximity of the ordinary, with very real human beings who breathed and danced and spoke from the heart. From this, the urge to redefine the circus medium has continued to drive each of their creations to newer, more hybrid and collaborative territories. Perpetually blurring the lines between contemporary dance and acrobatics, between theatre and athleticism, between interactive multi-media and immersive experience, they strive towards the undefinable, uncategorizable, visceral, breathtaking and touchingly human.
"An infallible circus-dance-theatre-rock recipe that brings us right back to our hearts while warming our stomachs!" – Le Monde
"A perfect blend with just the right dose of ingredients, like in the very best of recipes." – Huffington Post
"A whole new kind of awe-inspiring theater." – NBC TV
---
Thursday, December 1 at 7:30 p.m.
Fine Arts Center Concert Hall
Winner of eight Tony Awards including Best Musical, ONCE is a truly original Broadway experience. Featuring an impressive ensemble of actor/musicians who play their own instruments onstage, ONCE tells the enchanting tale of a Dublin street musician about to give up on his dream when a beautiful young woman takes a sudden interest in his haunting love songs. Emotionally captivating and theatrically breathtaking, ONCE draws you in from the very first note and never lets go.
---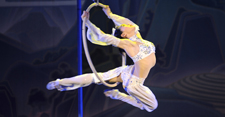 Wednesday, November 9 at 7:30 p.m.
Fine Arts Center Concert Hall
One of China's most outstanding acrobatic troupes, the Shanghai Acrobats full company and its multiple performing groups give more than two thousand performances in China and hundreds of performances abroad each year. The company continues to win awards nationally and internationally for their unique acts, including Icarian umbrellas, head jumping monks, Shadow of Cards magic, the Butterfly Lovers aerial silk act, and many more. The Shanghai Acrobats will perform their brand new show, "Shanghai Nights," at the FAC.
---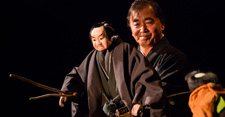 Thursday, March 30 at 7:30 p.m.
Bowker Auditorium
Witness the unique tradition of Japanese Kuruma Ningyo (cart puppets) in this story of two wandering travelers along the great highway from Tokyo to Kyoto, whose paths intersect time and space. Created by American puppeteer Tom Lee and Japanese Master Puppeteer Koryu Nishikawa V, this work fuses traditional Kuruma Ningyo puppetry, video projection and live music to explore themes of life and death, and how traditions are passed on.  
Audience members are invited to a pre-concert talk by Puppeteer Tom Lee at 6:30 p.m. in Bowker Auditorium.
---
Sponsors