Cultures of Peace
Student Film showcase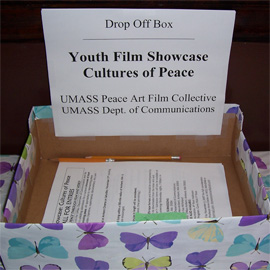 Saturday, November 17 2007
Amherst Cinema   from 11:00 am to 2:00 pm
The Peace Art Film Collective c/o UMass Communication classes 493B/693B and the Asian Arts and Culture Program is soliciting submissions for a curated showcase of short film/video by local youth promoting peace. All approaches to representing peace through the medium of film/video (narrative, experimental, documentary, etc.) are welcome. Selected works will be screened at Amherst Cinema on Saturday , November 17 starting at 11:00 AM. Any young person up to age 18 living within a 100-mile radius of Amherst, MA is eligible. Artistic collaborations including those with mentors over 18 are encouraged. Pieces up to approximately five minutes in length will be considered. Longer pieces or excerpts will be considered, time permitting. Work should be submitted on DVD or DV-tape formats and should be accompanied by a completed submission form. (Download from the media link on this page.) Work must be received by November 2, 2007 for full consideration. Mail submissions to: Professor Anne Ciecko, P.O. Box 25, Amherst MA 01004 or Asian Arts & Culture Program, 9A Curry Hicks, 100 Hicks Way, UMass, Amherst, MA 01003. Drop off box also available: Umass Department of Communication, 4th floor mailroom. For more information please contact Professor Ciecko at (413) 545-6348.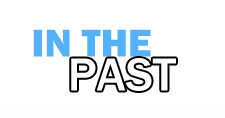 Here is an archive of many of our past events. If you are looking for current happenings at the FAC please go to the home page.
The past events section is updated periodically, very recent past events may not be listed immediately.
To navigate within the past events section:
By Program then by Year
By Artist for Exhibitions
Note these pages are updated every semester.  Not all events or exhibitions will be listed here promptly after they are over.