EDDIE PALMIERI SALSA ORCHESTRA
Saturday, February 28, 8 p.m., Fine Arts Center Concert Hall, Chamber Seating
$40, $35, $20; Five College, GCC and 17 & under $10

Eddie Palmieri, known for his charismatic power and bold innovative drive, has a musical career that spans over 50 years as a bandleader of Salsa and Latin Jazz orchestras. With a discography that includes 36 titles, Palmieri has been awarded ten Grammy Awards. A true powerhouse of brilliance, known for his astute arranging skills and historic compositions, Palmieri has shown that time is infinite with respect to his repertoire as he continues to thrill audiences throughout the world with his legendary style.
Audience members are invited to a pre-performance moderated conversation with Eddie Palmieri at 4:30 p.m. in the Concert Hall. Moderater: Wilson Valentín-Escobar, Associate Professor of American Studies, Critical Ethnic Studies, & Sociology at Hampshire College in the School of Critical Social Inquiry.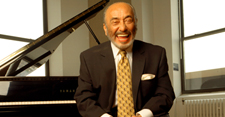 CONNECT
Website
Facebook