Embrace India!
Alankara Arts Tour to India
December 27th, 2013 - January 10th, 2014
Experience the richness of ancient traditions and contemporary ways of India and its people on an exciting 15 day fully escorted tour with Ranjanaa Devi, Director at the Asian Arts & Culture Program. India, the cradle of arts and architecture for centuries never disappoints. There is always too much to see and absorb; to enjoy the varied cuisine and the warmth of Indian hospitality. This tour boasts of a wonderful select itinerary that guides you to special places and people off the usual tourist track. Our focus this trip will be western and Southern India, with the tour beginning on our arrival in the metropolitan city of Mumbai on the Arabian Seacoast. Mumbai is a melting pot of many of India's diverse communities with no less than 7 languages spoken simultaneously. A city that is best known world-wide for its Bollywood musicals and dance is notable in other ways as well. We will travel to Ahmedabad to visit its historic monuments and well known centers among them the Gandhi Ashram, the Darpana Academy for the Arts, arts & crafts museum to enjoy food and rituals particular to the State of Gujarat. Next, we will move to Bangalore, India's technology hub to enjoy a contemporary scene of India's vibrant young generation and will travel nearby to visit the historic temple sites of Halebid and Belur. Saving the best, our tour will end in the loveliest tropical State of Kerala best known for its dance, backwaters cruises, spices, coffee/ tea, ayurvedic massage and cuisine. Some highlights will include an overnight stay in a Houseboat on the lake, a visit to a tea plantation and, a wildlife sanctuary. The Alankara tour includes a mix of heritage, special boutique and large hotels all rated highly to suit every comfort on your travels in India. For those who love to travel- India can be an experience of a lifetime!
Cost: $3750 per person in a sharing twin/double room

International air fare is additional.

Single room costs extra.

Reservations with deposit due by September 30 (to ensure current domestic air pricing)

Contact Loretta Pinto at pinto_loretta@yahoo.com Tel: 914-751-2319

This tour is presented in partnership with Lotus DMC, India
---
Tour Schedule Summary for UMASS Group Tour
| | | | | |
| --- | --- | --- | --- | --- |
| Day | Date | Route | Activity / Places Visited | Overnight Stay |
| 1 | 28th Dec 2013 | Mumbai Airport | Meet at the Airport & Transfer in to your Hotel. | Hotel ITC Maratha |
| 2 | 29th Dec 2013 | Mumbai | Afternoon visit to Elephanta Caves. | Hotel ITC Maratha |
| 3 | 30th Dec 2013 | Mumbai-Ahmedabad | Transfer to Mumbai Airport. Arrive Ahmedabad. Half day City Tour of Ahmedabad. | House of MG |
| 4 | 31st Dec 2013 | Ahmedabad | Full day City Tour of Ahmedabad | House of MG |
| 5 | 1st Jan 2014 | Ahmedabad-Bangalore | Transfer to Airport. Arrive Bangalore. Half day City Tour of Bangalore. | Hotel St. Marks |
| 6 | 2nd Jan 2014 | Bangalore | Visit local family in the evening. | Hotel St. Marks |
| 7 | 3rd Jan 2014 | Bangalore-Hassan | Proceed to Hassan by road. Visis a Jain Pilgrim Destination. | Mallige Residency |
| 8 | 4th Jan 2014 | Hassan-Belur-Halebid-Hassan | Full day sightseeing at Belur and Halebid. | Mallige Residency |
| 9 | 5th Jan 2014 | Hassan-Bangalore-Cochin | Proceed to Bangalore by road. Transfer to Airport. Arrive Cochin. Check in at Hotel. | Eighth Bastion |
| 10 | 6th Jan 2014 | Cochin | Full day City Tour. Evening Kathakali Show. | Eighth Bastion |
| 11 | 7th Jan 2014 | Cochin-Periyar | Proceed to Periyar by road. Visit spice plantations. | Hotel GreenWoods |
| 12 | 8th Jan 2014 | Periyar-Alleppey | A.M. Boat ride on lake Periyar, later transfer to Alleppey. Board the Houseboat. | Houseboat |
| 13 | 9th Jan 2014 | Alleppey-Cochin-Mumbai | Transfer to Cochin Airport. Arrive Mumbai. Transfer to International Airport to connect flight to USA. |   |
Day 01 (28th Dec 2013, Saturday): Arrive Mumbai Airport
Arrive Mumbai International Airport by (Flight No). Lotus Representative will receive you at the International Airport and transfer you to your hotel for check-in (check-in from 1400 hours). Mumbai is the Commercial Capital, Financial, Industrial and Film City of India.
Overnight at Hotel ITC Maratha, Mumbai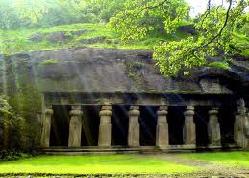 Day 02 (29th Dec 2013, Sunday): Mumbai
Morning free, later in the afternoon visit Elephanta Island Caves temples– A world Heritage Site The temples possess a series of caves featuring fascinating carved reliefs and rock sculptures of Hindu deities and Buddhist images.
Overnight at Hotel ITC Maratha, Mumbai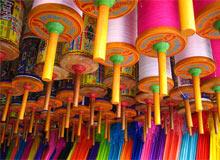 Day 03 (30th Dec 2013, Monday): Mumbai - Ahmedabad
After breakfast in the Hotel, transfer to Mumbai Airport to connect flight SG 106 departing Mumbai at 0810 Hrs and arriving Ahmedabad at 0915 Hrs. Arrive Ahmedabad and transfer to Hotel. Later proceed for sightseeing. Visit Sidi Saiyad Mosque, built by a general of Abyssinian origin in the 1570 and is best known for its intricate perforated stone work, The Sidi Saiyad Mosque is famous for its ten semi – circular delicately carved stone windows; one of them shows the intricately entwined branches of a tree, depicting the 'Tree of life'. Visit Gandhi Ashram. The beautiful ashram complex of Ahmadabad, with shady trees populated by thousands of parakeets, beaters, sunbirds, squirrels, offers a refuge from the loud streets of the city and is one of the foremost tourist attractions of Ahmadabad. This ashram was Gandhi's headquarters during the long struggle for Indian independence. Ashram was founded in 1915 and still makes handicrafts, handmade paper and spinning wheels. Visit Adalaj Vav, Gujarat's most spectacular step-wells which built by Queen Rudabai entrances leading to a huge platform that rest on 16 pillars. After Lunch we visit the Calico Museum of Textiles, one of India's leading specialized museums. (Guided Tour of museum is available from 1500–1700 Hrs. Groups of upto 20 permitted at a time. Advance booking required. The Collections include textile swatches of Indian. silk saris from across India, double-ikat silk sarongs made in Patan for the Indonesian market, British and Portuguese colonial powers in Gujarat, cloth paintings and manuscripts, religious narrative cloth paintings like Pichwais and Kalamkaris, etc.
Overnight at House of MG
Day 04 (31st Dec 2013, Tuesday): Ahmedabad
After breakfast at hotel and we proceed for
Hatheesingh Temple
which was built outside Delhi gate in 1850 by a rich Jain merchant Sheth Hatheesingh. This is the best known of Ahmadabad's many ornate Jain temples. Lunch will be at a local restaurant after which we visit to
Sanskar Kendra
was built by none other than the renowned architect Le Corbusier himself in 1954 as a cultural centre of Ahmadabad in order to preserve its architecture, and nurture a space of culture and community, the
Vastu Shilpa
. This museum celebrates the living heritage of the city and the pioneering spirit of its people. It houses old relics, sculptures relaying the history of this city.
Sanskar Kendra
also containss the famous Kite Museum designed by Bhanu Shah who has created a fascinating and striking collection of kites. Next we will visit the
Shreyas Folk Museum
, a museum that is a tribute to the indefatigable spirit of the Gujarati women who have added remarkable value to the Gujarati heritage with their exquisite crafts. Displayed here the art styles collected from multiple area communities such as the Kathi, Rabari, Ahir, Mer, Charan, Bharvad, Kanbi, Koli, Bhansali, Rajput, Brahmin, and several others. Also on exhibit are colourful works of embroidery, wood carving, metal work, bead work and utensils, leather work, costumes, paintings and animal decorations, and objects of household usage. Photographic panels accompanied by textual description add value to the viewers' experience and understanding of this wide collection.
Kalpana Mangaldas Children's Museum
(Performing Arts Museum) within the same premises houses a collection of puppets, dance and drama costumes, coins and a repository of recorded music from traditional shows from all over the world. One of the highlights at this museum is a complete elephant skeleton (3.19m high).
Overnight at House of MG, Ahmedabad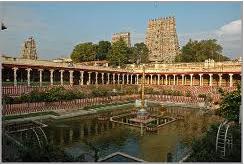 Day 05 (1st Jan 2014, Wednesday): Ahmedabad - Bangalore
0935Hrs and arriving Bangalore at 1135Hrs. On arrival, the Lotus Representative will receive the group and transfer to the hotel for check-in. In the afternoon we will proceed for sightseeing of Bangalore Palace, Bull Temple, and Lal Bag Garden. Relax in the evening.
Overnight at Hotel St. Marks, Bangalore
Day 06 (2nd Jan 2014, Thursday): Bangalore
After a breakfast of your choice at you hotel, we will go shopping in this prominent metro city of South India. Relax in the afternoon or get a latte or a cup of Java at the cafes or a spa massage. In the evening, we will dine with a local family.
Overnight at Hotel St. Marks, Bangalore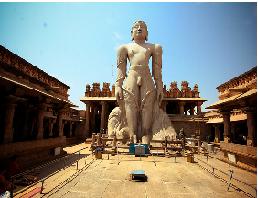 Day 07 (3rd Jan 2014, Friday): Bangalore - Hassan
Next morning, we check out after breakfast and proceed to Hassan. Enroute, we will visit Shravanabelagola. Shravanabelagola is a Jain pilgrim destination at an altitude of about 3350 feet above sea level. The town is wedged between two rocky hills- Vindhyagiri and Chandragiri. There are ancient monuments in and around Shravanabelagola that are of rare excellence and skill created by the illustrious Gangas and Hoysalas dynasties that had a profound sense of duty and ardent devotion to religion. Arrive and check-in at your hotel.
Overnight at Mallige Residency, Hassan
Day 08 (4th Jan 2014, Saturday): Hassan - Belur - Halebid - Hassan
Next Morning after breakfast at the hotel, we will go to view the temples of Belur and Halebid. Belur, situated along the banks of the Yagachi River, is also known as the 'Banaras of the South' on account of its numerous temples. The most prominent among them is the Chennakeshwara Temple which reflects Hoysala dynasty architecture at its very best. Lord Chennakeshwara (means 'the handsome lord) is none other than Lord Vishnu himself. The temple was built by King Vishnuvardhana to commemorater his conversion to Vaishnavism from Jainism.
Halebid
is home to the grand Hoysaleshwara Temple dedicated to Lord Shiva, the largest of the Hoysala temples. Comprising of two shrines, both dedicated to Lord Shiva, and decorated with rather big Nandi bulls facing the entrance, this temple was never really completed in spite of the 87 years spent in its construction. This temple on a star-shaped platform has beautifully carved detailed depictions of scenes from the epics, of mythical figures and sculptures from much of the Hindu divine pantheon. Though the superstructure was never completed every inch of the existing structure is covered with intricate painstakingly carved sculptures.
Overnight at Mallige Residency, Hassan
Day 09 (5th Jan 2014, Sunday): Hassan - Bangalore - Cochin
After breakfast we will drive to Bangalore Airport to take 9W401 departing at 1725 Hrs to Cochin. Arrive Cochin at 1825 Hrs. Meet on arrival and transfer to your hotel.
Overnight at Eights Bastion, Cochin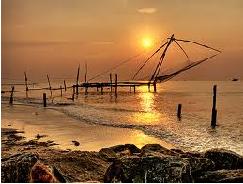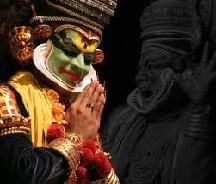 Day 10 (6th Jan 2014, Monday): Cochin
After breakfast at the hotel, we will do a city tour of Cochin. Cochin is a vibrant city situated on the south-west coast of the Indian peninsula in the breathtakingly scenic and prosperous state of Kerala, hailed as
'God's Own Country'
. Its strategic importance over the centuries is underlined by the sobriquet Queen of the Arabian Sea. From time immemorial, the Arabs, British, Chinese, Dutch, and Portuguese have left indelible marks on the history and development of Cochin. Over the years, Cochin has emerged as the commercial and industrial capital of Kerala. You will be visiting the Jewish Synagogue – built in the 1568, The Dutch Palace – which features the Kerala murals depicting Hindu temple art, portraits and exhibits of the Raja Of Cochin, The Chinese Fishing Nets – which are distinctly unique to cochin, believed to be introduced by traders from the court of Kublai Khan, The St. Francis Church – built in 1503 is the oldest European Church in India.
Later in the evening witness the Kathakali performance at a local theatre. Kathakali is one of the oldest theatre forms in the world and originated in Kerala. It is a group presentation in which dancers take various roles in performances based on the themes from Hindu mythology, mainly the two epics the Ramayana & the Mahabharata. After enjoying this vibrant performance you will be transferred back to your hotel.
Overnight at Eighth Bastion, Cochin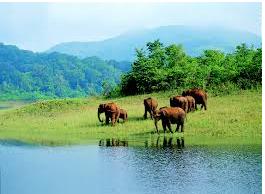 Day 11 (7th Jan 2014, Tuesday): Cochin - Periyar (190 kms / 6 hrs & 30 mins)
After breakfast, check-out at the hotel and drive to Cardamom hill to wild life sanctuary known as Periyar located at Thekkady in the hill district of Idduki. On arrival, check in at the hotel and take a plantation tour for spices.
Overnight at Hotel GreenWoods, Periyar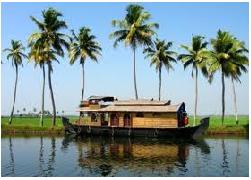 Day 12 (8th Jan 2014, Wednesday): Periyar - Alleppey (130 kms / 5 hrs)
Enjoy an early morning boat safari on Lake Periyar, breakfast and proceed to Alleppey (approximately a 5 Hours drive). Alleppey is picturesque village on the Vembanadu Lake. On arrival you will check into your House Boat, the traditional boats which were used to transport goods in ancient days are now modified into Luxurious accommodation for visiting tourists and is the best way to explore the serene backwaters of Kerala. Cruise through the backwaters with views of local life in either side of the canals and relish the local cuisine served on board.
Overnight stay on the Houseboat, Alleppey
Day 13 (9th Jan 2014, Thursday): Alleppey - Cochin - Mumbai
After a sumptuous breakfast on board disembark and drive to Cochin Airport ( en route lunch at local restaurant) to connect flight 9W2545 at 1610 Hrs to Mumbai. Arrive Mumbai at 1800 Hrs. Meet on arrival and transfer to Hotel for a farewell Dinner. Transfer to international Airport to take flight back home to USA.
Day 14 (10th Jan 2014, Friday) early morning flight Mumbai-New York USA