FUBUKI DAIKO: Japanese Drumming & Dance
Circle: Events for Schools!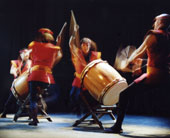 Thursday, March 10, 2005
Bowker Auditorium   10:00 am
Students $5, Adults $7
CHILDREN'S PERFORMANCE Merge the art of traditional Japanese Taiko drumming with influences from Arlo Guthrie and Led Zeppelin; add rigorous choreography and a flair for performance all their own and you have Fubuki Daiko, Canada's hottest emissaries of one of Japan's most renowned performing art form. The group's North American roots and traditional training ignite on stage to create a breathtaking experience that is part martial art athleticism, part dance, and all rhythm. Drums are hit in a blurring display of skill and agility finding their roots in ancient Japan as a sacred harvest celebration. In addition to experiencing the excitement of the show, the students will also learn about the culture and history of Taiko drumming in Japan and will have the opportunity to play the drums in an interactive session.
Associated Events
Fubuki Daiko-Van Sickle Outreach Activity
Wednesday, March 9, 2005 Van Sickle School
,2:00 pm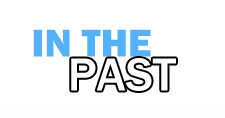 Here is an archive of many of our past events. If you are looking for current happenings at the FAC please go to the home page.
The past events section is updated periodically, very recent past events may not be listed immediately.
To navigate within the past events section:
By Program then by Year
By Artist for Exhibitions
Note these pages are updated every semester.  Not all events or exhibitions will be listed here promptly after they are over.