Fab Faux
Saturday, September 23, 2017 at 8:00PM
Fine Arts Center Concert Hall
All you need is love! To celebrate the 50th anniversary of the Beatles' seminal recording Sgt. Pepper's Lonely Hearts Club Band, Fab Faux will perform the album in its entirety, along with other fan favorites. Known for their painstaking re-creations of the iconic band's songs, Fab Faux treat the Beatles' music with unwavering respect–and love.

Ticket Prices
$65, $55, $30; Five College Students & Youth 17 and Under: $30, $25, $20
Post-Show VIP Meet & Greet with Fab Faux: $80
Please call the Box Office to see if you or someone in your party is eligible for a discount.

English prix fixe dinner available at the UClub before the concert. Details at fineartscenter.com/prixfixe.




 
Click
here
to view the playbill.
Artist's Webpage
Facebook
Twitter

With a commitment to the accurate reproduction of the Beatles' repertoire, the Fab Faux treat the seminal music with unwavering respect. They are known for their painstaking re-creations of the songs, with emphasis on the later works never performed live by the Beatles. Far beyond being a cover band, they play the music of the Beatles so impeccably that one must experience it to believe it. Imagine hearing complex songs, such as "Strawberry Fields Forever" or "I Am the Walrus," performed in complete part-perfect renditions; or such harmony-driven songs as "Because," "Nowhere Man," and "Paperback Writer," reproduced not only note-for-note, but with extra vocalists to achieve a double-tracked effect.

The musical virtuosity of The Fab Faux—Will Lee, Rich Pagano,Frank Agnello, Jimmy Vivino, and Jack Petrouzzelli—up-ends the concept of a Beatles tribute band. Far beyond being extended sets of cover versions, their astounding shows are an inspired rediscovery of the Beatles' musical magic, as The Fab Faux tackles the group's most demanding material live onstage in a way that has to be experienced to be believed.
"The greatest Beatles cover band—without the wigs" Rolling Stone
"All rock bands want to be like the Beatles; these guys have the nerve to BE the Beatles. Amazingly, they're so good at it you learn new things about the originals." Dave Marsh, rock critic and Sirius Radio host.
Thursday, February 22 at 7:30 p.m.
Fine Arts Center Concert Hall

The Message includes mostly former Jazz Messengers, the banner under which Art Blakey organized some of the most iconic bands in jazz history. The Message has toured occasionally over the years, when these busy jazz frontiersmen come together to revisit their hard-bop roots. The band's musical focus is arrangements of Jazz Messenger pieces composed by some of the most esteemed musical tunesmiths in the jazz canon: Wayne Shorter, Cedar Walton, Benny Golson, Lee Morgan, Freddie Hubbard, with a sprinkling of band originals out of the Messenger's swingin', hard-bop tradition.

Pre-show talk in Bowker Auditorium at 6:30pm.
---
Wednesday, April 25 at 7:30 p.m.
Fine Arts Center Concert Hall

After five men survive the apocalypse, their only hope is to build a machine that will help them find other survivors. Armed with acrobatic talents and a generous heap of ingenuity, they'll do whatever it takes to navigate this brave new world without telephones, computers, electricity…or women. The result is anything but grim. We find ourselves guests at a deliriously intoxicating party that is part circus, part slapstick, part rock concert, surprisingly moving, and a whole lot of awesome. At once side-splittingly hilarious and heart-tuggingly nostalgic, this show will make you stand up and clap for humanity.
---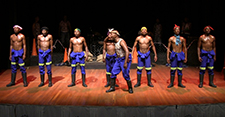 Tuesday, October 17, 7:30 p.m.
Fine Arts Center Concert Hall

Characterized by precise and technical footwork, pantsula is a dance form rooted in street culture, often performed to house music and in response to cultural and political issues. Gumboot dancing came out of the South Africa gold mines, where miners, forbidden to speak, slapped their gum-boots to communicate with each other. Featuring an ensemble of 20 men, Stimela the Musical is a unique tale of men who leave the townships of South Africa in search of greener pastures in the city of gold, Johannesburg.

Pre-show talk in the Concert Hall Lobby at 6:15 pm. Hip-Hop/Pantsula Demonstration in the Concert Hall Lobby at 6:45 pm.
---
Thursday, November 16, 8:00pm
Bowker Auditorium

Fiery Balkan brass, throbbing funk grooves, Roma (Gypsy) accordion wizardry, and virtuoso jazz chops make Slavic Soul Party! New York City's official #1 brass band for BalkanSoul GypsyFunk. "With razor-sharp precision, juggernaut force, and a healthy dose of playfulness, these guys start out in overdrive and never let up," writes Banning Eyre. "Slavic Soul Party! offers a gut punch to preconceptions about traditional music, world music, pop music, dance music."
---
Sponsors: