For Students
The UMass Fine Arts Center is dedicated to engaging the student body and the entire campus with lively, informative and provocative performances and visual art. These student-centered programs are specifically designed to engage students with arts, culture, civic engagement and social change. Most of the programs involve UMass students in the curation and/or facilitation of the events, and offer a variety of ways to interact with the work and each other. For more information or to get more involved, contact
Hillary Rathbun.
Gigi Bella, ranked 10th by 2017 Women of the World Poetry Slam, two time Project X Bronx Poetry champion as well as a Best of the Net and Pushcart Prize nominee. Gigi is also a National Poetry Slam semifinalist and champion, a Pink Door fellow and a Button Poetry Video Contest semifinalist. She has been featured on stages with Andrea Gibson, Sabrina Benaim, Olivia Gatwood and many others. Her work is featured on Button Poetry, Slamfind and in a variety of literary journals. Her book, big feelings, is available through Game Over Books and is a Small Press Distribution Bestseller. gigibellapoetry.com
"Our Bodies, Our Lives" is an online exhibit of video shorts by, of, and for UMass students of color reflecting on the stories and truths lying dormant in their minds and bodies, reflecting experiences that are oftentimes erased. "Our Bodies, Our Lives" is co-presented by Student Bridges, CMASS, and the Advocacy, Inclusion, and Support Programs at UMass.
The Bright Moments Series is named after the Fine Arts Center's popular summer music festival from the 1980s and 90s. The Bright Moments Festival was an admired community event, held at the campus pond each July. Similar to its namesake, this new student focused series nurtures a vibrant, stimulated and engaged campus community, while also exposing students and the campus to a variety of diverse artistry.
 
Bright Moments @ Family Weekend
Live Saturday, October 2, 2021 | 2:30 p.m. | Student Union South Lawn
| | | | | |
| --- | --- | --- | --- | --- |
| |   | |   | |
| Lyrical Faith |   | Mekdelawit Fissehazion |   | Kinetic 5 |

Spring 2021 Bright Moments artists included: spoken word artist Nathalie Amazan, Class of 2020, singer Ayleena Lyles, UMass Class of 2021, and singer Aren Park, Class of 2020.

"The process for starting this program was just as important as the program itself," says Yvonne Mendez, Director of Education & Engagement at the UMass Fine Arts Center, and the Bright Moments Coordinator. "in 2019 we began a process of reaching out to students to involve them more in what we do. Then the pandemic hit and everything stopped. This new series is our return to that effort."

Led by Carolyn Parker-Fairbain, a rising junior at UMass, and staff member Yvonne Mendez, they convened a small group of students who reviewed the performative work of UMass students, alumni, and local artists. With intention, the group chose a variety of work with student interests in mind, including spoken word artists, solo vocalists, full bands, dancers and drummers as well visual artists.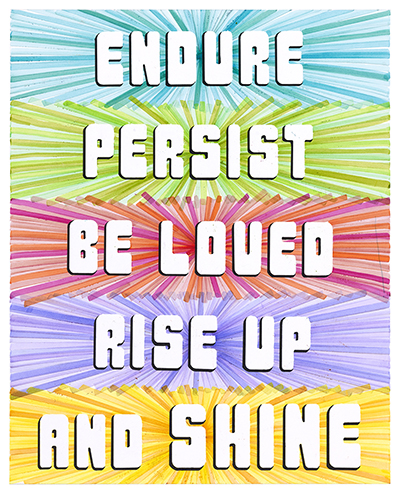 This exhibition is in partnership with
For Freedoms,
a national artist-led organization that models and increases creative civic engagement, discourse and direct action. They work with artists and organizations to center the voices of artists in public discourse, expand what participation in a democracy looks like, and reshape conversations about politics. Inspired by Franklin D. Roosevelt's Four Freedoms (1941)—freedom of speech, freedom of worship, freedom from want, and freedom from fear—For Freedoms' exhibitions and public programs use art to deepen public discussions on core values, and to advocate for equality, dialogue, and civic participation.
For We Are For Freedoms, UMCA will commission ten local artists to create protest posters that respond to the artists' own interpretation of freedom. The posters will be mass-produced and given away free to museum visitors. A visual history of For Freedoms' many public art projects will be shown, linking our exhibition to the national For Freedoms movement.
Student-curated Town Hall: On Tuesday, October 27 at 6 p.m. ET, the University Museum of Contemporary Art hosts the For Freedoms Virtual Town Hall. Designed by the For Freedoms Student Organizing Committee also led by Parker-Fairbain, this virtual gathering brings together students, artists, and creative thinkers to discuss ideas around democracy, civic engagement, activism, and protest before the upcoming presidential election. It will include an introduction to the Museum's spring 2021 exhibition of the same name. This Town Hall event and the spring exhibition are sponsored by Florence Bank. Those interested in attending the Town Hall can register
here
.