Gary Burton Master Class/Jazz Improvisation:  

 
"Having a mind and talent like Gary Burton here was an incredible opportunity for the student body. His clinic was inspiring, and his musical collaboration with Chick Corea and the Brooklyn String Quartet was among the most humbling listening experiences most of us have ever had." Micah Maurio'13G

Arts/Access = IMPACT
When you support the FAC, you support
Arts/Access
for others.  
A single mother of three, struggling financially, has the monthly decision which to pay first, the heating bill or groceries. She receives tickets from the Survival Center to bring her children to a live performance – their first. Observing her children's joy in the experience brings her renewed energy and hope.
That's the power that
Access
provides via our
Angel Ticket program
.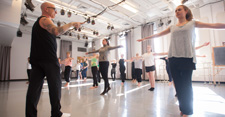 A student learning the principles of dance attends a master class with the artistic director of a nationally renowned dance company. During the class she suddenly experiences the movements of her body like never before. She obtains a greater sense of logic and understanding of the piece. She achieves clarity.
That's the power that Access provides through our Artist Residency programs.
A young musician is very talented. His instructors all know that he is exceptional and they recommend he attend the FAC's Jazz in July Summer Music program where students learn from and connect with the country's top jazz artists/educators. He doesn't have the financial resources but receives a FAC scholarship to attend. His talent multiplies.
That's the power of that
Access
provides through our
Jazz In July program
.  
Twenty-five second graders wind their way into the concert hall to see the power and force of the Tao drummers. For many, it's the first time in a large theater setting. The buzz and excitement is tangible and then the drumming starts. The children are mesmerized. The next day in class the teacher asks for reactions to the show and there is a flood of opinion, energy, laughter and awe. These children have been touched by the power of the arts. Made possible through
Access
and our
Global Arts program.
Your Gift = Arts/Access
At the Fine Arts Center, we strive to
"expose, engage, educate, and inspire
" with each
Arts/Access
program, and it's your gift that makes the access possible.   
Whether through our Angel Tickets program, Artist in Residency events, Global Arts/daytime performances for K-12 students, visual arts exhibitions or scholarships and internships, FAC provides
access
to performances & exhibitions,
access
to artists, and
access
to education which impact individuals and communities, but these programs are made possible only through the support of people like you. 
No gift is too small to make a difference in someone's life. Thank you in advance for your support.