GRUPO CORPO
Tuesday, February 24, 7:30 p.m., Fine Arts Center Concert Hall
$42, $38, $15; Five College, GCC and 17 & under $15, $12, $10

The electrifying Brazilian contemporary dance company Grupo Corpo combines the sensuality of Afro-Brazilian dance forms, the liquid swing of jazz, and the technical prowess of ballet, with energy to burn. The company is renowned for its stunning physicality, dynamic ability, and rich visual finesse. The program will include one of the company's most celebrated works, Sem Mim, inspired by the sea and the songs of medieval Galician-Portuguese troubadours.

Audience members are invited to stay for a post-performance talk with company dancers Rafael Bittar, Carolina Rasslan and Michelle Deslands, moderated by Amherst College Spanish Professor Lucia Suarez, immediately following the performance.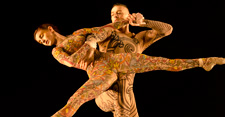 CONNECT