SACRED DANCES AND LEGENDS OF HAWAI'I: WHEN GODS MINGLED WITH MORTALS - Michael Pili Pang and the Halau Hula Ka No'eau Ensemble
Tuesday, April 3, 2018 at 7:30pm
Bowker Auditorium

Celebrating 30 years of performing, the Halau Hula Ka No'eau Ensemble captivates audiences with their exquisite presentations of dance with a strong storytelling element. At this concert, choreographer and cultural historian Michael Pili Pang presents a new work, based on legends about the divine creators of the Hawaiian Islands, that innovatively combines traditional hula, music, and chants. (This show was rescheduled after a weather cancellation the previous season.)

Ticket Prices
$25, $15; Five College Students & Youth 17 and Under $10
Please call the Box Office to see if you or someone in your party is eligible for a discount.
Accessible Seating Available by calling the Box Office at 413-545-2511
Artist Webpage
Facebook
DESCRIPTION
Celebrating 30 years of dance, chants and traditions, Halau Hula Ka Noʻeau from the Big Island in Hawaii returns to the Northeast to captivate audiences with their exquisitely artistic and culturally authentic Hawaiian dance performances. Choreographer and cultural historian Michael Pili Pang, will present a new work based on traditional Hawaiian legends, telling of Hawaiian gods who were revered as mortal heroes and the creators of the Hawaiian Islands. Pang specializes in fusing ritual hula movements to create innovative choreography that is artistically, culturally, and historically correct, drawing from his roots in one of the great hula lineages of Hawai'i. The result combines traditional hula, music, and chants into high artistic expression. Hula dance classes, lecture demonstration, and talks on Hawaiian culture and arts will be offered in conjunction with this event and may be open to public participation and observation as space permits. Please call Asian Arts and Culture Program at 413-577-2486 for information and reservations.
"Dance of deceptive simplicity and song and drumming of formidable complexity… a flow of increasing rhythmic detail and staccato push." –Jennifer Dunning, The New York Times

"Pang approaches Hawaiian dance as an artistic, creative and educational endeavor, not simply as entertainment… The members of the ensemble take their work very seriously, and their public performances are varied, polished and exciting." William Feltz, Director of the Arts Program, East-West Center

"True hula is the quintessential expression of Hawaiian cultural values, deeply rooted in tradition and legend… The company's hula is a far cry from the hip-swaying hula popularized and stereotyped decades ago for Hollywood movies and in songs to lure and entertain tourists." Barbara von Furstenberg, former Director of Programming, University of Hawai'i at Mānoa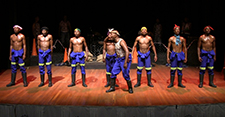 Tuesday, October 17, 7:30 p.m.
Fine Arts Center Concert Hall
Characterized by precise and technical footwork, pantsula is a dance form rooted in street culture, often performed to house music and in response to cultural and political issues. Gumboot dancing came out of the South Africa gold mines, where miners, forbidden to speak, slapped their gum-boots to communicate with each other. Featuring an ensemble of 20 men, Stimela the Musical is a unique tale of men who leave the townships of South Africa in search of greener pastures in the city of gold, Johannesburg.
Pre-show talk in the Concert Hall Lobby at 6:15 pm. Hip-Hop/Pantsula Demonstration in the Concert Hall Lobby at 6:45 pm.
---
Wednesday, November 1 at 7:30 p.m.
Fine Arts Center Concert Hall
This renowned ensemble presents The Spirit of Argentina, a loving tribute to Carlos Gardel, a French-Argentine singer, songwriter, composer, and actor, and the most prominent figure in the history of tango. You'll discover his passions for futbol, boxing, and gauchos, and get glimpses into his life in Paris, his appearance on Broadway, and his friendship with the young Astor Piazzola. Tango Buenos Aires has become one of Argentina's great cultural exports, known throughout the world as the most authentic and uncompromising representative of the tango.
Pre-show talk in the Concert Hall Lobby at 6:15 pm. Tango Demonstration in the Concert Hall Lobby at 6:45 pm.
---
Thursday, March 29 at 7:30 p.m.
Fine Arts Center Concert Hall
BalletX, Philadelphia's premier contemporary ballet, unites distinguished choreographers with an outstanding company of world-class dancers to forge new works of athleticism, emotion, and grace. Founded in 2005 by Christine Cox and Matthew Neenan, BalletX challenges the boundaries of classical ballet by encouraging formal experimentation while preserving rigorous technique. The company will perform a mixed-rep program, including Trey McIntire's Big Ones, set to music by Amy Winehouse.
Post-show talk with members of the company immediately following the performance.
---



Sponsors: