Healing the Earth: Mystical Arts of Tibet Sand Mandala
Monks from the Drepung Loseling Monastery
Tuesday through Friday, April 17-20, Opens at 10 a.m., closes at 6 p.m.(Friday close is 4 p.m.) UMass Chapel, Free
Opening Ceremony Tuesday, April 17 9-10 a.m.
Closing Ceremony, Friday, April 20, 4-5 p.m.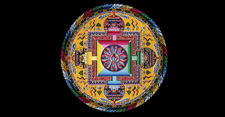 Of all the artistic traditions of Tantric Buddhism, painting with colored sand is one of the most unique and exquisite. Millions of grains of sand are painstakingly laid in place on a flat platform over a period of four days. All across the world, the creation and beauty of a Tibetan Sand Mandala painting is an abiding phenomenon of art and construction, emanating spiritual and healing power for all who experience it.

Wednesday, April 18 and Thursday, April 19 there will be an evening meditation sessions from 7:30 to 8:30 pm. These meditations are supported and sponsored by the UMass Student Affairs and Campus Life Advocacy Inclusion and Support Programs.

Ticket Prices
Free tickets required for the ceremonies, please call the Box Office to reserve a space
Timed slots available 10 am–12 pm for families and schools
1 pm to 6 pm open for the general public, no tickets required


Artist's Website
Facebook
The Mystical Arts of Tibet is a world tour endorsed by His Holiness the Dalai Lama to promote world peace and healing by sharing Tibet's rich and authentic sacred performing and visual arts with modern audiences. The tours offer a rare opportunity to witness one of the world's most ancient sacred traditions presented by a group of monk artists for whom these traditions are a way of life.
From the first tour in 1988, the Mystical Arts of Tibet tours by the Drepung Loseling monks have enjoyed an overwhelming reception across North and South America, as well as in Europe. Due to the timeless nature of these Tibetan arts, and the spirit of universal values they inspire, the tours continue to capture the imagination of the West.
The artists are monks from Drepung Loseling Monastery, which has been re-established in exile in South India. The performers on The Mystical Arts of Tibet tour are not full-time professionals; rather they are genuine monks who are taking time off from their life-long devotion to contemplation and study to participate in the tour. These monk artists consider it an honor to be selected to represent their monastery and share their cultural traditions on the tour, hoping that they will be able to make some small contribution toward world peace and toward greater awareness of the Tibetan situation. At the end of each tour the monks return to Drepung Loseling Monastery to continue their vocation.
"Watching the monks and when they chant together and their overall peaceful vibe, the experience and the discovery of Tibentan culture was amazing"
--- Sharon Kennedy Wynne, Tampa Bay Times
Thursday, November 30 at 7 p.m.
Fine Arts Center Concert Hall
Plunge into a glistening blend of laser technology, snow cannons, soap-bubble tornadoes, and optical illusions as the effervescent Mr. B is transported to Bubblelandia, a blissful ocean utopia where colors explode and dreams take flight. Inspired by the artistry of Cirque du Soleil, this lavish Latvian production uses drama, mime, juggling, sand art, and theatrical magic to whisk families to an imaginary bubble world bursting with possibilities.
Family Fun Fest in the Concert Hall Lobby at 6:00 pm.
---
Tuesday, March 20 at 7 p.m.
Fine Arts Center Concert Hall
Ride the wind and dream with Air Play, a modern spectacle that brings to life the very air we breathe. Flying umbrellas, larger-than-life balloons, giant kites floating over the audience, and the biggest snow globe you've ever seen will make you gasp in wonder and laugh until it hurts. With visual images seemingly sown from the sky, this poetic ode to childhood will enchant and electrify the young and young at heart. PLUS Revealing the Magic: Stay after the performance for a special presentation by the artists about their creative process.
Family Fun Fest in the Concert Hall Lobby at 6 pm. "Revealing the Magic" with members of the company immediately following the performance.
---



Sponsors: