Hieronymus Bosch, Revisted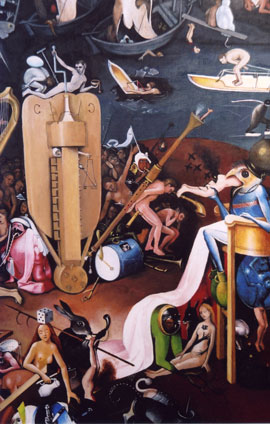 Sunday, September 18 - Sunday, October 30, 2005
Hampden Gallery   
Free
Full sized transcription of Bosch's painting 'Garden of Earthly Delights", circa 1500. The piece is a triptych (approxiamately 8' x 17') depicting scenes of heaven, hell, and paradise. "Bosch holds a unique place in the history of art as an artist of incomprehensible imagination. The keys to the real meaning of much of his work are still a challenge to scholars to this day. The central panel from the triptych shows a great swarm of human beings and fantastic creatures who cavort and disport themselves in innumerable positions within a verdant landscape, dominated at the back by a lake surrounded by strange constructions. On the right hand panel one can see the consequences of the delights in the central panel. A hell scene of shocking and disturbing potency, the torments that await the wanton behavior of man are given hallucinogenic reign under Bosch's brush. In a dark place, illuminated at the back by everlasting fires, the damned suffer tortures reaked upon them by bizarre creatures and animals. Disturbingly, the face of the large creature- part eggshell, part tree- in the center of the painting has been identified as a self portrait of the artist." - Great Paintings of the Western World, by Gallup Gruitrooy, and Weisberg The "Hieronymous Bosch, Revisted" is a product of Hampden Gallery's Southwest Arts Team (SWAT). SWAT is a team of students and staff at the Fine Arts Center who undertake large scale visual arts projects. SWAT's projects allows students and community members to take a look inside the workings of a professional fine arts studio that creates museum quality interpretations of historical masterpieces for public viewing. The SWAT crew is composed of Sarah Fortini, Lindsay Feltman, Justine Brown, and Emilee Dorr (with help from David Latta, Kelly Fuller, Dan Miller, Irene Urmeneta, Amanda Duffy, and Joely Merriman) in collaboration with Hampden Gallery's John Simpson and Anne Laprade.
Associated Events
Hieronymus Bosch, Revisited
Opening Reception
Sunday, September 18, 2005 Hampden Gallery
,2:00 pm to 5:00 pm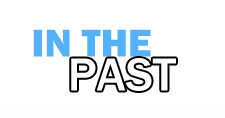 Here is an archive of many of our past events. If you are looking for current happenings at the FAC please go to the home page.
The past events section is updated periodically, very recent past events may not be listed immediately.
To navigate within the past events section:
By Program then by Year
By Artist for Exhibitions
Note these pages are updated every semester.  Not all events or exhibitions will be listed here promptly after they are over.