2016-17 Subscriptions on Sale NOW!
You know what you like, so why not create your own subscription? Save 15% on your purchase of any three (3) events or more, and add-on performances throughout the season! The discount is just one of many perks... check out these Subscriber Benefits:

GREAT SAVINGS
Subscribers save 15% off general public ticket prices (price range A and B, FAC Series events only).
TICKET EXCHANGES
Subscribers can exchange tickets for another FAC Series event up to 6 p.m. on the day of event, or by 6 p.m. Friday for weekend events. 
DINERS' DISCOUNT CARD
Receive 10%–20% off dining at selected area restaurants all season long, not just on nights of performances, from September 1, 2016 through April 30, 2017.
THREE EASY WAYS TO PURCHASE:
BY PHONE
Purchase tickets by calling 413-545-2511 or 800-999-UMAS during regular business hours. TTY: 413-577-3190. There is a $2 phone handling fee on the total order. Payment methods accepted for over-the-phone ticket sales: Visa/MasterCard and gift certificate.

IN PERSON
Two free 15-minute parking spots are available for patrons buying tickets, at the base of the FAC driveway on the campus pond side of the building, and there is an Accessible Parking Lot off Haigis Mall. There is no handling fee when purchasing tickets in-person at the Box Office. Payment methods accepted for in-person ticket sales: cash, check, Visa/MasterCard, gift certificate and UCard.

BY MAIL
Download this order form, fill it out and mail it with your check or money order (made payable to the University of Massachusetts Amherst), or indicate credit card payment. Please note your seating preference; patrons wishing to sit together must submit their orders together. Mail to the Fine Arts Center Box Office, 151 Presidents Drive, University of Massachusetts Amherst, Amherst, MA 01003-9331.

Box Office hours are Monday through Friday 10 a.m. to 6 p.m. while the University is in session, and 10 a.m. to 5 p.m. during summer and winter sessions. It is closed for state and national holidays. The Box Office also opens one hour prior to shows at the venue.
 
SUBSCRIBE ONLINE FROM AUGUST 1st!
Online subscriptions are available August 1, as are non-subscription/single tickets, which are processed after August 1. There is a $1 to $2 handling fee per ticket when purchasing online. Only Visa or MasterCard accepted.Subscribing online is easy!  Simply select subscribe online when you choose your quantity of tickets and price zone!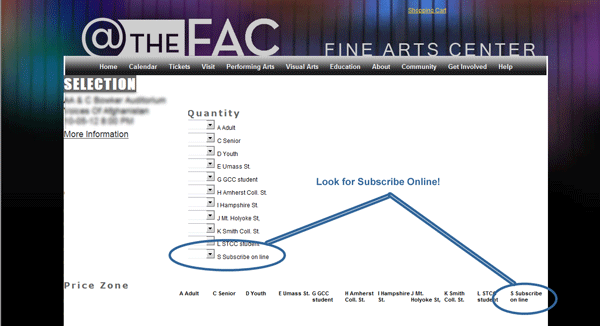 Subscriptions are only available for certain performances and only for price zones 1 and 2. If you don't find it when selecting seats, it is unavailable for that performance. Call the Box Office at 800-999-UMAS if you're unsure which performances are included in the subscription.

The Fine Arts Center is completely PCI compliant and works with the University of Massachusetts to ensure the highest industry standards for credit card security.