Incubator Project
Karen Moss: Keep it Simple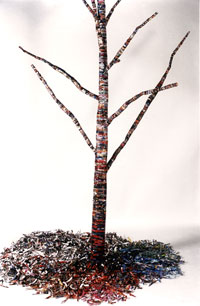 Sunday, February 2 - Monday, March 10, 2003
Hampden Gallery Lobby: Lobby hours are Monday to Thursday 6am-midnight, Friday 6am-9pm, Saturday noon-6pm, and Sunday 3pm-10pm while the University is in session.   
Free Admission
In 1998, Boston Globe columnist, Chet Raymo, wrote that there where 64 consumer catalogues for every American. Soon after reading this statistic, Boston based artist, Karen Moss, began thinking about the cost of producing these disposable catalogues and the trees that were being cut down to make the paper. She began saving the catalogues that came unsolicited through her mail, and neighbors began giving her their catalogues too. In 6 months she had over 600 catalogues. After shredding the catalogues she began making collages and then sculptures in the form of trees.
In a statement accompanying the exhibition, Dr. Melissa Demian of Bard Colleges, Program in Anthropology writes: "Just as the beauty of the objects on offer obscures the ugliness of unchecked consumerism, so the abstraction of the catalog colors effects a dislocation of the of the object in the viewer's eye from the 'resource' of which it is made. The intervening technologies - papermaking and laminating, shredding, digital manipulation - constitute a series of alienations from the trees which are the catalogs in raw, unmediated form. You don't look at a catalog and think, "tree." You don't look at the jewel-like striations of these images and think, "catalog." The work constitutes a disruption in the viewer's own ability to interpret what am I looking at, and where did it come from? Is this really the world? Is this all that is available to me?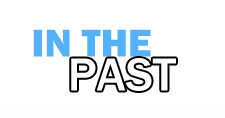 Here is an archive of many of our past events. If you are looking for current happenings at the FAC please go to the home page.
The past events section is updated periodically, very recent past events may not be listed immediately.
To navigate within the past events section:
By Program then by Year
By Artist for Exhibitions
Note these pages are updated every semester.  Not all events or exhibitions will be listed here promptly after they are over.