SFJAZZ Collective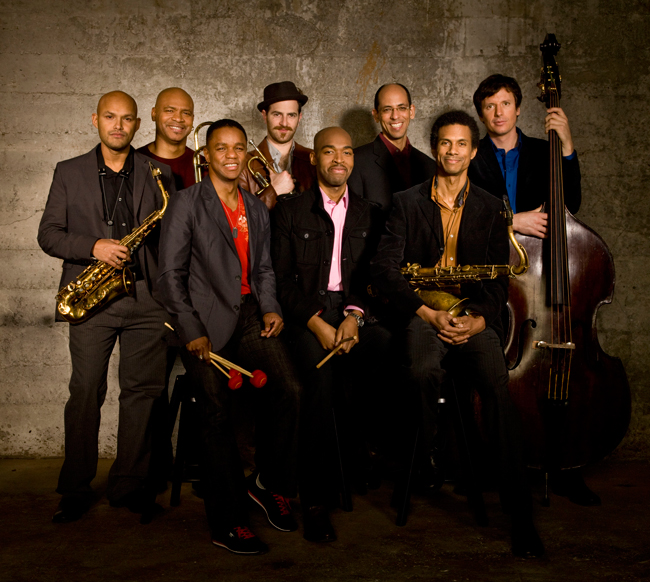 Featuring Antonio Hart, Robin Eubanks, Avishai Cohen, Edward Simon, Matt Penman, Stefon Harris, Eric Harland, and Mark Turner
Thursday, March 1, 7:30pm, Concert Hall
Given the extraordinary talent assembled in the SFJAZZ Collective, it is tempting to think of this ensemble as an "all-star band," pure and simple. But these exceptional artists have come together in pursuit of a larger purpose—namely, the celebration of jazz not only as a great art form, but as a constantly evolving, ever-relevant, quintessentially modern art form. In The New York Times' emphatic words: "Modernity is the mantra of the SFJAZZ Collective." This program features arrangements of Stevie Wonder tunes, as well as original compositions inspired by him.
Reserved Seating: $35, $30, $15; FC, GCC, STCC and 17 & under $10
SFJAZZ Collective is an all-star jazz ensemble comprising eight of the finest performers and composers at work in jazz today. Launched in 2004 by SFJAZZ, the SFJAZZ Collective has quickly become one of the most exciting and acclaimed groups on the American and international jazz scenes. In addition to its outstanding line-up, the SFJAZZ Collective has been praised for its innovative approach to repertoire. Each year, the ensemble performs unique arrangements of compositions by a modern jazz master along with new pieces by the Collective members, commissioned by SFJAZZ. Given the elite talent assembled in the SFJAZZ Collective, it is tempting, on first glance, to think of this ensemble as just another "all-star band." But as the "Collective" portion of the group's name suggests, these exceptional artists have come together in pursuit of a larger purpose. Through this pioneering approach, simultaneously honoring jazz's recent history while championing the music's up-to-the-minute directions, the Collective embodies SFJAZZ's organizational commitment to jazz as a living, ever-relevant art form.
The Collective's 2011 personnel features saxophonist Antonio Hart; trombonist Robin Eubanks, a two-time DownBeat "Trombonist of the Year"; trumpeter Avishai Cohen; Grammy-nominated vibraphonist Stefon Harris.  The incendiary rhythm section boasts 2010 Guggenheim Fellow Edward Simon on piano along with two of the most in-demand sidemen on the international scene—bassist Matt Penman and Eric Harland, winner of DownBeat #1 Rising Star drummer for the last three years.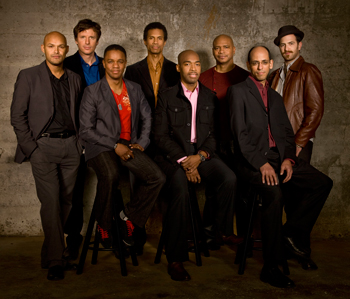 After exploring the work of Ornette Coleman (2004), John Coltrane (2005), Herbie Hancock (2006), Thelonious Monk (2007), Wayne Shorter (2008), McCoy Tyner (2009) and Horace Silver (2010), the Collective takes on the material of pop music icon Stevie Wonder for its spring 2011 tour. The group approaches the work of Wonder, an artist outside of the jazz tradition, but one whose sophisticated song craft and timeless melodies are more than worthy of exploration.
A Motown Records star at 11 years old, Stevie Wonder released a string of classic pop albums in the 70's that fused his roots in the soul music of Detroit with elements of R&B, jazz and reggae into a singular vision that was both wildly successful on the charts and respected by music critics and colleagues alike. Winner of 25 Grammy's (plus a Lifetime Achievement Award), Stevie was recently honored with the Gershwin Prize for Popular Song, presented to him by President Barack Obama. Wonder's harmonically rich and spiritually uplifting songs are as timeless as those by George Gershwin and Cole Porter, and the Collective's members are eager to demonstrate the great jazz elements within them. The Collective will perform new arrangements of Stevie's work along with fresh original compositions by each of the eight Collective members.
"Playing Stevie Wonder's music with the SFJAZZ Collective is exhilarating because it's the music I grew up with," says Harland. "It's so great to now hear arrangements of some of those classics that I remember seeing my family dance to as a child. Now within the Collective family, it is an honorable opportunity to participate in Stevie's music not just as a listener but as a performer and arranger."
 
The SFJAZZ Collective is a workshop band unlike any other in jazz. The group features a changing lineup with each member hand-selected to contribute their own unique sounds, styles and voices. They are all distinguished not just by degree, but diversity of talent and each member is a celebrated instrumentalist, an outstanding composer and arranger, and most are among today's most lauded bandleaders. The Collective also presents a global music perspective with musicians from New Zealand (Penman), Venezuela (Simon), and Israel (Cohen).


The idea for the Collective arose from discussions between SFJAZZ's founder and executive director, Randall Kline, and saxophonist and founding Collective member Joshua Redman. While deeply respectful of jazz's origins and early traditions, SFJAZZ was concerned that the modern side of jazz, from roughly the mid-20thcentury to the present day, was often overlooked in the public eye in comparison with the music of jazz's so-called "Golden Age." Both Kline and Redman were eager to showcase, in a manner that would resonate with jazz aficionados and newcomers alike, the artistic continuum from modern masters to today's new generation of players. Much like chamber music, the music is designed for a small group of instruments to be performed in intimate settings and atmospheres including performing arts centers, concert halls and salons.
Past Collective members have included the likes of Joshua Redman, Bobby Hutcherson, Dave Douglas, Nicholas Payton, Joe Lovano, Josh Roseman, Renee Rosnes, Robert Hurst, Brian Blade and other jazz stars.
Each year, SFJAZZ Records produces a deluxe, limited edition CD set of live performance recordings of the SFJAZZ Collective's entire repertoire for that year. The current release, Live 2010: 7th Annual Concert Tour, features new  arrangements of the classic works of Horace Silver, as well as all-new original compositions by Collective members. This is the definitive recording of this all-star jazz ensemble's seventh year of performances from around the world.
Band Members
Described by JazzTimes as "an extremely thoughtful and cerebral player," Mark Turner has been quietly building a reputation as a musician's musician. He attended Berklee College Of Music in the late '80s where he met musicians that would figure prominently in his later work, including Kurt Rosenwinkel and Joshua Redman.
Trumpeter Avishai Cohen is a leading figure on the international jazz scene and one of the most sought-after players of his generation, "an assertive and accomplished trumpeter with a taste for modernism" according to The New York Times.
A five-time "Trombonist of the Year" in the DownBeat Magazine Critics Poll, Robin Eubanks is the premier jazz trombonist of his generation. In addition to leading his own groups, EB3 and Mental Images, Eubanks has performed and composed on Grammy®- winning recordings with Dave Holland and Michael Brecker.
Stefon Harris is committed to exploring the rich potential of jazz composition and blazing new trails on the vibraphone. A graduate of the Manhattan School of Music, Harris has received numerous accolades including the Jazz Journalists Association's "Best Mallet Player" for four years running (2000-2003) and "#1 Rising Star Vibraphonist" in the 2006 DownBeat Critics Poll.
Edward Simon was born in the coastal town of Punta Cardón, Venezuela, where he grew up in a family of musicians surrounded by the sounds and rhythms of Latin and Caribbean music. He has produced seven critically acclaimed albums as a leader, including two New York Times top ten jazz records of the year: Edward Simon (Kokopelli, 1994) and Simplicitas (Criss Cross, 2005).
Originally from New Zealand, Matt Penman studied at Boston's Berklee College of Music before relocating to New York in 1995. In addition to releasing his own critically acclaimed CDs as a leader, Catch of the Day (2007) and The Unquiet (2002), he has recorded as a sideman on some 70 other discs.
A leading drummer on the national scene, Texas-born Eric Harland has performed with jazz legends like Betty Carter, Joe Henderson and McCoy Tyner. In DownBeat's 65th Annual Readers Poll, he was included in the short list of top drummers, in the company of masters like Roy Haynes and the late Elvin Jones.

Watch them here.
Check out their itunes store.