PERFORMANCES


CLUB JAZZ IN JULY, Wednesdays - July 10 & 17, 2019
7:00 p.m., Place: UMass Campus Center, Marriott Center, 11th Floor
Our popular night of jazz featuring Jazz in July participant combos and vocalists ! $10 Suggested Donation at the door. Snacks and Cash bar.
---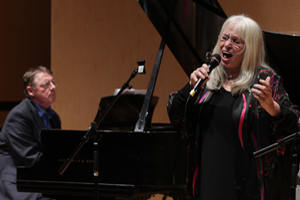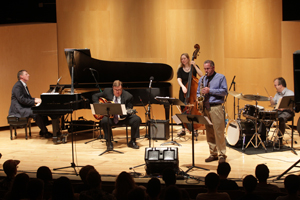 JAZZ IN JULY ALL STAR CONCERTS, Thursdays - July 11 & 18, 2019
7:30 p.m. University of Massachusetts, Department of Music - Bezanson Recital Hall
The Jazz in July faculty recital is a round-robin style concert featuring collaborations between the nationally and internationally known Jazz in July faculty. See Artist Faculty bios.

Pictured: Earl MacDonald, Steve Davis and Luis Perdomo.
Week One (Thursday, July 12) Faculty performers:  
Bruce Diehl, Bob Ferrier, Winard Harper, Jeff Holmes, Earl MacDonald, Stephen Page,  Barry Ries, Genevieve Rose, Avery Sharpe and Ted Sullivan. (Faculty subject to change.)
(Due to unforeseen circmstances, Sheila Jordan will not perform on July 12.)
Week Two (Thursday, July 19) Faculty performers: 
Greg Caputo, Steve Davis, Bob Ferrier, Catherine Jensen-Hole, Jeff Holmes, Steve Johns, Genevieve Rose, Felipe Salles and Shigefumi "Fumi" Tomita. (Faculty subject to change.)

BUY TICKETS
$20 General Public $15 Students and Seniors. Tickets will be available in advance from the FAC Box Office, 545-2511 or 1-800-999-UMAS, and at the door. 
 
---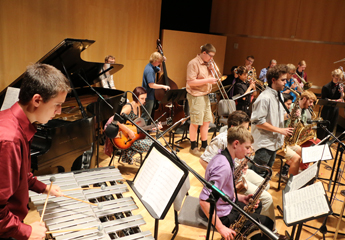 JAZZ FUTURES CONCERTS, Fridays - July 12 & 19, 2019
All day jazz enjoyment!  9 am - 4 pm
University of Massachusetts, Department of Music - Bezanson Recital Hall
One of the pillars of Jazz in July's curriculum is each week's final concert featuring participants who attend from around the world. Parents, family members, alumni, and other friends of Jazz in July return each summer to enjoy the musicianship of our latest graduating class and tomorrow's top jazz talent. Open to the Public. Suggested Donation "Pay-What-You-Can" at the door.  
Faculty & Events Subject To Change
SPONSOR A TALENTED MUSICIAN
Donate a one or two week scholarship!
Click here. Select FAC from drop down menu.
Select Jazz in July Scholarships from subcategory field.



APPLY

All About Jazz In July

Performances

Audition Information

Theory Test

Faculty Bios

Our Sponsors
 

Contact Information:
Main Number: (413) 545-3530
FAX: (413) 545-0132

Jazz in July Administrative Director 
David Picchi, (413) 545-4158

Director of Education and Engagement
Yvonne Mendez, (413) 545-4161
 
Email: jazzinjuly@acad.umass.edu



Mailing Address:
Jazz in July
10 Curry Hicks - 100 Hicks Way
University of Massachusetts Amherst
Amherst, MA 01003-9300