James "Blood" Ulmer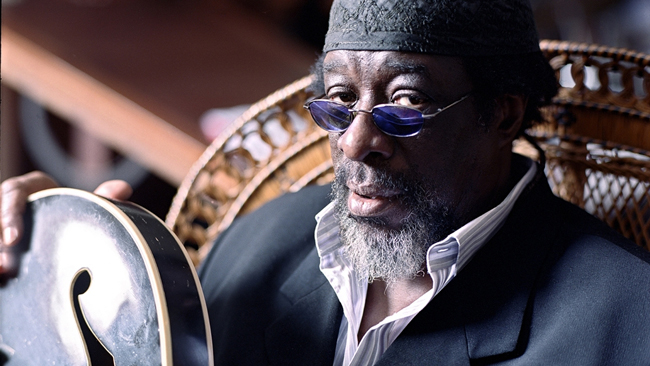 Thursday, September 29, 2011, Bezanson Recital Hall
The Solos & Duos Series, produced by the Fine Arts Center at the University of Massachusetts, Amherst, continues its 10th season with a concert by James "Blood" Ulmer. 
General Admission: $10, students $5
Guitarist and vocalist James "Blood" Ulmer has spent the last 40 years forging a singular sound that unites blues and creative music in new ways. "Avant-gutbucket," is how Bill Milkowski describes it, "conjuring images of Skip James and Albert Ayler jamming on the Mississippi Delta."
Born in St. Matthews, South Carolina in 1942, Ulmer was performing in a popular youth gospel band, the Southern Sons, by the time he was six. He moved to Pittsburg, playing with various soul jazz ensembles, and first recorded with organist Big John Patton in 1969. After moving to New York in 1971, Ulmer played with Art Blakey's Jazz Messengers, Joe Henderson, Paul Bley, Rashied Ali and Larry Young. In the early 1970s, Ulmer joined Ornette Coleman, and became the first electric guitarist to record and tour extensively with him, forming the first incarnation of Coleman's electric band, Prime Time.
Ulmer has since formed a number of outstanding jazz groups of his own, including the Music Revelation Ensemble with David Murray and Ronald Shannon Jackson, with whom he recorded throughout the 1980s and 1990s. At various times the group also featured Julius Hemphill, Arthur Blythe, Sam Rivers, and Hamiet Bluiett on saxophones and flutes. In the 1980s he co-led, with saxophonist George Adams, the ensemble Phalanx. Ulmer's Odyssey band, with drummer Warren Benbow and violinist Charles Burnham, has been recording since the mid-1980s, and performed at the University's Magic Triangle Jazz Series in 2006.
"Blood" Ulmer's 2005 solo release, Birthright, (Hyena Records) was selected as the Blues Album of the Year in Down Beat Readers' Poll. In his 4-star review, Thom Jurek stated, "Birthright is the album Ulmer should have made years ago. All that matters is that listeners have it now. It's a shining star in his catalog and a chillingly intimate portrait of his expansive vision and singular talent." 
His three other blues-oriented recordings for Hyena were produced by fellow-guitarist Vernon Reid, and were recorded at Sun Studios (Memphis), Electric Lady Studios (New York) and Piety Street Studios (New Orleans).
To hear carrer spanning full-length tracks head over to his
official website
or to purchase music go directly to his
itunes store.
The Solos & Duos Series is produced by the UMass Fine Arts Center. Thanks to the UMass Hotel at the Campus Center. Amherst College and WMUA, 91.1FM