James Farm
THE JOY OF SAX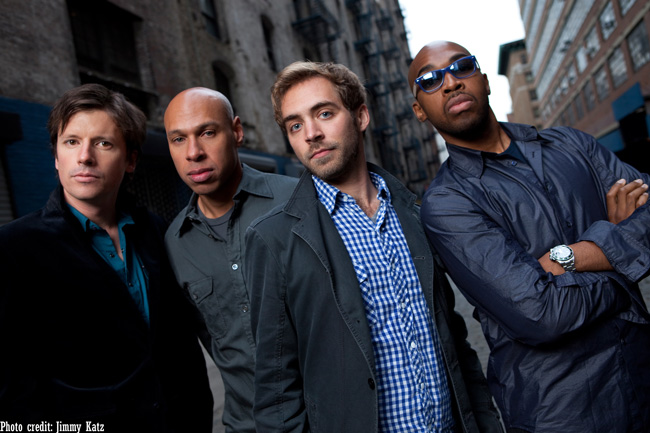 Featuring Joshua Redman, Aaron Parks, Matt Penman and Eric Harland 
Saturday, September 24, 8pm, Bowker Auditorium
James Farm is the collaborative band featuring saxophonist Joshua Redman, pianist Aaron Parks, bassist Matt Penman, and drummer Eric Harland. The band uses traditional acoustic jazz quartet instrumentation for its song-based approach to jazz and incorporates the members' myriad of influences: rock, soul, folk, classical, and electronica, among many others.
Reserved Seating: $30, $15; FC, GCC, STCC and 17 & under $10

"… a model of dazzling proficiency as applied to the articulation of a mood. The stylistic palette attests to the pull of a conscientiously eclectic record collection."
—New York Times
Formed in 2009, James Farm is an acoustic jazz quartet consisting of saxophonist Joshua Redman, pianist Aaron Parks, bassist Matt Penman, and drummer Eric Harland. These four free-thinking musicians all individually hold a stake in the future of jazz, and together form a group with a new take on song-based improvisation, a group that invites you to share in the navigation of their own musical future.
From their first gig at the Montreal Jazz Festival they have been writing and honing music that carries strong melodies and buoyant grooves, but defies facile comparisons. They strive, in their own words "to make new musical connections for the times we live in, and new beats for what now surrounds us." This band wants to move you, and only asks for an open mind.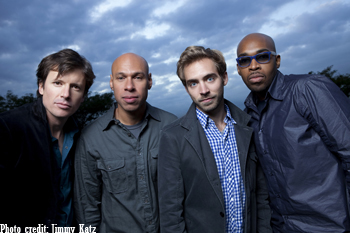 In August 2010, after a year of touring during which the band's many compositions got explored, re-imagined and cast out, James Farm went into the studio for four days of intense recording. The result is a unique accomplishment. From the mysterious first bars of the opener, "Coax," you can tell this is not going to be your garden-variety jazz recording. The tunes are skillfully crafted, with unusual and unexpected forms, and the influences borrow from a wide musical palate, with grooves, textures and atmospheres suggestive of rock, ambient or electronic music. "Polliwog" starts with a gut-bucket pulse and ends in an ethereal resting place. "Bijou" calls to mind life in a simpler time. And "Chronos" kindles with determined fire and is a true musical journey, albeit through other-worldly waters. Indeed this band creates, above all, singular moods from its balance of free, in-the-moment dialogue, and attention to the architecture and larger narrative of its tunes.
These four virtuoso instrumentalists are committed to finding new ways to balance their work as composers with the vitality of improvisation, melding the two into a brand of storytelling uniquely their own. They are also committed to the concept of the Band, where the whole is truly greater than the sum of its parts. Penman explains, "There's an artistic strength in being four equal members of a group that we're enjoying exploring. Put our four heads together and you get a lot of ideas … some of them cosmic, some of them nuts, but it's all part of the process."
Part of the musical rapport you can put down to history. Redman, Penman, and Harland all worked extensively together in the SFJazz Collective 2005–2007, while Parks and Penman traded duties on each other's latest records, both with Eric Harland on drums. But there is obvious chemistry at work here. Parks explains: "James Farm makes me play in a different way, sometimes taking more chances than I would otherwise. It forces me to step up." He continues, "One of the things I love in this band is the balance of different energies. Our individual temperaments seem to be complementary in a way that makes for a unique creative environment, one with natural and intuitive communication, where we're constantly challenging and bringing out different sides of one another. It's simple, and it's sometimes messy, and it feels like a living thing."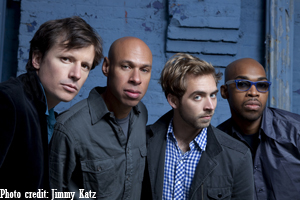 As evidenced by their debut disc, the members of James Farm have established a level of trust and creativity even in their relatively short tenure as a group. Redman says, "I think we were willing to take some chances and try some things that go beyond what you would typically hear or do in an acoustic jazz quartet. I'm hoping this is just the beginning."
James Farm resumes touring in spring 2011, with dates in Europe and the U.S. Recent press is enthusiastic, with the New York Times calling them "a model of dazzling proficiency." The San Jose Mercury News describes the music thus: "Organically there are hip-hop, rock and North African beats, Radiohead trance textures, classic motifs. Yet somehow this acoustic quartet doesn't give up the post-Miles-Trane-and-all-else attitude of a contagiously interactive jazz band, with small explosions happening from nanosecond to nanosecond." All About Jazz calls it "as contemporary and provocative as anything in mainstream jazz today," with "moments of palpable spirituality."
James Farm, in its forward-thinking and open-ended approach to the jazz idiom, offers followers of modern music much to be excited about. And the band's attitude towards the future couldn't be better expressed than through the words of its drummer. "I have no idea what's going to happen," Harland admits, "but I am looking forward to the journey."

To hear what all the fuss is about check out some samples from the album or head directly to their itunes store.