JANE IRA BLOOM QUARTET
Thursday, April 28 at 8 p.m., Bezanson Recital Hall

Wild Lines: Jane Ira Bloom plays Emily Dickinson

Jane Ira Bloom Quartet
Jane Ira Bloom   soprano saxophone
Dawn Clement   piano, keyboards
Mark Helias   bass
Bobby Previte   drums
Deborah Rush    voice

Soprano saxophonist/composer Jane Ira Bloom has been developing her unique voice on the soprano saxophone for over 30 years. She is a pioneer in the use of live electronics and movement in jazz, as well as the possessor of "one of the most gorgeous tones and hauntingly lyrical ballad conceptions of any soprano saxophonist," writes Pulse. Bill Milkowski has called her "A true jazz original...a restlessly creative spirit and a modern day role model for any aspiring musician who dares to follow his or her own vision."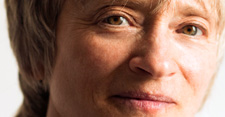 CONNECT
| | |
| --- | --- |
| | Wild Lines by Jane Ira Bloom and the Jane Ira Bloom Quartet has been made possible with support from Chamber Music America's 2015 New Jazz Works program funded through the generosity of the Doris Duke Charitable Foundation. |