About Jazz in July
July 10-21, 2017


Applications due June 1st!

Over 30 years ago, a group of dedicated jazz artists and jazz educators at the University of Massachusetts developed a program that would connect jazz students with the country's top jazz artist/educators for an intensive week of study in jazz improvisation. Their dedication to the art of jazz improvisation and jazz culture gave birth to Jazz in July Summer Music Programs. Jazz in July is a concentrated two-week program, allowing participants to study jazz improvisation with some of the nation's best jazz educators and artists. Located on the scenic UMass Amherst campus, Jazz in July offers jazz vocalists and instrumentalists a course of study that is challenging and enriching. Jazz legends such as Dr. Billy Taylor, Sheila Jordan, and Max Roach helped develop Jazz in July's strong foundation in the traditions of jazz. As the jazz landscape changes, Jazz in July uses that foundation to evolve with the current innovations being developed. Current and cutting edge jazz artists help to lead Jazz in July into the ever-evolving future of jazz, and ensure our jazz education vision will be current and relevant for many years to come.
 

When you sign up for Jazz in July, you will be joining an illustrious network of current and former artist faculty and participants. The Jazz in July program involves instrumental/vocal master classes, group clinics, jazz theory and improvisation training, ensemble coaching, jam sessions, style explorations, combined lectures, and public performances by participants and faculty members alike. Regardless of the program you choose, we aim to connect your innovations with high quality educators and consequently inspire you to be a part of the jazz legacy that is Jazz in July. 

Click here for Audition and Fees Information    •    Download the Jazz in July Campus Map  •




Instrumental Ensembles
Originally modeled after New York's "Jazzmobile" program, Jazz in July's Instrumental Ensemble Program emphasizes individual improvisation small group conventions, and large ensemble traditions. Ensembles include faculty coached small combos (5-8 members) and a 22 member large jazz ensemble. In addition to faculty led clinics, instrumental ensemble program participants also have the opportunity to work with each other in peer groups. Jam sessions are encouraged at Jazz in July and a style ensemble is also available for those who are not participating in the large jazz ensemble. Trumpet, trombone, alto/tenor/baritone saxophone, double bass, guitar, drum set, flute, and clarinet are all represented by outstanding faculty members focused on teaching participants to get the most out of their abilities while encouraging the growth of the total musician.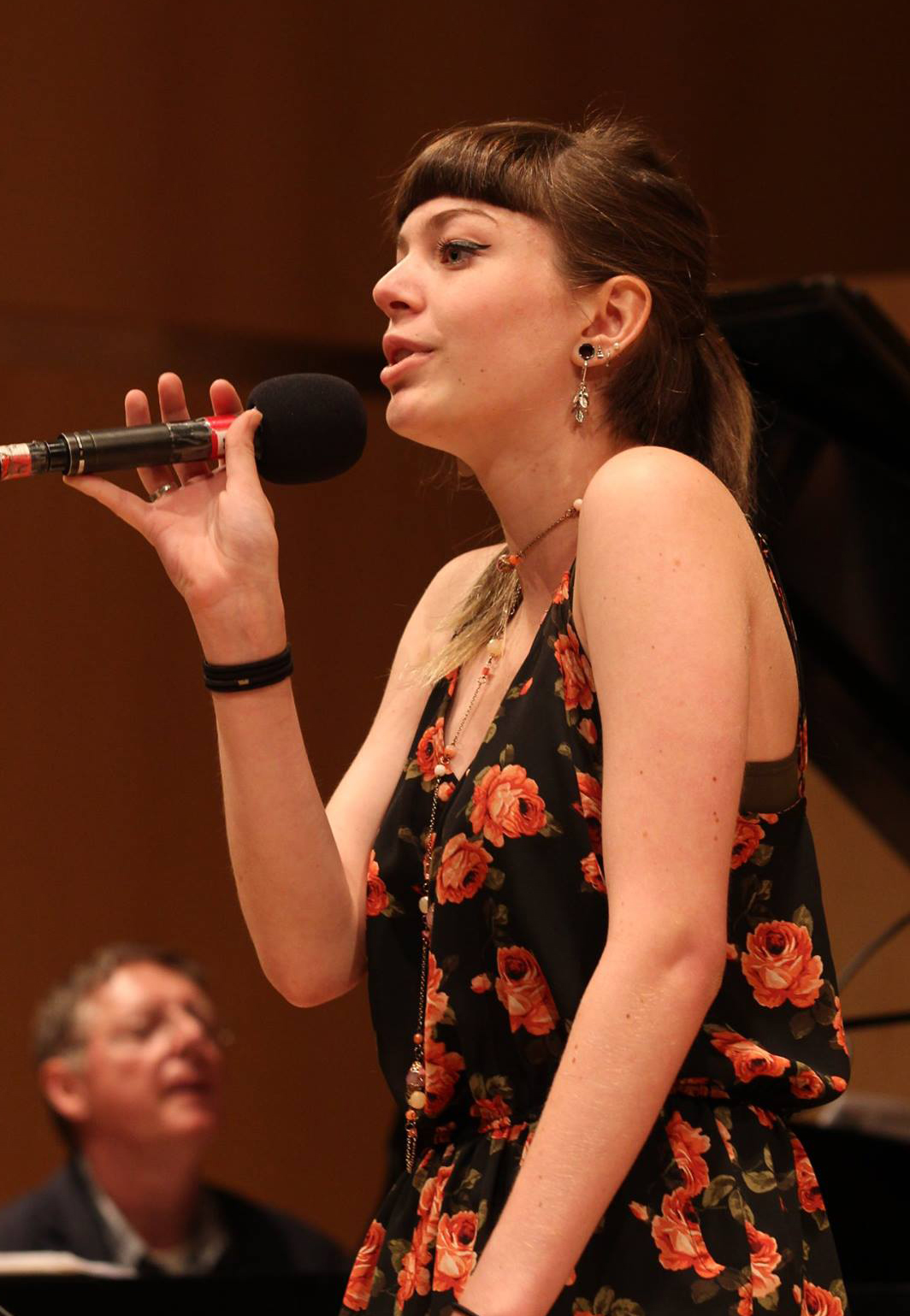 Vocal Jazz Soloists with Trios
The Vocal Jazz Soloist Program offers singers a supportive environment to explore concepts of jazz phrasing and rhythms, preparing lead sheets, vocal improvisation, and scat singing. Vocal participants rehearse and perform with a faculty trio skilled in accompanying vocalists and who are full of knowledge to help maximize the vocalist potential. Through group clinics, individual sessions, and coaching with a trio, our expert faculty will help you reach your goals as a vocal jazz soloist.

Jazz in July: A Day in the Life…
Jazz in July is a work intensive program. It is full of events to help enhance your musical experience.

A typical day for participants usually goes like this:


9:00 a.m.   Instrumental Combos/ Vocalists with Faculty Trio
11:30 a.m.  Lunch/Practice time
1:00 p.m.   Faculty Approaches to Improvisation
2:00 p.m.   Jazz Forum: Putting it Together – Vocalists meet Instrumentalists
3:30 p.m.   Vocalists with Faculty Trio/Applied Instrumental Clinics
4:30 p.m.   Dinner
6:15 p.m.   Vocalist Workshop/Big Band Rehearsal/Jam Sessions
8:30 p.m.   Jam Sessions

Later in the week, public performances replace the evening events.

Wednesday: Club Jazz in July – Enjoy a nightclub atmosphere featuring the music of the Jazz in July participants.

Thursday: Jazz in July All Stars Concert – Enjoy a concert featuring the Jazz in July faculty members.

Friday: Jazz Futures Concert – Enjoy an all-day student performance to close out the program.
 



Performances!
Performing is an essential part of jazz! Our live performances offer students the chance to play for the Amherst community. On Wednesdays,
Club Jazz in July
features vocalists and instrumental combos performing in a relaxed club atmosphere. On Thursday nights, students sit back and watch their faculty members perform in Bezanson Recital Hall at the
Jazz in July All Star Concerts
. Then on Fridays, the student Combos and Vocalists hit the stage once more, performing from 9 am - 4 pm to close out the week with the
Jazz Futures Concerts
.
Auditions
An application to the instrumental program or vocal soloist program requires an audio recording featuring a minimum of two jazz standard selections. Each tune is judged for rhythm, tone articulation, and interpretation. The applicant's performance is carefully considered, both in the acceptance procedure and in instrumental combo placement. One audio submission for two or more applicants will not be accepted (one submission per applicant only). Acceptable audio formats include compact disk (CD's) and digital media files via email (.mp3, .wma, and .m4a formats). Each applicant should label their recordings with their name, instrument, and selection titles. Recordings are not returned.

Instrumentalist: Please submit a recording including a minimum of TWO jazz standards of contrasting jazz styles and tempos (NO Ballads Please!). Length of submission should not exceed 10 minutes and should be edited to include only the intro, the melody, and your solo. Please identify yourself and major instrument on the CD cover. Saxophone players should also identify the particular sax used in the recording and if they play a double (i.e. flute, clarinet)

Vocalists: Please submit a recording including a minimum of TWO jazz standards of contrasting jazz styles and tempos. Please include a fast or moderately-fast tempo and a slow tempo or ballad. Length of submission should not exceed 10 minutes. Please identify yourself and major instrument on the CD cover.
Admission and Fees
Applying to Jazz in July is a multi-step process. We have worked very hard to make it as convenient as possible for each applicant. You should read each step carefully and follow them completely so there are no delays in the processing of your application or fees.
Application & Registration fee: $90. ($100 after June 1, 2017)
Tuition: per week,  $600 (payable in full by June 1 DOES NOT INCLUDE room & board)
Some scholarships are available (see Scholarships below)

University housing and meal plans are available at an additional cost. Visit Housing and Meals page for details.

Early Registration: Jan 1 - Mar 1, 2017,  20% discount on regular tuition! 
Register and submit your non-refundable payment of all fees before March 1 and receive a 20% discount off the price of tuition -- a savings of $120/wk. Does not include housing and meals.

Complete program (July 11-22) $1200 [Before Mar. 1 $ 960]
1st week program (July 11-15) $600;  [Before Mar. 1 $480]
2nd week program (July 18-22) $600 [Before Mar. 1 $480]
 
How To Apply - Deadline is June 1, 2017
1.) Complete the
online application
in its entirety. The application is extensive, but every question is necessary. Completing the application in a thorough manner will make the rest of the application process smoother.
Please Note
: you will be required to complete the
Theory Test
at the end of your application process. An audition submission is also required.
2.) Pay the registration fee
online
or by check. The UMass Amherst Fine Arts Center Box Office handles all of our registration fees and tuition payments. They only accept Visa, Mastercard, or checks made out to
"University of Massachusetts Amherst".
Registration fees are non-refundable. Within one week of receiving your application and registration fee, you will be notified via email or phone that you have been added to our system and you may continue with the application process.
3.) Audition requirements for the Vocal Soloist Program and Instrumental Ensemble Program have been described in the sections above. Auditions should be emailed electronically to jazzinjuly@acad.umass.edu (formats include: mp3, m4a, wma, wav).
Youtube or DVD recordings are not accepted.
Or audition CDs can be sent by regular mail to:
JAZZ IN JULY
Room 10 Curry Hicks, 100 Hicks Way
University of Massachusetts
Amherst, MA 01003-9300
Tuition
Once an applicant has been accepted after completion of the admission process, they should then proceed to tuition payment. Tuition payments are due by June 1. Jazz in July is a two week program. Students can attend for one or both weeks.
The chart below explains the tuition breakdown for Jazz in July:

Early Registration: Jan 1 - Mar. 1, 2017,  20% discount on regular tuition! 
Register and submit your non-refundable payment of all fees before March 1 and receive a 20% discount off the price of tuition-- a savings of $120/wk. Does not include housing and meals.

Complete program (July 11-22) $1200 [Before Mar. 1 $ 960]
1st week program (July 11-15) $600;  [Before Mar. 1 $480]
2nd week program (July 18-22) $600 [Before Mar. 1  $480]

The applicant's spot at Jazz in July is not secured until tuition has been paid in full. Tuition can be paid by check or using the links on our home page. The links will direct you to the Fine Arts Center Box Office web page where you can use a Visa or Mastercard to pay tuition. You may also mail a check to Jazz in July made out to "UMass Amherst". Tuition payments are due in full by June 1, 2016. 

 
Scholarships
At Jazz in July's discretion, talent-based and financial needs scholarships are offered to those applying to the instrumental and vocal programs. We assume that all applying wish to be considered for a scholarship unless otherwise indicated. Audition recordings and family income statements (federal tax statements) are used in awarding tuition scholarships. Notification of scholarship awards are after the online application has been completed, the audition recording has been received, and the registration fee has been paid. The following chart shows a general financial breakdown of the criteria for financial/talent based scholarships.

Single (paying for self) $17,500 or less
Single Parent (Paying for at least one child) $20,000 or less
Married with no children (two income household) $22, 500 or less
Married with children (two income household paying for at least one child) $32, 500
*Median dollar amounts determined from 2006 Census Bureau Demographic Survey
Scholarship awards are paid only if the applicant is accepted to the program and subsequently attends Jazz in July. If tuition is paid before the scholarship is awarded, the scholarship amount will be refunded to the payer either by check or credited to charge card.
 
Age Requirements
Disabilities Consideration
Jazz in July caters to a wide variety of musicians. We accept musicians from early high school to late life professionals. The low age cut-off is 15 years of age at the start of the program. Jazz in July will consider applicants between the ages of 14-15, but those applicants must show an extensive background in formal music education and an exceptionally high level of maturity and technical ability as a vocalist or instrumentalist. There is no maximum age limit recognized by Jazz in July. Our facilities are handicap accessible. Any personal mobility issues should be disclosed to Jazz in July staff during the application process. Seeing-eye dogs and/or guides are allowed for the visually impaired.

 
Housing
There are many options for housing during your stay at Jazz in July. The most popular option for most applicants is a stay in University Housing. The University provides a co-ed dormitory expressly for Jazz in July participants. The dorm is walking distance from the Music Department and is the most convenient option for housing. UMass Conference Services handles all reservations and fees for those making use of University Housing. The UMass Conference Service provides a dorm monitor that is always present.

Go to HOUSING AND MEALS page for more info. Fees for University Housing are set by UMass Conference Services. All payments can be made by Visa or Mastercard by clicking on this Housing link on our home page or payments can be made by check to "UMass Conference Services". Residence Hall housing is not the only housing option for Jazz in July. There are many hotels and motels located just off campus, which can provide housing for your stay in Amherst. Jazz in July can supply information on hotels that are in the immediate area. Any off-campus housing options may be used by participants at their own discretion.
 
Meals
Jazz in July participants may enroll in a University Meal Plan, supplied by UMass Conference Services. All minors staying on campus are required to buy a University meal plan. This meal plan allows for three meals a day at a designated Dining Commons on UMass campus. The dining commons has a very wide variety of food options and also has vegetarian selections. UMass Conference Services sets the prices for the UMass Meal Plan. More information will be sent to participants upon acceptance. If you do not require 3 meals a day, you can pay in cash or credit/debit card per meal at the entrance to the dining area. Per meal prices are available at the UMass Conference Services website. Participants also have access to all other summer eating facilities if they would like to pay in cash or credit/debit. Amherst and Hadley also have a wide variety of restaurants that deliver to the Jazz in July dorms and surrounding hotels. All off campus restaurants can be used at the participant's discretion. [Go to HOUSING AND MEALS  page for more info.]
 
Travel Arrangements and Ground Transportation
For years Jazz in July has welcomed participants from around the country and from all over the world. Keeping Jazz in July abreast of your travel plans will help us coordinate any special steps that need to be taken before your arrival. All participants flying to Jazz in July should schedule their flight to arrive at BRADLEY INTERNATIONAL AIRPORT in Hartford, CT. There is a shuttle service that runs from the airport to the dormitory. You can schedule your arrival and return trip from and to the airport at www.valleytransporter.com . The Peter Pan bus line has the most direct bus routes to UMass. All Peter Pan bus reservations can be made at www.peterpanbus.com . You should plan on being at Jazz in July until 4 pm on either Friday at Jazz in July depending on when you are attending. Residential participants should arrive and check-in the Sunday before the start of the program. Residence hall check-in begins at 4:00PM each Sunday.
Commuter Participants
Participants who are commuting to Jazz in July should be prepared to arrive at 8:15 am on Monday morning. All personal instruments or cases should be labeled with names and addresses. Drumset and Bass players can bring their instruments and amps to the Music Department after 3 pm on the Sunday before the start of the program. We will store the instruments until the start of the program. All scheduled daily activities are over by 8:30 pm. Those participants needing rides should schedule them after 8:30 pm. The building remains open until 11 pm Monday through Thursday for optional jam sessions and practicing. Rides should be scheduled before 11 pm for those participants staying to participate in jam sessions. All participants are required to go to evening concerts on Wednesday and Thursday, which end approximately at 10:30 pm. The program ends at 4 pm on Friday. All instruments should be removed after 4 pm. 

Commuter students who need daily parking see next section PARKING ON CAMPUS.
Parking On Campus
PLEASE NOTE FOR 2017 -- Due to construction on campus, Jazz in July is unable to sell parking passes in advance to convenient lots.  Free parking passes for satellite lots will be available onsite from the Jazz in July office during this summer's program.

Jazz in July participants, residential or commuting, will need passes if they want to park a car on campus. Without a pass you risk being ticketed and towed at your own expense. 
 
Questions?
Call: 413.545.3530
e-mail: jazzinjuly@acad.umass.edu
Jazz in July Staff
Frederick Tillis, Artistic Director Emeritus
Jeff Holmes, Artistic Director
David Picchi, Administrative Director
Yvonne Mendez, Director of Education and Engagement for Jazz Programs

 
Sponsorship
Jazz in July is a program of the University of Massachusetts Fine Arts Center, sponsored in cooperation with the Department of Music & Dance. Jazz in July is a patron member of the International Association of Jazz Educators, the Massachusetts Music Educators Association and Conference. Announced faculty and programs may change without notice.
 
Business Sponsors
Media Sponsors 



88.5 WFCR
University Sponsors

College of Humanities and Fine Arts
Department of Music & Dance
UMass Conference Services


Community Arts Partners 
Ed Cohen Photography
Community Music School of Springfield
Holyoke Community College
Northampton Community Music Center
Pioneer Valley Performing Arts High School
Northampton Jazz Festival


Want to see your name on this list? Donate to Jazz in July! Fill out the Donation form on the FAC website by clicking here . When you get to the second page of the Donation form select Fine Arts Center from the drop down menu, and be sure to note Jazz in July in the subcategory field!

Faculty & Events Subject To Change