Aaron Diehl Presents Jelly & George, Featuring Adam Birnbaum and Cécile McLorin Salvant

 
Thursday, February 16, 2017 at 7:30PM
Fine Arts Center Concert Hall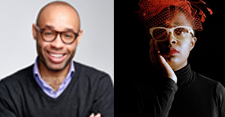 Timeless classics are elevated by modern masters when acclaimed pianists Aaron Diehl and Adam Birnbaum and Grammy-winning vocalist Cécile McLorin Salvant revisit and revitalize the works of jazz piano greats George Gershwin and Jelly Roll Morton. Combining lesser-known works with new arrangements, the trio, backed by a five-piece ensemble, energetically interpret and celebrate a musical lineage that spans a century.
Aperitif: Pre-concert talk by NEPR Jazz á la Mode Host Tom Reney at 6:30 p.m. in the Concert Hall Lobby.

Ticket Prices
$35, $25; Five College Student & Youth 17 and Under: $10; Five College Faculty & Staff: Please call the Box Office
Tickets on Sale Now!
Artist Webpage
Facebook
Instagram
Twitter
Cecile:
When Cécile McLorin Salvant arrived at the Kennedy Center in Washington, DC to compete in the finals of the 2010 Thelonious Monk International Jazz Competition, she was not only the youngest finalist, but also a mystery woman with the most unusual background of any of the participants. When she walked away with first place in the jazz world's most prestigious contest, the buzz began almost immediately. If anything, it has intensified in the months leading up to the launch of her Mack Avenue Records debut, WomanChild. "She has poise, elegance, soul, humor, sensuality, power, virtuosity, range, insight, intelligence, depth and grace," Wynton Marsalis asserts. "I've never heard a singer of her generation who has such a command of styles," remarks pianist Aaron Diehl. "She radiates authority," critic Ben Ratliff wrote in The New York Times in response to one of her post-competition performances, and a few weeks later his colleague Stephen Holden announced that "Ms. McLorin Salvant has it all…. If anyone can extend the lineage of the Big Three—Billie Holiday, Sarah Vaughan and Ella Fitzgerald—it is this 23-year-old virtuoso."
Yet at almost every step of the way, McLorin Salvant has followed a different path from her peers. Born in Miami to a French mother and Haitian father, McLorin Salvant's first language was French. She immersed herself in the classical music tradition, long before she turned to jazz—starting on piano at age five and joining the Miami Choral Society at age eight. When it came time for college, McLorin Salvant bypassed all the US conservatories and jazz schools, heading instead to Aix-en-Provence in France, where she continued to develop as a singer, but with an emphasis on classical and baroque vocal music as well as jazz. McLorin Salvant entered into a fruitful partnership with reed player and teacher Jean-François Bonnel, first as a student and soon as a performer. By the time she returned to her home country to take the stage in the Monk Competition, she had drawn on this unusual set of formative experiences in shaping a personal style of jazz singing, surprising and dramatic by turns, and very much in contrast to that of the other participants and McLorin Salvant's contemporaries.
In the aftermath of McLorin Salvant's triumph at the Monk Competition, the jazz world eagerly awaited the winner's first US recording. Answering that call with WomanChild, McLorin Salvant draws on songs spanning three centuries of American music. "I like to choose songs that are a little unknown or have been recorded very few times," McLorin Salvant notes. "While these songs aren't recognized as standards, many should be because they are so beautifully crafted." WomanChild won the Grammy for Best Jazz Vocal Album in 2016.
McLorin Salvant went even bolder with her follow-up release, For One To Love, a heartfelt album that embodies the full range of the American popular song idiom, but distills it into a distinctly personal expression of a modern-day poet troubadour. McLorin Salvant again shows her uncanny knack of channeling her own personality into the work of her predecessors, both the acclaimed and the less well-known. McLorin Salvant is increasingly making her strongest musical statements via her own compositions, which stand out as the centerpiece on the new project. Five of the tracks on For One To Love feature her songs, and here she reminds us of those other great jazz singers, from Billie Holiday to Abbey Lincoln, who found that the most powerful expressions often came via their own compositions.
Artist Webpage
Facebook
Instagram
Twitter
Aaron:
Pianist Aaron Diehl is one of the most sought after jazz virtuosos, consistently playing with what The New York Times describes as "melodic precision, harmonic erudition, and elegant restraint." Diehl's meticulously thought-out performances, collaborations, and compositions are a leading force in today's generation of jazz contemporaries, spearheading a distinct union of traditional and fresh artistry.
Past season highlights include serving as Music Director for the Jazz at Lincoln Center New Orleans Songbook concert series, performing in the New York premiere of Philip Glass' complete Etudes at the Brooklyn Academy of Music, collaborating with the Spanish flamenco guitarist Dani De Morón in Flamenco Meets Jazz (produced by Savannah Music Festival and Flamenco Festival), and touring the U.S. and Europe with Grammy nominated jazz singer Cécile McLorin Salvant. Ms. Salvant and Diehl's Trio, featuring Paul Sikivie (bass) and Lawrence Leathers (drums), had select performances at Walt Disney Hall (Los Angeles, CA), Jazz in Marciac (Marciac, France), Newport Jazz Festival (Newport, RI), North Sea Jazz Festival (Rotterdam, Netherlands), Istanbul Jazz Festival (Istanbul, Turkey), Ronnie Scott's (London, England), and La Cigale (Paris, France).
Diehl's newest album on Mack Avenue Records, Space, Time, Continuum, emphasizes the artistic collaborations between generations. Establishing the jazz language as a continuum uniting artists, the album includes performances by NEA Jazz Master Benny Golson (tenor saxophone) and Duke Ellington Orchestra alumnus Joe Temperley (baritone saxophone), alongside Diehl's other established trio—Quincy Davis (drums) and David Wong (bass). The majority of the album consists of Diehl's original compositions. The title track, featuring vocalist Charenee Wade, was co-written by Cécile McLorin Salvant. The Bespoke Man's Narrative (2013), Diehl's debut album, reached No.1 on the JazzWeek Jazz Chart and was hailed by JazzTimes for displaying "precision and polish," as well as creating "honest music that invites you back in to discover new wonders with each listening" (KCRW). Live at the Players (2010) featured both of his trios: Quincy Davis and David Wong, and Paul Sikivie and Lawrence Leathers. His first solo album, Live at Caramoor (2008), was a concert recorded at the Caramoor Festival.
Diehl's recent collaborations with internationally acclaimed artists and ensembles include Warren Wolf, Lew Tabackin, Matt Wilson, Wycliffe Gordon, Wynton Marsalis and his Septet, and the Jazz at Lincoln Center Orchestra. As the 2014 Monterey Jazz Festival Commission Artist, Diehl became one of the youngest artists to receive this honor and composed Three Streams of Expression, dedicated to pianist and composer John Lewis. He is also the 2013 recipient of the Jazz Journalists Associations Award for Up-And-Coming Artist, the 2012 Prix du Jazz Classique recipient for his album Live at the Players from the Académie du Jazz, and is the winner of the 2011 Cole Porter Fellowship from the American Pianists Association. In an effort to nurture the development of young jazz artists and the community, Diehl was the inaugural Artistic Director of the Catskill Jazz Factory.
Aaron Diehl is a graduate of the Juilliard School, where he studied with Kenny Barron, Eric Reed, and Oxana Yablonskaya. Residing in Harlem, he enjoys spending time in the sky when he isn't on tour or recording. As a licensed pilot, one of his favorite planes to fly is the Beechcraft Bonanza. For more information, visit www.aarondiehl.com.
Cécile:
"Ms. McLorin Salvant has it all…. If anyone can extend the lineage of the Big Three—Billie Holiday, Sarah Vaughan and Ella Fitzgerald—it is this 23-year-old virtuoso." – New York Times
"Perfect pitch and enunciation, a playful sense of humor, a rich and varied tonal palette, a supple sense of swing, exquisite taste in songs and phrasing, and a deep connection to lyrics." – Stephen Holden
"She has poise, elegance, soul, humor, sensuality, power, virtuosity, range, insight, intelligence, depth and grace." – Wynton Marsalis
Aaron:
"Not yet 30, Diehl is already a virtuoso upon whom no major style of jazz is lost... there are no boundary lines to this young man's potential." – New York Daily News
"A smart young pianist with a fastidious grasp of Jazz traditions." – New York Times
"A piano prodigy." – Wall Street Journal
---
Thursday, November 3 at 7:30 p.m.
Bowker Auditorium
While most jazz trios have the piano front and center, all members of the Marcus Roberts Trio share equally in shaping the direction of the music – changing its tempo, mood, texture, or form at any time. The long-running trio is known for having almost telepathic communication on stage. The result is a powerfully rhythmic and melodic sound that is filled with dynamic contrast. Led by "the genius of modern piano," the Marcus Robert Trio performs both Roberts' original compositions and familiar jazz standards.
---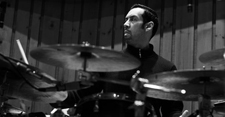 Tuesday, November 15 at 7:30 p.m.
Fine Arts Center Concert Hall, Chamber Seating

Birdman, the visually stunning 2015 Oscar winner for Best Picture by maverick director Alejandro González Iñárritu, stars Michael Keaton as a washed-up action star trying to reinvent his career as a credible actor and director on the Broadway stage. For this special event, renowned jazz drummer Antonio Sánchez accompanies the film live, recreating his explosive, Golden Globe-nominated and Grammy-winning score that forms the heartbeat of the film. Film rated R.
---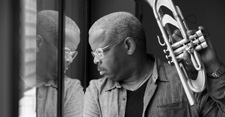 Saturday, April 8 at 8 p.m.
Fine Arts Center Concert Hall, Chamber Seating

Trumpeter and composer Terence Blanchard breaks the mold with his new quintet, The E-Collective. This project journeys to an exciting realm of grooved fusion teeming with funk, R&B, and blues colors. Joined by guitarist Charles Altura, Fabian Almazan on piano and synths, bassist Donald Ramsey, and Oscar Seaton on drums, Blanchard's latest release Breathless is a master class in storytelling, written in response to social tensions and inspired by Eric Garner's resounding words: "I Can't Breathe."
---
Sponsors