Jennifer Tibbets
VISAGES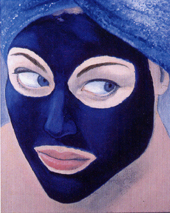 Tuesday, April 6 - Sunday, April 25, 2004
Hampden Gallery Lobby, Southwest Residential Area   
In the 1800's the pseudo-science of phrenology purported that most personality characteristics were revealed through facial characteristics. Today, facial readings still assist us in navigating social terrain. In Jennifer Tibbetts' solo exhibition, each face-front portrait is distinguished by a type of covering, The covering may disguise a section of the face, or envelope it entirely. Tibbets' paintings show the infinite variety of ways in which the human face can be adorned, camouflaged, marked, scarred or otherwise altered to indicate or obscure social standing, professional status, familial roles or just plain vanity.
In Jennifer Tibbets new work, her signature gesture is gone, the gutsy abstraction - gone. What remains is her deep engagement with the human form in general and the human face in particular. Over the past fifteen years, Tibbets has produced a substantial body of work that began with the suggestion of the figure in space. Over time the figure became more defined and eventually the paintings began to show paired figures. The paired figures reappear in Tibbett's recent charcoal drawings entitled Couplings where the seeds of the Visages paintings can be seen.
Inspired by newspaper photos of newlywed announcements, these drawings result from Tibbetts' dispassionate probe into the workings of social conformity and the practice of suppression of the individual for the goals of the collective. In the progression from drawings to paintings, disparate source images were transformed through Tibbet's process of cropping, composing, editing and then painted with oils on canvas in a representational idiom to form a gestalt that underscores her conceptual concerns. Through images of doctors, tribesmen, soldiers and beautiful woman, Tibbetts merges facial generalizations with idiosyncrasies so that the resulting paintings seem oddly familiar, as if these portraits are friends or relatives recalled from some other place or time.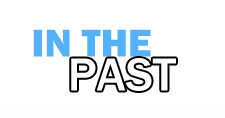 Here is an archive of many of our past events. If you are looking for current happenings at the FAC please go to the home page.
The past events section is updated periodically, very recent past events may not be listed immediately.
To navigate within the past events section:
By Program then by Year
By Artist for Exhibitions
Note these pages are updated every semester.  Not all events or exhibitions will be listed here promptly after they are over.