Jose Gonzales and Conjunto de Bomba
An evening of performances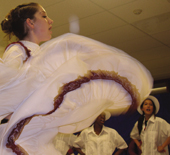 Thursday, April 14, 2005
Augusta Savage Gallery   7:00 pm
free and open to the public
Conjunto de Bomba, is an ensemble of musicians, dancers, and drummers from Amherst Regional High School lead by Nick Shaw. This group will present the energetic sights and sounds of Bomba, which is an Afro-Puerto Rican music and dance form of spontaneous movement, where the lead dancer's movements are followed by a lead drummer. As the lead drummer follows the dancer's lead, the accompanying drummers play polyrhythms, while the rest of the group chants in the traditional African 'call and response" form Over the past haft decade, Conjunto de Bomba has brought this dance to Western Massachusetts through seventy performances at public schools, colleges, and cultural centers. All proceeds are directed to helping students attend semiannual trips to Puerto Rico to study with master instructors. Witnessing direct sources of African Heritage, students achieve a greater understanding of culture and art and offer remuneration to those who have defended that heritage for generations. Guitarist, composer, and virtuoso Cuatro player, Jose Gonzales has made a name for himself as one of the worlds foremost Puerto Rican/ Latin musicians. He has performed all along the eastern seaboard and the Caribbean, as well as recording and performing with some of Latin music's major artists. A graduate of the University of Puerto Rico, Gonzales has seven self-produced best selling albums and music that has been featured on television and film productions by NBC, CNN and PBS. Jose Gonzales and Conjunto de Bomba offer a sensational evening of Puerto Rican music and dance! Don't miss it!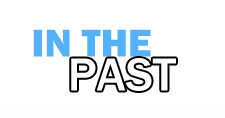 Here is an archive of many of our past events. If you are looking for current happenings at the FAC please go to the home page.
The past events section is updated periodically, very recent past events may not be listed immediately.
To navigate within the past events section:
By Program then by Year
By Artist for Exhibitions
Note these pages are updated every semester.  Not all events or exhibitions will be listed here promptly after they are over.